---
was never a house painter — until I was. And then, it happened only after running short on other ideas.
After 10 years of teaching and summer breaks that meant returning to Mackinac Island and holding down one or another seasonal jobs, I'd grown weary of restaurants and I proved to be unsuited to retail. So I approached my father-in-law about painting his house. Three houses, to be more precise.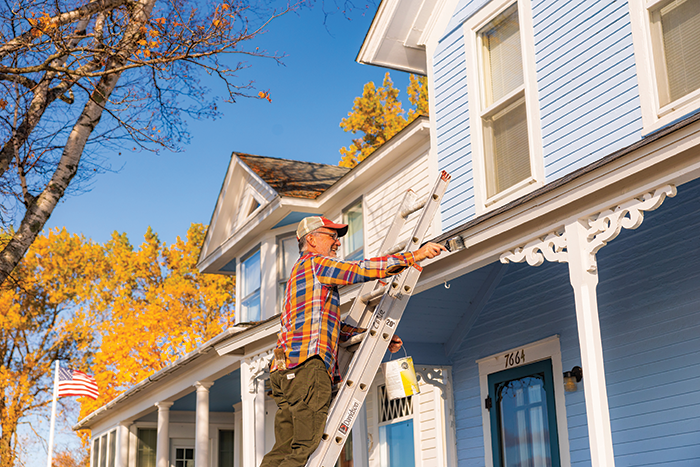 ---
Each summer, I moved with my kids and my wife into the house where her great-great grandmother, Catherine Benjamin, had settled in the 1880s with her son, Robert Henry, and his wife, Hulda. My in-laws lived across the yard in a house my father-in-law bought in 1950, and next door to him was the house where he was born, which had been his parents' home and then became his sister's house, and eventually was used as a rental.
Each house needed painting every summer and, feeling unmoored after one more seasonal transition, I reasoned I was better suited for climbing a ladder than pouring beers or selling T-shirts. Somewhat to my surprise, my father-in-law agreed.
---
My father-in-law, Robert Edward — Bob — was also a schoolteacher and a shopkeep. He and his sister, Dorothy, an artist and journalist, had inherited their parents' house. Their father, Herbert, had taken over his father's blacksmith shop in the early part of the 20th century, and kept the fire going until the 1960s.
---
In time, Robert Henry and Hulda grew old and died, and so did Herbert and his wife, Mary. Dorothy never grew old, but after her death Bob owned all three houses, along with the maintenance that followed. Painting was a constant and, for years, I'd watched others prep and cover one of the houses each summer. I envied their solitude and their labor. To be sure, each house regularly needed more than paint, but my skill set was limited to painting — or touching up, really, as the colors seemed to peel faster than my brush could move. Nonetheless, for nearly 15 years, from June to September, I hauled my scraper or my buckets and brushes up a ladder, reveling in the quiet and the repetition.
---
On the busiest of days I could escape to the quiet of the roof or a far wall, camouflaged under maple leaves, but always next to this history. I soaked it in like the wood absorbed the paint.
---
In June, the lawn crowded with grackles, I might paint Bob's house. By August, noisy with geese, I might move on to paint the house where I lived — the house in which Robert Henry resided when he built the Hotel Iroquois, and launched his campaign for sheriff. During the time Hulda lived there, in 1904, she helped establish the island's Little Stone Church.
---
I often leaned my ladder against the house Bob bought in 1950, the year he opened the downtown gift shop that still bears his name. It was the house where he brought his new bride, Beverly, after their 1953 wedding, and where he wrote his three books on Mackinac history; it was the house where he and my mother-in-law raised their three children, including my wife, Jane.
---
My wife and I still return to the same house each summer, although our children aren't around as much as they once were, and Bob is gone. These days I only paint the Little Free Library near the sidewalk, where the blacksmith's shop once stood — but those years on the ladder are, like the family history, never far away.
---
Glen Young, retired from house painting, now spends summers guiding kayak tours. He divides his time between Mackinac Island and Petoskey. He's also a ski instructor, educator, editor, freelance writer, and poet.
---
---
Text by Glen Young | Photography by Sara Wright
Facebook Comments