---
By definition, a cabin evokes a cozy home in a remote location. "It's a reflection of its setting and it can be even more casual than a cottage," Rob Mossburg, a third-generation builder and owner of The Cottage Company of Harbor Springs, says. "A cabin can also be more rustic or primitive, and have more earth tones and natural colors — like greens and browns — instead of the blues and whites found in a cottage."
One such structure, affectionately named "Josie's Cabin" for his mom, was a family affair from conception to completion, and beyond.  "The home was designed on the cozy side, but it wasn't meant to be a full-blown log cabin with darker tones,"  Mossburg says about the custom dwelling built for his parents in Harbor Springs near the Tunnel of Trees, a popular scenic route. " Given the year-round usage, it's a more contemporary mix of logs and light finishes on the interior, (as well as) the exterior accents."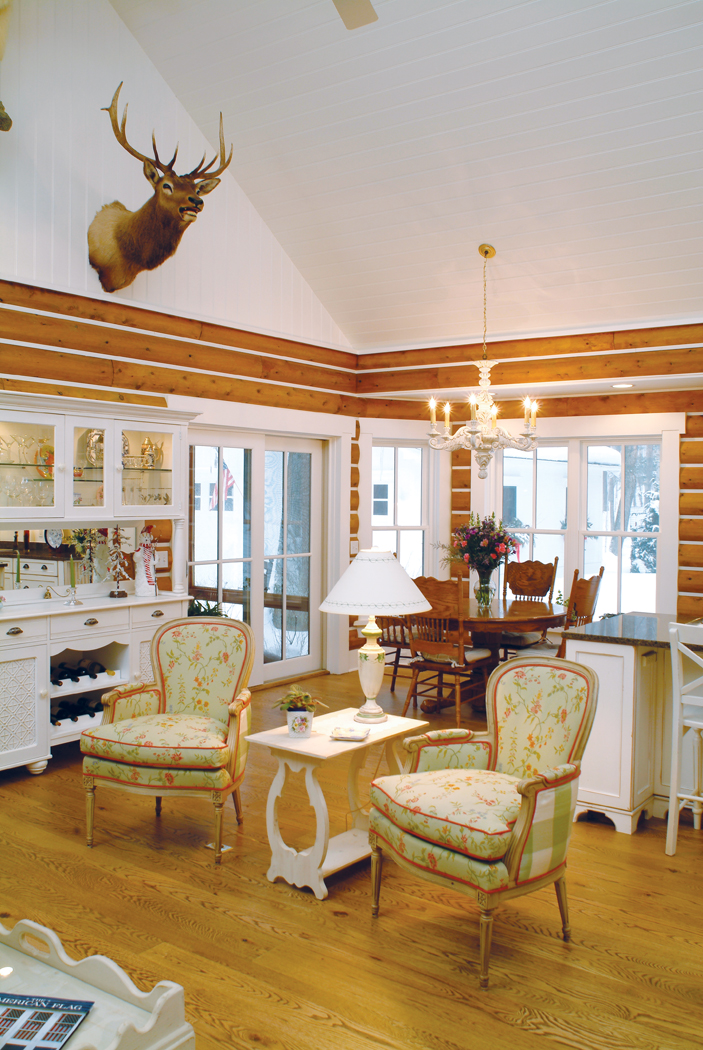 ---
Many furnishings came to the quaint cabin from his parents' former home, including family heirlooms like an old writing desk.  "It's a sensible scale, perfect for two people with occasional visitors," he says. "It just worked really well for them."
Rob and his wife, Vee, owner of Cottage Company Interiors, purchased the 100-acre property that sits across from Lake Michigan before The Cottage Company built the cabin. "We really enjoy spending time together, even when we're working," Mossburg says about the family. His sister, Jill Nuding, was the project manager and her husband, Greg, a master carpenter, contributed to the home along with their dad, Bob Jr., who did a lot of work by hand.
Kelly Konoske, president and owner of Cottage Company Interiors, and Rob and Vee's daughter, says,  "Originally, my parents and grandparents built log cabins in the Lewiston area before they made the transition to Harbor Springs and cottages. Grandpa still wanted a log cabin."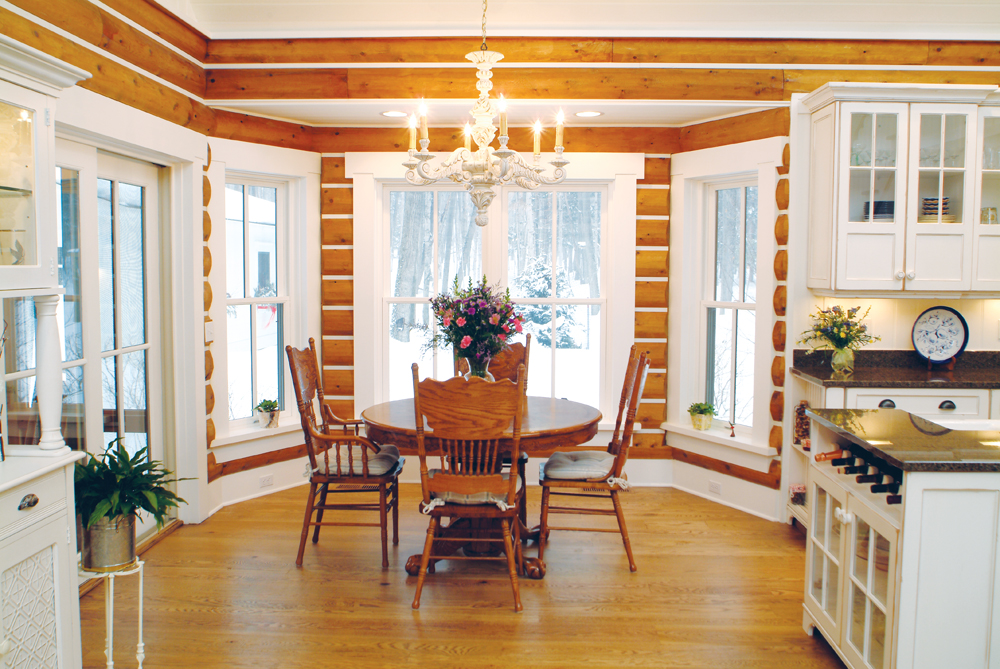 ---
Her grandparents, who have since moved, have been married since they were teens. "They're the perfect couple. She's the family matriarch and he's the patriarch. They're simple people who love family and food," Konoske says.
The cozy cabin that served as their primary home before it was sold blends half-log siding with beadboard ceilings. "It just goes to show you can mix design styles,"   she adds.
Konoske cherishes the Christmas celebrations the family shared at the cabin. "(My grandmother) would cook for all of us, and the decorations were out. She had name tags, and even the dog would be dressed up," she recalls. "We would have brunch, then open presents, and we would all find a bed and sleep off the meal or play games."
---
The lower level was a favorite spot for Konoske.  "It had traditional red, black, and white plaid with green furniture, and wood beds with tons of blankets and really heavy duvets. I loved the weight of them," she recalls.
For Mossburg, outdoor activities like hiking in the woods come to mind.  "The cabin is nature-oriented,"  he says.  "We hunted on the property and went fishing across the street.  There would be a roaring fire for family dinners. It was very quintessential."
---
He also remembers picking morels to incorporate into meals, and his mom's savory baked goods made with Michigan apples and blueberries. "You could count on that seasonally, and my dad is a big fisherman, so it wasn't uncommon to have frozen or fresh salmon or lake trout on the table from right across the driveway. The whole forest-to-fork, we were really living it."
Although the cabin is no longer in the family, they left their mark with a conservation easement that protects the property from further development. Mossburg fondly recalls an anonymous letter left in the mailbox one day. "There was a handwritten note that said something like:  'Thank you for your amazing donation to the beauty of northern Michigan from folks who will forever enjoy the Tunnel of Trees.' "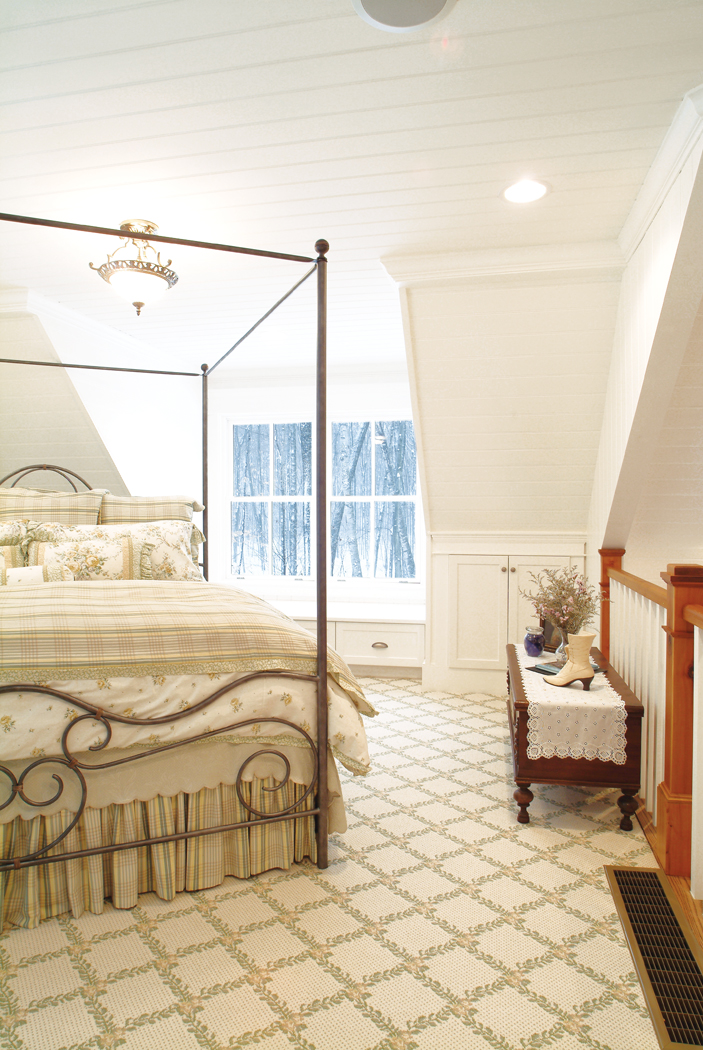 ---
BUYER'S GUIDE
---
---
BUILDER AND INTERIOR DESIGNER 
Cottage Company of Harbor Springs and Cottage Company Interiors, Harbor Springs, cottage-company.com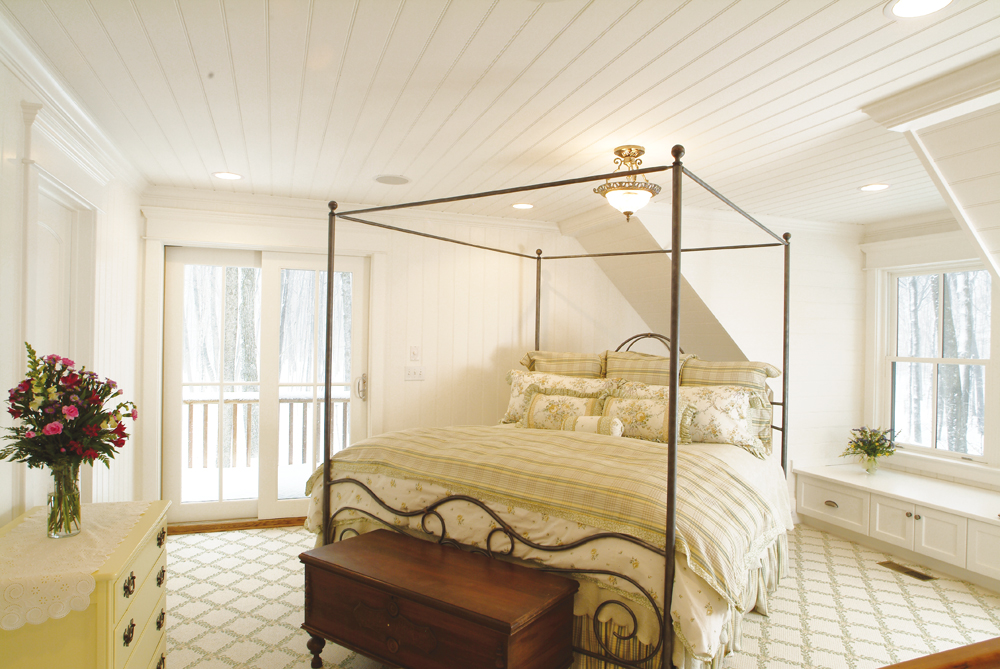 ---
BEDROOM
Bed Frame, Canopy – Wesley Allen
Bedding – Custom, Sarah Tippett Custom Sewing, Harbor Springs
Dresser – Lexington Furniture
Flooring – Hardwood, Ronald Brown Flooring, Cross Village Township
Light, Ceiling – All-Phase Electric, Petoskey
Rug – Stark Carpet, Pumco Interiors, Harbor Springs
Wall Paint – Benjamin Moore, White Dove
KITCHEN
Armchairs – Hickory Chair
Bar Stools – Reid Furniture Co., Petoskey
Cabinetry – North Country Cabinets, Harbor Springs
Chandelier – Lady B Goode
Countertop – Capital Granite, Inc., Petoskey
Flooring – Hardwood, Ronald Brown Flooring, Cross Village Township
Table, End – Lexington Furniture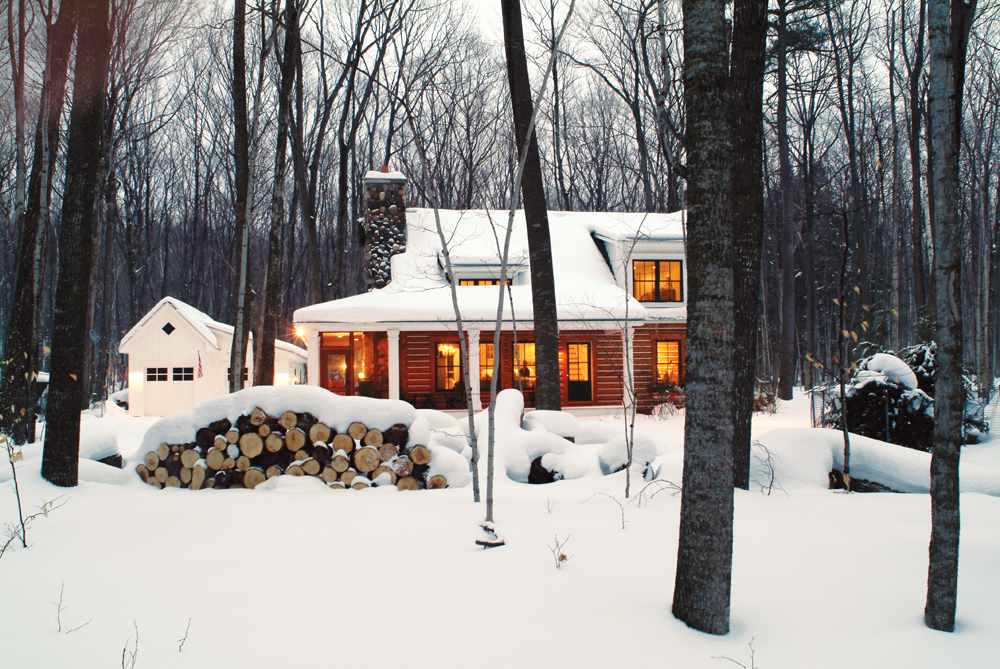 ---
EXTERIOR
Building Materials – Preston Feather Building Center, Harbor Springs
Landscaping – Litzenburger Landscaping, Harbor Springs
Masonry – Gino Longo Masonry, Boyne City
ADDITIONAL PROJECT CONTRIBUTORS
Architecture – Sears Architects, Grand Rapids
Painter – Snow Country Decorating, Harbor Springs
---
---
By Jeanine Matlow  –  Photography by Dan Speckman, Don Rutt Photography 
Facebook Comments