Keweenaw Castle Resort and Fitzgerald's Hotel and Restaurant offer ideal settings for those seeking cozy, comfortable, and secluded Upper Peninsula accommodations mere feet from Lake Superior.
Guests arriving at Keweenaw Castle, in Allouez Township, nestled in a remote section of the Keweenaw Peninsula's western shore, are greeted by a simple wooden sign hanging from a post made of tree branches that depicts pines on either side of a couple holding hands.
The relatively new 5,000-square-foot structure is, indeed, castle-like, with a turret protruding from the top. The exterior is a mix of distinctively designed woodwork and red-hued stonework.
Inside are four luxurious and spacious two-person suites, three featuring breathtaking views of the lake. A loaded common area, shared by all guests, includes a fireplace, kitchen, large satellite television, cedar-lined sauna, game room, treadmills, hot tub, and walk-out beach access.
"I think what makes our place unique is the fact that there are only four suites and we live on-site," says Nancy DeForge, who co-owns the property with her husband, Keith. "It's like having a concierge and knowledgeable local on-call. Additionally, we're tucked in the woods on the Lake Superior shore, yet just minutes from (good) dining. It's the perfect blend of seclusion and peace, with close proximity to popular amenities."
Roughly six miles north, in the hamlet of Eagle River, guests checking into one of six newly renovated, boutique rooms at Fitzgerald's open their doors to 500 square feet of radiance, with up-close views of Lake Superior's waves. All but one guest room includes a private balcony or walk-out patio just steps from the rocky beach.
Those staying here are soon drawn to the enticing aromas that emanate from the adjoining restaurant (reservations required), a popular dining spot and the closest eatery to Lake Superior in the Upper Peninsula.
"We're offering a rare combination of comfortable, modern lodging and dining with some food people wouldn't otherwise find in the area," says owner Mike LaMotte, who took over the business from his parents in 2007. "We've put plenty of effort into making our rooms a place to stay rather than just a place to sleep. We've also built an expansive drink menu with many whiskeys, craft beers, and house cocktails."
The drink menu features more than 200 offerings, the result of LaMotte forging relationships with many breweries and distilleries."Our drink menu has been a big point of pride and we have pretty high standards for what we choose to serve," LaMotte says. "Our Old Fashioned is probably our most popular. It's made with really good, traditional ingredients (including bourbon and syrup), and served with 2-inch, hand-cut ice cubes."
Southern-style barbecue — brisket, ribs, and pork — that's prepared daily in Fitzgerald's wood-fired smoker anchors the menu. Other customer favorites include poutine, a Nashville hot chicken sandwich, pan-seared salmon, and grilled whitefish. LaMotte's girlfriend is of Vietnamese descent, which inspired the addition of dishes like the Banh Mi sandwich and stir-fried Udon noodles. Guests are welcome to drink, dine, and mingle on an outdoor deck.
"I've never thought of us as a fine dining (establishment), but as a good place with fine food in a comfortable setting with an incredible view," LaMotte says. "The barbecue has been very successful for us, and the blending of Vietnamese dishes into the menu has led to a pretty unique combination of offerings."
In 2020, the hotel's 12 rooms were condensed into six and completely upgraded. They now include a king bed, lounging furniture such as sofas with Pendleton blankets, high-speed Wi-Fi, a large television, a refrigerator, a microwave, and a French press coffee setup with freshly ground beans from The Jampot, a nearby iconic bakery and specialty food store run by monks.
"The biggest feedback we've received since renovating the rooms is how they're very peaceful, laid-back places to stay compared to other hotels," LaMotte says. "Guests like that, with one king bed in six rooms, there aren't a lot of people staying. They love listening to the waves with a drink."
Earlier this year, afar.com called Fitzgerald's one of the seven best hotels from which to view the Northern Lights in the lower 48 states.
Exploring the Views
Back at the Keweenaw Castle, south of Eagle River, all suites include quality linens and robes along with high-speed Wi-Fi. Guests enjoy unlimited coffee, tea, and snacks; a self-serve breakfast; and the use of an outdoor grill.
The Turret Suite, with its distinctive custom woodwork, encompasses the entire third floor. It has an indoor seating area and outdoor seating on a private balcony, as well as a queen-sized electric-frame bed, a wet bar, beverage station, mini-fridge, wine ensemble, and microwave. There's also a telescope for stargazing and freighter sightings.
The main floor Grand Suite features 10-foot ceilings, heated tile flooring, a split king electric-frame bed, a copper-topped fireplace, and a master bath with a corner jetted tub and shower with full-body massage spray. The suite has access to a semiprivate beachfront patio, as well.
The second-floor Balcony Suite boasts a king-sized, electric-framed bed, a walk-in shower, a wet bar, and a private balcony with seating.
The Cubby Suite faces away from Lake Superior, but has a queen bed, private bathroom, Smart TV, coffee/tea maker, mini-fridge, microwave, remote-controlled fan, and wine ensemble.
Guests also have access to movies, books, board games, four kayaks, and a canoe (with life jackets and whistles), snorkeling gear, a fire pit, and 400 feet of rocky beach perfect for finding agates and Yooperlights, a rock-hunter's treasure that glows under a UV light.
The castle's newest addition is a hot tub facing the lake in a Four Seasons room that has an operable glass panel wall. "It's the perfect place to be used as a screen room when needed," Nancy says. "It's open-air all summer and buttoned up with in-floor heat during the winter."
As someone who's explored this northernmost tip of Michigan many times, here's a look at some of my fall favorites to enjoy while staying at these two delightful properties.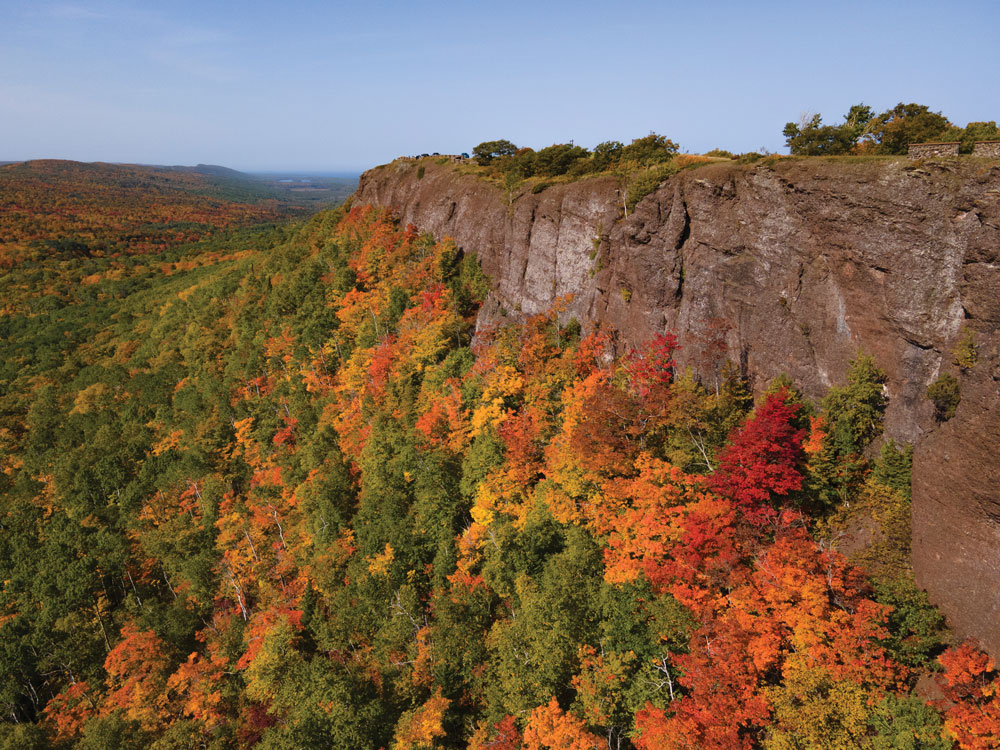 Color-Viewing
While there are several ways to experience the area's blazing fall color show, Brockway Mountain Drive tops the list. Beginning just north of Eagle Harbor off M-26, this 8.8-mile stretch of beauty tops out high above Copper Harbor, with astounding views in all directions.
"Brockway offers one of the best, most breathtaking views in the UP, and with the fall colors, it's in a league of its own with lots of spots to take in the sights along the roadway to the top," says Steve Jurmu, who conducts tours of the area's natural beauty and historic sites.
"You can see Lake Superior, Lake Fanny Hooe, and the Copper Harbor Lighthouse in one direction, and then Lake Medora to the south, and Eagle Harbor, Lake Bailey, and Agate Harbor to the west. Even Isle Royale comes into view on a clear day," he adds.
Another legendary drive is the 10-mile stretch between Delaware and Copper Harbor on U.S. 41, where the trees — some as close as 3 feet from the pavement — form a complete canopy.
Hiking to the top of Mt. Baldy near Eagle Harbor rates among the best options for seeing fall colors on foot. The nearly 7-mile, out-and-back route involves a steady climb but is well worth the effort.
"The top is totally open, with no trees, and you'll see the conglomerate rockface with views for miles," Jurmu says.
Other options include taking chairlift rides at Mount Bohemia in Lac La Belle or Mont Ripley in Hancock, booking a flight on the Isle Royale Seaplane, or venturing onto Lake Superior for a 2.5-hour cruise offered by Keweenaw Boat Tours.
"The fall color ride at Mount Bohemia is comfortable and rewarding," says Jesse Wiederhold, Visit Keweenaw's public relations coordinator, "and the Isle Royale Sea Plane offers a very unique experience to see fall color in the area."
Mountain Hikes
A little farther drive across the peninsula takes you to Mount Arvon, the state's highest point at 1,979 feet. It's located south of Skanee in the Huron Mountain Range. Getting there involves a trek that eventually follows blue diagonal signs (not your GPS) and requires a little caution navigating the winding, sometimes bumpy and rocky, route.
"There's a spot where some trees were cleared out that provides a nice view looking out to Lake Superior, and on a clear day you can see Huron Bay, Point Abbaye, Keweenaw Bay, and the Keweenaw Peninsula," Jurmu says.
Falling Waters
The area is home to many waterfalls. Some of the best and most convenient to reach are Hungarian Falls, a series of breathtaking drops on Dover Creek as it plunges into Torch Lake south of Lake Linden; Jacob's Falls; Haven Falls (Lac La Belle); Eagle River Falls; and Manganese Falls, which flows through a deep gorge outside Copper Harbor.
Wiederhold always recommend Jacob's, Haven, and Eagle River falls because they're easily accessible and don't require much of a walk. And don't miss Canyon Falls, south of L'Anse on the Sturgeon River, which roars through a 30-foot slate canyon. There's a new boardwalk that makes the trail easier to walk on. 
Facebook Comments