Along Lake Michigan in the Upper Peninsula, Manistique's Boardwalk and River Walk stretches 1.83 miles from the city's eastern limits under the U.S. 2 Bridge into the downtown district, connecting en route to picnic grounds, a fishing pier, extensive breakwall and classic red beacon. Taken in early fall, "This image is a panorama composite of four separate images." What's great: "Boardwalks offer access to natural areas that would otherwise be off-limits." What's also great: "Every boardwalk tells a million stories, too."  – Brian Edward
Nice, France has its scenic Promenade des Anglais or "La Prom," dotted by les chaises bleues with a magnificent view of Mediterranean hues in the Bay of Angels. In Queensland, Australia, the eco-conscious Gold Coast Oceanway stretches for 22 miles through varying coastal environments, from sweeping salt-water beaches to sub-tropical rainforest, laid-back surf turfs to upscale cities. And Singapore offers its much shorter but no less environmentally diverse, six-segmented Changi Point Coastal Walk, featuring a forested cliff path and stilted portion over water.
"Ahhh, the Empire Bluff trail (part of the Sleeping Bear Dune National Lakeshore) ends with a walk along a short boardwalk high above Lake Michigan. This particular evening was a test of faith: There was only a sliver of sky to offer a glimpse of the sun setting, and I didn't know whether I'd make it in time until I got there. So, go forward with faith; you never know what photo opps might be coming." Ken Scott
"Sand Lakes Quiet Area is a trail system I've wanted to explore for some time and finally made it happen. What a surprise to find the incredible raised boardwalk that runs through this wetland area. I loved not only the wandering walkway, but the patches of light the thick trees offered … a nice mix of light and dark." – Ken Scott
The United States, of course, collectively boasts an engaging array of waterside promenades bustling with rollerbladers and carnival rides, fire twirlers and fireworks — from Coney Island's renowned Cyclone coaster in New York and Myrtle Beach's souvenir stops and arcades to New Jersey's flashy Atlantic City casinos and Venice Beach's fringe of fortune tellers and tattoo artists.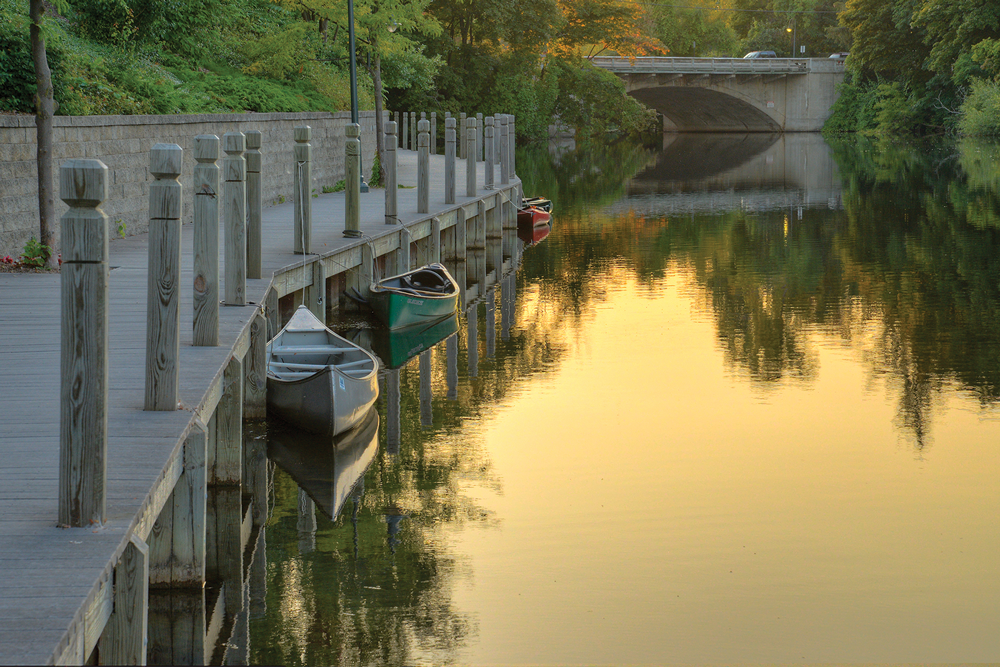 "The Boardman River in Traverse City is always a gem to explore, especially near sunset to catch the low angle of light that adds drama to any shot. The canoes were a bonus, and had I waited a bit longer, it would have been a sweet image, too, with the lamps lit." – Ken Scott
"A few miles north of Arcadia on beautiful Scenic Highway M-22 in Manistee County is Arcadia Overlook. Some 370 feet above the parking lot stairs lead up to an incredible viewing platform overlooking Lake Michigan."            – Mark Lindsay
"One of the most spectacular views in our state can be enjoyed 450 feet above Lake Michigan.  My personal favorite areas to explore are the Sleeping Bear Dunes and the Lake Michigan Overlook, located just a short walk from the designated parking along Pierce Stocking Drive. The expanse of the water below and glimpses of the Manitou Islands from this vantage point are outstanding." – Stacy Niedzwiecki
But you'll find plenty of distinctive and inviting boardwalks across the Great Lakes State, too, spelling out summer in wooden planks over steep, sandy dunes and deep wooded parks, through old-growth cedar swamps and along trout-enlivened streams.
"Pierce Stocking Scenic Drive in the Sleeping Bear National Lakeshore has an overlook some 400 feet above the surface of Lake Michigan. South Manitou Island is visible on a clear day." – Mark Lindsay
"This leaf-covered boardwalk through a wetland was photographed last autumn at Pickerel Lake in the Pinckney State Recreation Area. I loved the visual pathway for the viewer to follow. It was almost like a trail through the autumn season itself — quiet, peaceful and so fleeting." – Mark S. Carlson
"On a slightly rainy autumn morning, I enjoyed a leisurely stroll on the Rogue River Nature trail. The crisp air, scent of leaves and chatter of birds were a welcome respite from a busy work week. Running along the banks of the Rogue River in Rockford, Michigan, the boardwalk begins in Peppler Park just west of the Rockford Dam, and includes scenic overlooks to observe migrating birds and passing kayakers." – Stacy Niedzwiecki
"My interest in photographing waterfalls lead me to the U.P., where there are nearly 200. This spot was chosen based on the description of the Canyon Falls and the Sturgeon River Gorge in 'A Guide to 199 Michigan Waterfalls' by Laurie, Bill and Ruth Penrose, which made me want to see the falls and gorge for myself. The boardwalk here is necessary to access the trail along the river by leading across a boggy area and into the dense forest. This brings you to edge of the Sturgeon River. 

"The falls is amazing and begins a stretch of river cut into a deep gorge cascading down a series of ledges. In some places, the river is 30 to 50 feet below the trail. Boardwalks are compelling photographically because they help move your eye through an image, particularly a forest scene that may otherwise seem chaotic. This being my first visit, there was a sense, too, of where is this boardwalk leading me? Although the day was bright, the light in the forest was dappled with beams passing through gaps in the dense canopy."  – Tom Haxby
"Big Sable Lighthouse in Ludington looks its 140th birthday party best during an anniversary celebration held by the light's amazing crew of volunteer caretakers. The Sable Point Lighthouse Keepers work tirelessly year after year to maintain and restore the lighthouse and attached keepers' quarters. Thousands of visitors each year get to enjoy the fruits of the keepers' labors."  – Todd and Brad Reed
As this later summer season winds its own way into autumn, fall in step with some of state's top photographers onto some of Michigan's top boardwalk adventures. ≈
Lisa M. Jensen is editor of Michigan BLUE Magazine.
---
Photography provided by:
Mark S. Carlson – (markscarlson.com)
Tom Haxby – (tomhaxbyphotos.smugmug.com)
Stacy Niedzwiecki – (stacyn.com)
Mark Lindsay – (facebook.com/pages/Mark-Lindsay-Photography/124338500979444)
Ken Scott – (kenscottphotography.com)
Todd & Brad Reed – (toddandbradreed.com)
Brian Edward – (22northphotography.com)
Facebook Comments