By Howard Meyerson
Waterfalls have a certain magic — they have drawn us to their midst for eons. Native Americans sought them for vision quests. Early commerce barons saw they could turn the wheels of industry. Today, most travelers seek their peaceful, contemplative beauty. 
While more than 200 falls cascade throughout the Upper Peninsula — including dozens of big, small and renowned sites like Tahquamenon Falls in Paradise near Sault Sainte Marie (newberrychamber.net) and Bond Falls in Ontonagon County (ontonagonmi.org/waterfalls.html), the pristine northwoods region from Munising to Marquette boasts the largest concentration and holds special appeal for waterfall enthusiasts.  
These 80-plus attractions situated in Marquette and Alger counties comprise a virtual waterfall mecca.   
Choose Your Views
Within the boundaries of Pictured Rocks National Lakeshore, the park service notes most area waterfalls are the result of water running over a shelf or cliffs of limey sandstone called the Munising Formation. This formation of rock — also known as the Northern Michigan escarpment or cuesta — extends from Tahquamenon Falls some 75 miles east of the lakeshore to Laughing Whitefish Falls about 30 miles west.
Kayaks and private boats provide good platforms for viewing a couple iconic falls at Pictured Rocks, but dramatic vistas can also be enjoyed as part of a narrated boat cruise. Top-ranked in the state by Michigan Living, Pictured Rocks Cruises leaves Munising City Pier daily and offers a spectacular sunset excursion (picturedrocks.com).
Adventurous hikers can experience several of the national lakeshore's seven waterfalls in an extended day. While Munising area falls can be found at Munising.org (click "Waterfalls" under "Things to See"), the City of Marquette publishes a circle-tour map of falls accessible by car and on foot. This guide is available in print and online (gototravelmarquettemichigan.com and click on "Waterfalls" under "Recreation"). 
Listen and learn more, too, through the National Park Service: Visit audio-tournps.gov/piro. Click on "Photos and Multi-media," then "Cell Phone Audio Tour." 
Following are a few falls worth winding and finding your way to, one way or another.
---
Munising Falls
Surrounded by ferns and wildflowers in season, this 50-foot cascade is considered by many to be the region's most scenic. The falls spill over burnt-orange and ochre sandstone cliffs into a rocky canyon on the western edge of the Pictured Rocks National Lakeshore. Find them within the Munising city limits: A central viewing platform only requires a short walk on a paved trail. Two short flights of stairs lead to additional viewing areas. 
Lower Dead River Falls
Situated in the City of Marquette, three cascades five- to 12-feet high flow over greenstone rock formations. These falls are found off Wright Street, where an afternoon can be spent wandering downstream along the river or trails. Larger and more scenic with five rocky drops from six- to 30-feet high, Upper Dead River Falls are located two miles beyond town off Forestville Road.
Spray Falls
Plunging 70 feet from cliffs at Pictured Rocks into Lake Superior where an 1856 shipwreck lies 20 feet below, Spray Falls is one of the national lakeshore's most dramatic and can be seen all summer. The falls are readily viewed from the water or by hiking about three miles from the Beaver Basin parking area. 
Miners Falls
Situated in western Pictured Rocks National Lakeshore on Miners River in Alger County, Miners Falls cascades 50 feet into a spectacular sandstone canyon and can be accessed from the parking lot by a short gravel trail through forest that leads to two viewing platforms (the lower of which requires a 77-step descent).
Scott Falls
Easily viewed from Highway M-28 just a couple miles east of Au Train, scenic Scott Falls splashes down about 10 feet over a sandstone cliff into a small pool. This pretty little site is also right across from H.J. Rathfoot State Roadside Park, which features an inviting beach on Lake Superior. 
Lower Carp River Falls
Golden newts make their homes in the logs and rocks of Lower Carp River Falls. The coppery salamanders are a sure delight for kids and nature buffs. The river's name suggests the presence of carp, but area experts say that is a misnomer: The French, who settled the region, had no word for the resident suckers, so they called them "carp" and the name simply stuck. Nine falls line the five-mile river corridor from Carp Lake to Lake Superior. 
The lower falls are best approached from Morgan Falls, the confluence of Morgan Creek and the Carp River, where there's a parking lot approximately two miles south of Marquette. From Morgan Falls walk upstream along the Carp River. It's half a mile to the lower falls.  
Yellow Dog Falls
Being one of seven waterfalls found on this portion of the Yellow Dog River, Yellow Dog Falls has its own mystique in a wild and remote part of Marquette County. The main falls are off County Road 510, seven miles south of Big Bay. Seeing them requires an easy three-quarter mile trail hike. The other falls are seen by walking downstream. Pack a fishing rod and enjoy the journey: This is also good brook trout water.  
Wagner Falls
Just south of Munising in Wagner State Park, three scenic cascades on Wagner Creek invite refreshing exploration. The falls are small but the 23-acre site is a state-designated natural area with a parking lot and a short boardwalk. Fall colors are spectacular here. 
Bridal Veil Falls
Rippling 140 feet down colorful sandstone into pristine Lake Superior, Bridal Veil Falls has the distinction of being Michigan's tallest waterfall — although it can dry to a trickle in summer. Its waters come from an unnamed creek. The falls are best seen from the water, but can be observed at a distance from Miner's Castle in the Pictured Rocks National Lakeshore. 
Mosquito Falls
Flanking a cool, shaded and easy trail, Mosquito Falls is a very scenic stop along the Mosquito River in Pictured Rocks National Lakeshore. It's one of the smallest falls in the region with a five-foot upper cascade and an 8-foot stair-step lower cascade featuring 100 yards of rapids in-between. Look for wildflowers along the trail in spring. 
Rock River Falls
Approximately five miles northwest of Chatham in Alger County a short distance from Munising, remote waters of the Rock River pour over rocky limestone shelves into a beautiful plunge-pool. The route requires traveling on rugged dirt roads and a three-quarter mile walk from the parking area.
Laughing Whitefish Falls
Surrounded by old-growth hemlock and white pine in the Escanaba River State Forest, this 100-foot cascade over stepped limestone into a scenic gorge is impressive. The falls are less than three miles northeast of Sundell in northwest Alger County, 20 miles southeast of Marquette.
Uncover more at gowaterfalling.com. ≈
Award-winning writer Howard Meyerson resides in Grand Rapids.
A few Top
Regional stops
---
Marquette
Babycakes Muffin Company. Sit a bit to enjoy breakfast, lunch, coffee, chai or tea, then grab a biscotti for the trail (babycakesmuffincompany.com).
The Vierling. Think microbrewery in the downtown historic district: This bustling gathering place for more than 100 years plates up ribs, chicken, salmon, filet mignon and burgers, too (thevierling.com).
L'attitude Café. Hip and trendy but hiking-boot casual with outdoor seating and harbor views, this venue's menu includes international offerings, fine wines, an excellent Bloody Mary and sure-bet battered asparagus spears (lattitudecafe.com).
MooseWood Nature Center. From guided hikes and sailing excursions to feeding animals and drawing classes, family-friendly programs are offered all summer long (moosewood.org).
The Landmark Inn. Jazz legend Duke Ellington and poet Maya Angelou have been guests among others at this restored, nearly century-old hotel within walking distance to downtown shops and galleries (thelandmarkinn.com). 
Visit travelmarquettemichigan.com for other ways to enjoy days here.
---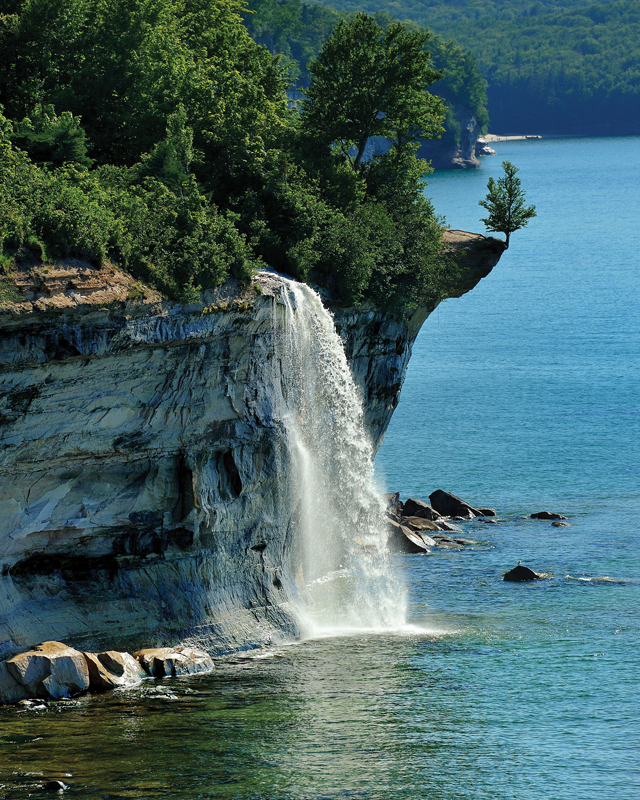 Munising
Pictured Rocks Golf Club. Precision is the game on the back nine with narrow fairways, sand traps and large greens. The front nine is wider and rolling with sand traps and water hazards (picturedrocksgolfclub.com).
Superior Pontoon Rentals. Captain your own ship. Spend the day touring Pictured Rocks or Grand Island. Bring a fishing pole and pack a picnic lunch (superiorpontoonrentals.com). 
Alger Underwater Preserve. Eight shipwrecks in 12- to 106-feet of Lake Superior's clear and mostly sheltered waters here invite scuba diving and underwater photography (michiganpreserves.org/alger.htm), or discover what lies beneath during a narrated glass-bottom boat cruise (906-387-4477).
Falling Rock Café. Stop in for coffee, books, sandwiches and a relaxed local vibe (fallingrock.com).
Go to Munising.org for more local activities and attractions.
Facebook Comments