WHEN THE POWDER FALLS, NATURE CALLS.
And snowshoes make it easy to indulge in winter's delights. This ancient form of transportation takes outdoor adventurers and nature lovers high atop bluffs and into dense forests, across deep snow and to places skis, fat-tire bicycles and snowmobiles cannot go.
In Michigan, state and local parks, state and national recreational areas, and multiuse paths offer thousands of miles of trails and pristine acres to traverse. In fact, the state permits snowshoeing anywhere on state land that is open to the public, and most of the large ski resorts rent snowshoes and have dedicated trails. 
Snowshoe enthusiasts can trek along the shores of Lake Superior or Lake Michigan, through forests on Mackinac Island, urban trails in Belle Isle Park or around the tip of picturesque Old Mission and Leelanau peninsulas. 
Having lived years in downtown Chicago, Leelanau County resident Terry Griffin finds solace in the winter wonderland that surrounds her 12-acre property, nestled in the rolling hills of wine country. Nearly every winter day, Griffin straps on snowshoes and steps out to take in the scenery, inspect animal tracks in the snow and bask in winter's tranquil beauty. 
"I really enjoy just being able to go outside in the winter, no matter how deep the snow is, and take off from here," she said. "It's really the best when you have fresh snow and it's kind of powdery, because it's really quiet." – Terry Griffin
Snowshoeing also keeps her active and social. Griffin explores the region on weekly outings with an organized group of women and informally with friends. "There's no shortage of places to go," she said. "There are so many gorgeous snowshoeing trails in this area."
Whether people make snowshoeing an hour outing close to home or head north for a weekend camping adventure, the real fun lies in venturing out into fresh powder.
"I go off-trail because I explain to people right away that is the whole idea of snowshoeing, to get off-trail and experience the fresh snow," said Ludington State Park Interpreter Alan Wernette, who leads free, guided snowshoe hikes on Saturdays in January and February. 
Wernette attended a snowshoe making workshop years ago and fell in love with taking snowshoe walks in the woods. He has led guided snowshoe and nature hikes for 25 years and often tells people, "If you can walk, you can snowshoe." Plus, snowshoeing has many benefits.
"It's less costly and easier and less hazardous, and it's great exercise," Wernette said. "You can do it in your backyard or a city park; it's something you can do right next to your home."
Guided snowshoe and lantern-lit hikes at Tahquamenon Falls State Park's Upper Falls loop, held on Saturdays in February, are very popular, said Theresa Neal, park interpreter. The 1-mile lantern-lit hikes regularly draw 200 and 300 people.
"I think people are looking to do something active in the winter that's relatively inexpensive," she said. "Once you buy your snowshoes, they can last a lifetime. You can explore areas you don't get to see, and it gets you outside."
Tahquamenon has dedicated trails at both the Upper and Lower Falls and an assortment of snowshoes for participants to borrow during the organized hikes. The Lower Falls is a quiet recreation area and a great place for people to explore on their own.
Neal encourages people to go rogue and experience what walking on 30 inches of snow feels like. "We have 8 miles of packed snowshoe trails, but we highly recommend people go off-trail," Neal said. "The guided hikes we take in February are always off-trail, and we blaze a new trail each time." 
Both Sleeping Bear Dunes and Pictured Rocks National Lakeshore permit snowshoeing throughout the parks but not on groomed ski trails. Pictured Rocks does not rent or loan snowshoes, but people can rent them in Munising, said Susan Reece, chief of interpretation.
"With over 200 inches of snow falling in the area, snowshoes are a great way to get around," she said.
Besides Pictured Rocks, people can snowshoe at nearby Valley Spur in Hiawatha National Forest and Seney National Wildlife Refuge. Pictured Rocks also hosts winter education programs for grades K-5, exposing over 1,000 schoolchildren to the sport using traditional wood snowshoes.
"The kids do get a kick out of them," she said. "If they have snowshoed before, it's usually not on traditional snowshoes."
Snowshoes can be traced to the Mongolia region and date back thousands of years, Wernette said. Invented out of necessity, they were first used by Native Americans throughout the upper Midwest to collect food and wood and introduced to early European settlers.
"It's fun and recreation today, but it was like having a car," he said. "You had to get out to get your food and wood to keep your house warm."
In Michigan's Upper Peninsula and other snowy regions, snowshoes still serve utilitarian purposes to check traps, fill bird feeders and get around in the deep woods. Wetmore-based Iverson Outdoors handcrafts traditional wood snowshoes and has many customers who are loggers, trappers and utility workers, said Jim Baker, one of the company's owners.
"If you work in the woods, whether you are a surveyor, electrical worker or forester, you like our shoes," he said.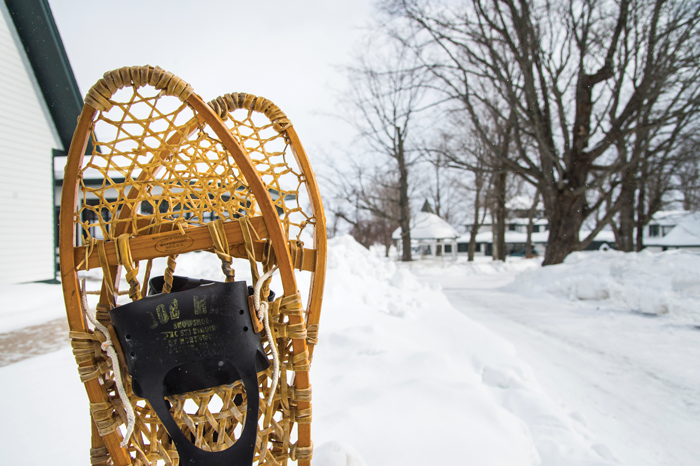 Brothers Tony and Gildo Tori bought their first pair of Iverson's snowshoes in the early 1970s to hunt snowshoe hares on swampy land in Kalkaska County. Iverson's snowshoes have great flotation, Gildo said, and they still use them when they need to cut wood or cross deep or wet snow. When the Toris aren't at their cabin, they hang the snowshoes on the wall as decoration. 
"The snowshoes afford you another opportunity to enjoy the north woods in deep snow," Gildo said. "One of our special activities is midnight snowshoe walks through the woods with a full moon, and Iverson's are a key part of that whole experience." 
Wernette sees this silent sport growing in popularity among all ages, but especially older people who may have previously skied. He eventually sold his downhill and cross-country skis to exclusively snowshoe.
"Those sports are great, but it takes a long time to recover if you have an injury," he said. "Snowshoeing is so easy to do. It's a lot safer than skiing because you are just walking at a slow pace, and you can go up hills easier."≈
---
SEEK WILDERNESS
Iverson Outdoors makes comeback with new owners, carries on with locally crafted product.
Hidden in attics, hanging as cabin décor and highly prized by outdoor workers in Yooper country, Iverson Outdoors' traditional wood snowshoes have timeless appeal. Iverson, one of a few remaining wood snowshoe manufacturers in America, has handcrafted snowshoes in Michigan's Upper Peninsula for more than 60 years.
The iconic brand encourages people to seek wilderness, and each pair of Iverson's opens the door to a world of snowy adventure. Built to last, and built to float, a pair of Iverson's can take wearers to uncharted territory, through deep snow and hold up under extreme conditions.
"There is a lot of nostalgia with the brand," said Jim Baker, one of Iverson's owners. "I got my first pair at 12 years old, and I still have that pair."
The company's founder, Clarence Iverson, opened shop in 1954, selling snowshoes to the state of Michigan. He designed a traditional wood snowshoe, made of Michigan white ash, full-grain rawhides and pure copper hardware that maximized weight distribution, optimized flotation and made walking easier. 
"The reason people buy our snowshoes is the additional flotation," Baker said. "They are much quieter than an aluminum snowshoe, and the aesthetic of the snowshoe, it's a piece of art."
Iverson's has changed owners through the decades and weathered its share of financial and production challenges. Six men from the Upper Peninsula bought the struggling business a few years ago and remain dedicated to carrying on Iverson's locally sourced, locally crafted tradition.
"That is critically important to us, that it remains a handmade product made by people in the Upper Peninsula with materials in the Upper Peninsula," Baker said.
Husband-and-wife duo Ken and Julie Holmes are skilled artisans and the heart of the business. They joined Iverson's in 1990 and carry out day-to-day operations at the Wetmore shop, working side by side to make each pair of Iverson's and fulfill orders sold under the L.L.Bean name.
Ken handles all the cutting, bending and processing of the wood, while Julie focuses on lacing, finishing touches and shipping out orders. "We have a system," Julie said. "We just know what to do and when to do it and how long to do it. … It's a labor of love for us."
In all, the company sells 17 models of snowshoes in different sizes, laced with traditional rawhide or neoprene and four binding options. They are available online (iversonssnowshoes.com) or at the Wetmore retail store, which also is open for tours. Iverson's main customers come from the Upper Great Lakes region, but Baker monitors the website and has received orders from Transylvania, Central and Northern Europe, Alaska and beyond.
In a market where aluminum and plastic now dominate, Iverson's stays focused on the craftsmanship, quality and durability that loyal customers expect from the brand. "For Michiganders and anybody in the northern Midwest, Iverson is a north woods icon," longtime customer Gildo Tori said. "They produce a great, quality product, and it's a great part of the northern Michigan winter tradition." 
— Marla R. Miller is an award-winning journalist who lives in Norton Shores. 
*Photography by Aaron Peterson
---
WHERE TO SNOWSHOE
Several state parks offer snowshoe-making workshops, educational programs, and guided or lantern-lit snowshoe hikes throughout the winter, including Tahquamenon Falls, Ludington, Hartwick Pines, P.J. Hoffmaster, Fayette, Porcupine Mountains, Straits and Wilderness. Parks also loan out snowshoes on a first-come, first-served basis during the special events. Visit michigan.gov/dnr for more information.
Facebook Comments