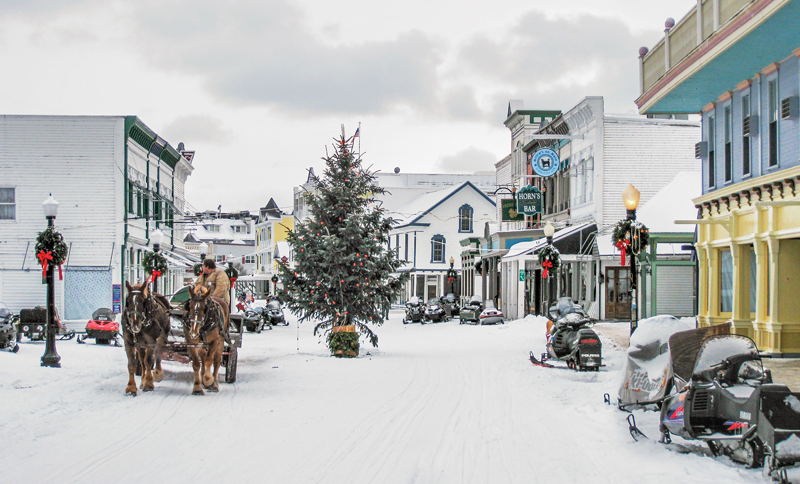 Each Christmas Eve for the past 15 years or so, Fritz Seegers and partner Jean Demott have headed off to an island. There are no bathing suits in the luggage, though, for this Kalamazoo couple; instead, they tote a plastic foam sled, cross-country skis and snowshoes.
Once Demott learned there were waterfront housing options on Michigan's Mackinac Island long past the busy tourist season, the nature-loving couple has made a tradition out of their sometimes eyebrow-raising trek to Michigan's Mackinac Island. They go for Christmas morning and much of the week leading to the new year.
"I like the snow and the tradition," Seegers said. "You can go to the eastern and northern parts of the island and be pretty secluded. The pace is slower, almost traditional. You can really enjoy the weather and enjoy the pace of living."
Agendas for a winter stay on Mackinac Island are kept flexible and necessarily so. Some years, the Straits of Mackinac remain as open water, meaning you can take the ferry well into (or all) winter. Other times, flying is the only way to get to there, and a major snow front can keep those grounded and force a stay extension. A snowy day allows for cross-country ski outings, a not-so-snowy one the chance still to get around by bike.
For Seegers and Demott, freighter watching has become a guaranteed part of the tradition, done at eye level from their third-story waterfront room, sometimes accompanied by the sound of crunching as an icebreaker leads a parade of massive boats through the straits.
Christmas morning features a homemade brunch in the room (with supplies from Doud's Market on the island), then a hike amid the ringing bells of the Episcopal and Catholic churches as islanders and their friends head to and from Victorian cottages straight from a Dickens tale. Later, there's some friend making of their own on a visit to an island tavern and sometimes only open restaurant, the Mustang Lounge.
"You just go around and introduce yourself to locals," Seegers said, "whereas in summer, you're just another tourist, and they're probably working."
Islanders do organize a few winter events and activities but put quickly from your mind anything that resembles a summer afternoon upon the arrival of ferry-toting tourists. More often, the island resembles a movie set on which all actors are on break and just the Victorian set is left, complete with old-fashioned lights lining a deserted street, a fort as prop set high above a frozen harbor and maybe a random "extra" or two engaged in a mid-street snowball fight.
Park officials flood the skating rink behind the fort each early January then flip on the lights for a romantic touch on Saturday nights, said Myron Johnson, park supervisor with Mackinac State Historic Parks. Occasionally, street hockey teams practice in the snowy streets where no cars mean no need for plowing.
Island ski club volunteers groom some 20 miles of trails — roughly half the island — both for traditional and skate skiing and, on three Saturday winter eves, throw a Twilight Turtle Trek for which they line 2 miles of ski trails with lanterns and end the outing with s'mores and hot chocolate around a bonfire. Nights such as this are especially memorable under a sky impossibly filled with stars, Johnson noted.
In the winter, it's a whole different world than you've seen if you've visited in summer. It just looks very pristine.
— Myron Johnson
"In the winter, it's a whole different world than you've seen if you've visited in summer," he said. "It just looks very pristine. Arch rock on a winter day? It's so beautiful with ice and the lake behind it."
For a combination of scenery, legend, lore and local gossip, take the "Legends and Lore" walking tour ($10 per person) with islander Mary Patay, if you can catch her between activities and games. She's also a high school coach and recreation director who spends game nights on gymnasium floors with her team and can spin some of her best stories around the logistics of travel with a tiny island school basketball or soccer team, as she leads guests past the island governor's mansion, past Arch Rock, Fort Holmes and Skull Cave. Her stories of native legends and ghostly happenings are especially memorable, as is the nature. She loves pointing out animal tracks and the (live) pileated woodpeckers that are especially easy to spot on snowy days.
As traditions go, though, you may not be able to top a New Year's Eve that includes a dray ride behind massive percherons with bells around their necks, under pines laden with fresh snow, noted Spring Lake's Patti Eddington, who often has visited for that holiday with husband Jim, daughter Molly and family friends. Some years, there's an island "turtle drop" that pays homage to the island's shape and resulting nickname, "The Great Turtle," and even open boutiques with sales. But the draw is more the lack of happenings, she said, and the chance to arrive not to throngs of people leaving a ferry but to an empty street with a massive Christmas tree smack in the middle. This time of year, you make your own fun with sledding outings, card games and hikes on silent trails.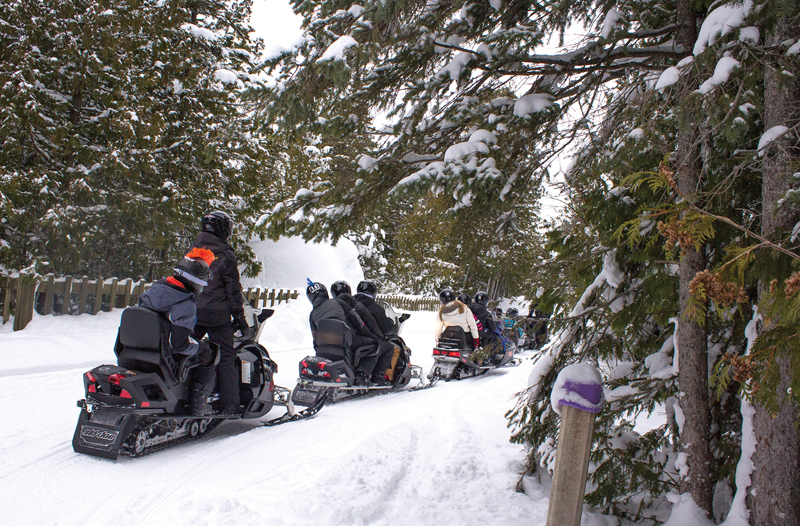 "It's almost like Hollywood came up with this idea that this is the picture-perfect thing to do on New Year's Eve," Eddington said. "And it really is."
Finding a way to spend the night can be a challenge, as resort winter options come and go. Reliably, Trish Martin has kept open the Bogan Lane Inn, a four-room Victorian cottage built by Irish immigrant Frank Bogan in the 1950s. Here, a chat with the owner can teach you about the island's past and present since she went to school on the island, taught there, served on the school board, now teaches classes and writes a newspaper column. Guests seem content to stay for a week or so with only a stack of books for entertainment, she said.
"They say they talk to each other, catch up from their busy lives, walk in the woods and just be a little more peaceful."
---
If You Go…
Cross-country ski and snowshoe rentals often have been available on the island, but that's not assured. Best to bring your own gear for snow fun, mittens included as no shops are available except on festival weekends. Fat tire bike rentals can be arranged in advance, as occasionally can a loaner pair of ice skates. If you bring a snowmobile, you need to register and buy a pass at the Mackinac Island Police Station on Market Street.
Star Line Ferry — The only winter ferry line, this runs between St. Ignace and
the island until (if) the ice freezes.
(906) 643-7635, mackinacferry.com
Great Lakes Air — The benefit of flying over ($32/person each way with a two-fare minimum) is that you can judge for yourself if the island truly is shaped like a turtle.
(906) 643-7165, greatlakesair.net
Doud's Market — Open year-round and since 1884, there's nothing old-fashioned about this family-owned grocery.
(906) 847-3444, doudsmarket.com
Mackinac Island Taxi Service — Call ahead and make evening reservations by 3 p.m. daily to get taxi pickup like you'll always want it — horse-drawn and with a provided blanket.
(906) 847-3323, mict.com
Mackinac Island Tourism Bureau — Check this site or call for more help in planning around winter logistics.
(906) 847-3783, mackinacisland.org
Mustang Lounge — Often called the island's winter living room, this one-time fur-trading warehouse with walls made from 200-year-old timbers is where to go for a made-for-you meal or to mingle with locals.
(906) 847-9916, mustang-lounge.com
Mackinac Island Ski Club — This site has information on ski conditions, trail locations, events and featured lodging open in winter.
skimackinac.com
Mackinac State Historic Parks — Call for trail or ice skating information.
231-436-4100, mackinacparks.com
Bogan Lane Inn — This Victorian B&B with four rooms stays open year-round, from $100/night with continental breakfast.
(906) 847-3439, boganlaneinn.com
Mackinac Resorts — This company manages condo rentals, including some open in winter. mackinacresorts.com
Legends and Lore Trek — Call for guided hikes through Mackinac Island State Park. mackinacislandlegendsandloretrek.com
---
Kim Schneider is a professional travel writer who has visited nearly every corner of Michigan.
Facebook Comments