LATE SUMMERTIME IN MICHIGAN … it's a time to revel in the splendors. And when the desire for a relaxing day trip arises, charming small towns make ideal getaways. Enchanting one-of-a-kind boutiques, cafés, coffee shops and unique stores can make a day trip worthwhile. So, when that 'let's do something different' impulse strikes, a road trip may be the best solution.
---
Tecumseh, River Raisin
Main street provides the heartbeat of Tecumseh, a charming town on the River Raisin with wine and cheese shops, boutiques and locally owned restaurants.
Boulevard Market, 102 E. Chicago Blvd., seems to have a magnetic pull on anyone glancing up to see the words, 'wine, chocolate and cheese' displayed boldly above the entrance. Founded in 2004 by John and Erika Aylward, the shop tempts with artisan cheeses, home-baked breads and wines worthy of any oenophile's cellar.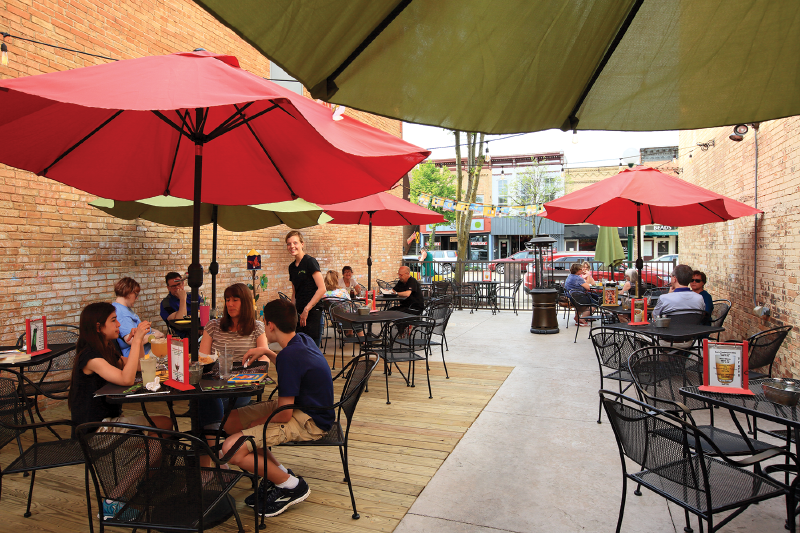 Hopscotch Kids is another unique stop in Tecumseh. A friendly, small-town shop specializing in games for kids and grown-ups.
"The town is very supportive of independent businesses; you can feel that when you're here. I really felt like we would fit in." — Valerie Robichaud
The British Tea Garden is the best locale for tea, offering a varied selection of the brewed leaves. Its soups, salads and sandwiches are sure to tempt, along with eating on elegant china.
The don't-miss vote for dining in Tecumseh goes to Salsaria's. Known for its fresh Mexican cuisine, Salsaria's deserves the nod for gotta-go eatery.
Valerie Robichaud, Salsaria's owner, said Tecumseh's welcoming atmosphere drew her to the town and the decision to open her restaurant there.
"It's just a cool town," she said. "The town is very supportive of independent businesses; you can feel that when you're here. I really felt like we would fit in. We let people (bring their) dogs when they come to eat on our patio. We take them water bowls, they're always welcome."
---
Bay City, Saginaw Bay
Waterside views of Lake Huron's Saginaw Bay abound in this city with a rich history and elegant, period buildings lining its streets. Even the drive into Bay City is energizing, cruising the span of the immense Independence Bridge over the Saginaw River. This city by the bay offers visitors an afternoon of browsing through three spacious antique malls on downtown's North Water Street. Bay Antique Center, located in a century-old building, boasts being the largest multidealer antique mall in Michigan.
Bay City may have day-cationers asking, "Why oh why, haven't investors homed in on this incredible location with so many luscious views of the water?" It seems city leaders also have asked that question, and the burgeoning Uptown area, home of two raved-about eateries, Real Seafood Company Bay City and Uptown Grill, are the cornerstones of a newly thriving present and even more exciting future.
Don't leave Bay City without a visit to an area gem nestled in a quiet neighborhood: Krzysiak's House restaurant. The family-owned establishment opened in 1979 by Don and Lois Krzysiak, features authentic Polish food.  Everything at Krzysiak's is homemade, from scratch. The Polish Platter says it all. It's an ambitious undertaking, so plan on a to-go box.
"We're famous for our Polish food," said Jeanne Preston, catering and wholesale manager. "We have wonderful dinners, a wonderful buffet, we make our chicken soup from scratch and even make our own noodles." Krzysiak's House restaurant is even a favorite of Michigan legend Ted Nugent; photographs of "the Nuge" standing beside the owners are displayed in the lobby.
Photography Courtesy Great Lakes Bay Regional CVB
---
Lowell, Flat River
Known as an arts community, Lowell is a small town on the Flat River first founded in 1831. Walking through Lowell's downtown district offers riverside dining — locals are quick to recommend the Flat River Grill, located on the river that shares its name — and a glimpse of the Lowell Showboat, a historical symbol of the town. The showboat, built in 1935, was a key part of life in Lowell until recent years when the aging vessel was deemed unsafe to continue as a venue for entertainment that once boasted names like Louis Armstrong and Milton Berle.
"You know they say, 'Lowell is the next place to be', well, I say I think Lowell is the place to be!" — Rita Reister
A favorite stop here is the Flat River Gallery and Framing. An artists' cooperative, it's a working studio where artists often work alongside the artworks for sale. Another great stop is Flat River Cottage, which carries jewelry, art, antiques and furnishings by area artists.
"You know they say, 'Lowell is the next place to be', well, I say I think Lowell is the place to be!" said Rita Reister, owner of Flat River Cottage.
The desire to own a big, beautiful home like so many around Lowell was what attracted Reister to Lowell, which has been home to the shop owner for 40 years. Both a resident and a business owner in the town, Reister said, "I love it. It's a small town with a great community feel."
From fine art to kitschy fun, one area attraction is a throwback to the days of dime stores. Springrove Variety is largely a crafts shop, but for those with love of nostalgia, the sight of bulk candies, yarn and jigsaw puzzles may bring about a sense of melancholy for the once popular five-and-dimes.
Unique boutiques boasting vintage and re-purposed items dot the town's sidewalks and are a great draw for many visitors. Strolls through the shops offer one-of-a-kind finds, including vintage postcards, frames and home décor.
---
Lake Odessa, Jordan Lake
Halfway between Lansing and Grand Rapids rests a small town nestled amidst two inland bodies of water: Tupper Lake and Jordan Lake. A word about Lake Odessa, the people here are happy, quick to chat and all-out friendly.
Meyer's Hometown Bakery and Beanery is known for its doughnuts. Owner and baker Jeff Meyer purchased the bakery in 1993 when he was just 22 years old and revitalized the place as a cozy cornerstone of this tucked-away community.
Lake Odessa's main thoroughfare also is home to Lake Odessa Antique Mall, boasting three floors of antiques and a front desk behind which can be found one of the friendliest, fun-loving groups anywhere in the state. Plan to spend at least a couple of hours browsing this rambling antique mall and a bit longer to chat and laugh with the employees.
"The town, it's a small town, a little farm town, but it has antique shops, the bakery, the beach, a very clean lake — just all those things that you think of in a little lake town. It's pretty nice," said Jane Guidi, who has worked at Lake Odessa Antique Mall since it opened 21 years ago.
"What I've discovered since we opened the store 21 years ago, I felt comfortable here, I've met so many nice people in this town, everybody is very friendly. We have such nice restaurants, there's a very clean little lake for swimming and fishing, there's a public beach, it's just a real homey town. You just feel comfortable," Guidi said.
Capping off a day in Lake Odessa is best done with dinner at Penny's Five Star Pizza. Locally owned for nearly 30 years, the restaurant features Italian food. In keeping with the warm smiles found throughout Lake Odessa, the service is upbeat and attentive. Serving up hot pizzas and darn-good calzones, Penny's Five Star Pizza is a five-star pizzeria in a five-star town.
---
Julie Bonner Williams is an award-winning poet and a professor at Grand Valley State University. Her work appears in a variety of publications.
Facebook Comments