According to the Old Farmer's Almanac, this winter will have "above normal snowfall from Minneapolis eastward." That's good news to the people of Michigan's Upper Peninsula, where handling 16 feet of snow per season is second nature.
The 30-year average annual snowfall measures 204 inches in the Upper Peninsula, according to the National Weather Service. While some parts of the country can be paralyzed by a mere dusting, snow days in the U.P. are rare. Crews clear roads with conga lines of plows pushing blades as high as a house. People can get to work, and they also get to play.
Winter recreation boosts the region's economy, but more importantly, it boosts morale, and it has for over a century.
"Many people in Michigan don't realize that the birthplace of organized skiing in America was not in Aspen, Stowe or Sun Valley, but right here in the middle of the U.P., in Ishpeming," says Justin Koski, director of the U.S. Ski and Snowboard Hall of Fame. "Skiing has been a way of life since hearty Norwegians came to mine iron ore, bringing their ski-jumping tradition."
Fifteen U.P. counties have places to ski, including 19 lift-fed areas. Skiers have their choice of single rope tow hills to full-featured resorts with double and triple chairlifts.
Perfect for young families and beginners, the U.P. offers eight community-run ski hills. Aaron and Kristen Peterson take their children to Alger County's Hiawatha Slopes in Chatham. "At this age, you don't know whether the kids will want to ski for an hour or all day," says Aaron Peterson, a professional outdoor photographer. "Chatham is a flannel shirt and blue jean kind of place with a single rope tow and a barrel-stove in the base lodge."
The Hiawatha rental department is grab and go, stocked with donated equipment. Lift tickets are $5, less than the price of a pizza. Trevor Case, a local farmer, wants to keep it that way. He lives next door and agreed to manage the ski area for Rock River Township. He turns on the lights Wednesday nights from 4-8 p.m. and starts a bonfire for the families. On Saturday and Sunday afternoons, the hill opens at 1 p.m. Case keeps a pot of hot chocolate going and lets the kids roast hot dogs in the woodstove. "It's all worth it to get the kids off their phones and video games," Case says.
Skiers looking for more varied terrain have plenty of choices. Ten ski areas offer rental departments and certified ski schools catering to beginners through expert skiers.
"One reason we grow such good skiers and snowboarders is because our areas are so accessible," says Ron Thorley of Marquette. He grew up in the Detroit area but chose to go to Northern Michigan University because Marquette Mountain (then Cliff's Ridge) was just a short trip from his dorm. Now, a local business owner nearing retirement, he still lives close to the hill. On Thursday nights, he's waxed and ready to race in the adult league.
As the biggest city in the U.P., Marquette offers the most when it comes to lodging, dining and entertainment. Marquette Mountain, just a few miles from downtown, starts blowing snow as soon as temperatures drop below freezing.
Ski Brule in Iron River, historically earns "first to open" honors. Ski Brule's operation usually starts around Halloween and runs through Easter, making it the region's longest ski season. It's 150-acre complex has 17 trails, 11 lifts and on-slope lodging.
In nearby Dickinson County, Pine Mountain Golf and Ski Resort and Norway Mountain Resort each provides skiers with more than 500 feet of vertical drop and a share of beginner and intermediate runs. Pine Mountain is the only Michigan ski area with a professional 120-meter ski jump. Every February, the local Kiwanis Club hosts the Continental Cup, an international ski-jumping competition.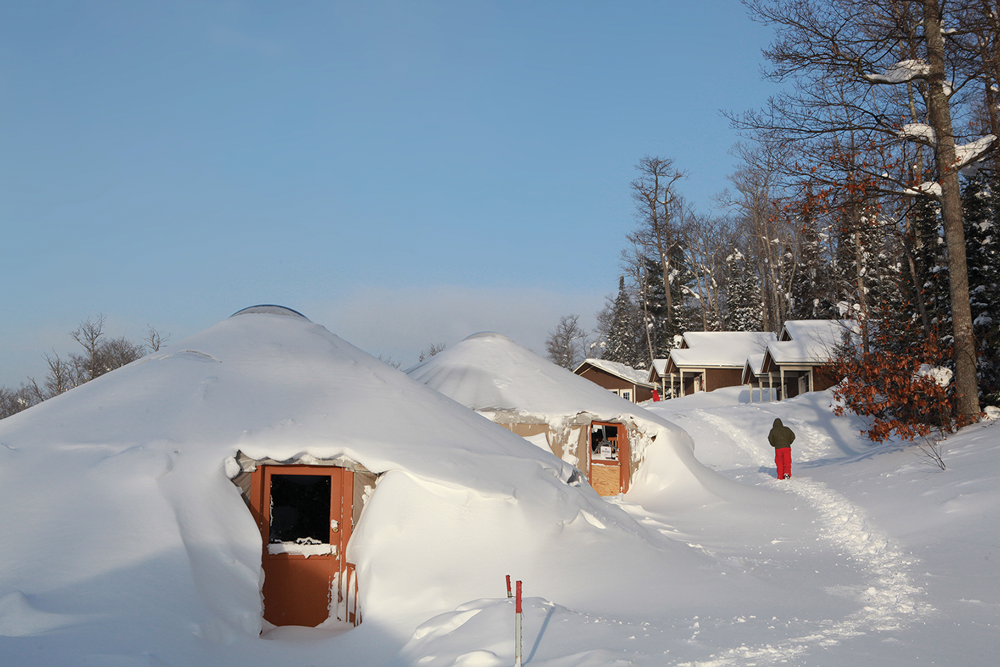 The oldest operating Michigan ski jump is the 90-meter Suicide Bowl between Negaunee and Ishpeming. The tallest of the peninsula's three jumps is Copper Peak in Ironwood. At 145 meters, Copper Peak rates as a "ski flying" jump with a chairlift.
Big Powderhorn, Blackjack and Indianhead, a trio of resorts in the western U.P., also share long seasons and offer on-slope or nearby lodging. With nine chairlifts and a rope tow serving 33 trails, Big Powderhorn Mountain Resort has the most lifts of any area resort.
A trip to Indianhead Mountain Resort is one for the memory books. Veterans know it is "all down hill." The base lodge and parking lot are found at the top of the slope. Half of its 30 runs are labeled black diamond, considered expert, but beginners have a magic carpet conveyor lift to help them uphill. Like Indianhead, nearby Blackjack Ski Resort has two terrain parks, and lift tickets are good at both resorts.
Known as Big Snow Country, the region also is home to the only Michigan college offering a degree in Ski Area Management. Jim VanderSpoel directs the program at Gogebic Community College. He says there are "more job openings than students." His graduates work at ski areas all around the world from Iceland to Argentina. GCC owns and operates Mt. Zion in Ironwood and also manages Porcupine Mountain Ski Area in Ontonagon.
Tree skiers and powder hounds know Mont Ripley's steeps and deeps. Freestyle skiers workout in the terrain park. The Hancock ski area is owned by Michigan Technological University. Hancock was dubbed the snowiest town in the Midwest.
"I can't guarantee a powder day," says manager Nick Sirdenis, "but chances are pretty good you'll find it here, and our hill is built for it."
Forty miles north near the tip of the Keweenaw Peninsula overlooking Lac La Belle, is 600-acre Mount Bohemia. Set to start its 17th season, Bohemia has made a name as a base camp for the extreme, and no beginners are allowed.
"We don't sell skiing, we sell adventure, wilderness and escape," explains owner Lonie Glieberman. True to its branding, offering the Midwest's highest vertical drop — 900 feet — and "bragging rights" tree runs, Bohemia may be at the end of the road, but for the skier or snowboarder looking for the perfect selfie of dropping a chute or threading a glade, the destination warrants the miles.
"Most places in the Midwest, you can ski all the runs by noon, here, it will take you three days," Glieberman says. Last season, he opened Voodoo Mountain, an adjoining 100 acres and the first commercial snowcat skiing operation east of the Rockies. Rather than taking a surface lift to the top of the slope, up to 16 passengers ride in an enclosed vehicle equipped with special traction. New trails cut last summer expanded the snowcat terrain.
"You'll be able to get 12 to 14 runs in a day on the cat," says General Manager Vern Barber, "and never ski the same run twice."  Lodging choices also have increased at Bohemia, with the debut of a new log lodge and the Peninsula's largest hot tub.
"It's a throwback to how skiing was in the '60s," Glieberman said. ≈
Freelance writer Frida Waara loves where she lives on the south shore of Lake Superior in Marquette. – (Photography) by Joey Wallis Photography
Facebook Comments