Climbing trees. Who didn't?
Branches had to be close enough to the ground to get a good start. Apple trees were easy. Chokecherry trunks grew solid with easy-to-reach crooks in my neighborhood. The stout limbs could support us right up to middle school. Kids know all kinds of ways to "hang out" in a tree.
Growing up in Oakland County, my Aunt Pat's walnut tree on her property near Walled Lake towered like a giant at the edge of the cornfield. The arms were so stocky, we could hang a tractor tire on a rope as thick as our calf and swing four kids at a time.
Later, living on the south shore of Lake Superior, I witnessed how the lure of climbing trees hooked my kids when I watched them scale a white pine right to the crown.
Michigan ranks as one of the most forested states in the country. According to the Department of Natural Resources, 20 million of Michigan's 36 million acres (55.7 percent) are covered with trees.
We need trees. Not just for air and shelter, heat and toilet paper, but to nudge us out of our usual point of view. Whether it's looking up from the base or looking out from the peak, trees teach perspective.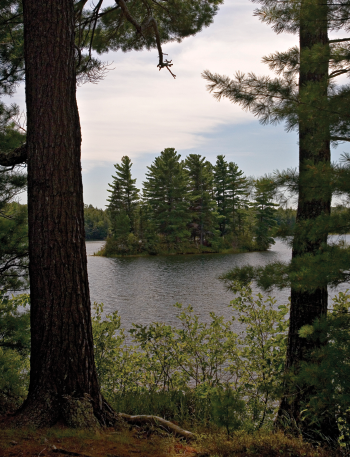 Gratefully, there's no better classroom than our very own Great Lakes state. And there's no better time than autumn, when Mother Nature quilts her richest canopy, to underline that lesson in blazing color.
Michigan ranks as one of the most forested states in the country. According to the Department of Natural Resources, 20 million of Michigan's 36 million acres (55.7 percent) are covered with trees. In the Upper Peninsula, that number is even higher (84 percent) with 8.8 million acres out of the area's 10.5 million growing trees.
Sixty percent of Michigan's forest land is privately owned, but the DNR also manages the largest state forest system in the nation — 3.9 million acres — an area bigger than the entire state of Connecticut. In total, the state has 8 million acres of forest land for the public to hunt, fish, hike, bike and enjoy.
The U.S. Department of Agriculture oversees national forests from coast to coast, and while 87 percent of the 155 national forests lie west of the Mississippi River, Michigan is home to three: Ottawa and Hiawatha in the Upper Peninsula and Huron-Manistee in the Lower Peninsula. Together, the trio total another 2.8 million acres of forest land open to the public.
Harvesting timber has been and will continue to be big business here, but some of Michigan's forest land has been preserved from cutting.
Visitors to Hartwick Pines State Park near Grayling can walk among the last stand of virgin white pine in the Lower Peninsula and tour a logging museum.
Looking for virgin white pine in the Upper Peninsula, go to the Estivant Pines Nature Sanctuary in Copper Harbor. These trees, some 130 to 150 feet tall, are maintained by the Michigan Nature Association.
Perhaps the trickiest forests to visit — because they involve a ferry ride — are on Grand Island off the shore of Munising in Lake Superior and in the Valley of the Giants on South Manitou Island in Lake Michigan.
With so many protected forests, it's no wonder some of the biggest trees in the nation are rooted in Michigan.
Andy Sawyer, who lives in St. Joseph, has either found and measured or visited most of Michigan's giants.
Sawyer began to seriously climb trees when his son Noah was in middle school. In 1981, the pair measured a green ash in Cass County that has continued to rank a national champion at 98 feet high and 271 inches around. That's a circumference of 22.5 feet. In other words, if the average arm span for a man is 5 feet, 9 inches, it would take four men, fingertip to fingertip, to circle the tree.
Sawyer starts tree hunting on his computer. From satellite images he identifies large trees in remote areas and starts mapping. Using GPS coordinates, he drives, hikes — even bushwhacks, tracking the location. Once he locates the tree, he uses a compound bow to shoot ropes that are anchored for the climb. The work can sometimes take a day and a half.
Sawyer will never forget the tallest tree he ever climbed: a 130-foot American beech in Traverse City. "I was able to climb all the way to the top and stick my head out of the top of the canopy," he says.
He explains the tree grows on the top edge of a steep hill, so the sense of height was exaggerated.
"I was standing on fairly small branches, and as the wind blew, I was swaying back and forth," he recalls. "It was one of the most spiritual moments of my life."
He's still hoping to overnight in a tree some day.
"We were set up to sleep about half-way up a 145-foot-tall Eastern white pine in the U.P. but the weather turned." He adds, "But I did take a nap up there."
Sawyer also took advantage of the height to get cell phone reception — the first time in 10 days — and called his wife. She happened to be in downtown Chicago with his daughters.
"I was struck by what an amazing world we live in, where I could be relaxing 75 feet up in a tree in the wilderness and talk to my wife hundreds of miles away," he says.
Sawyer figures he has located "somewhere in the range of 50 national champions." But, he says, "Not all of them remain national champs. They can be dethroned for a variety of reasons; they may die, or larger ones are found."
Because of his passion for trees, Sawyer now serves as the state coordinator for the Michigan Big Tree Program, an effort of Michigan Botanical Club. For 75 years, the National Big Tree Program has been working to promote the country's most remarkable trees. More than 781 champions have been documented in the national database.
"Trees live such long lives, it helps me to reflect on what time really means. A few days or even years are just a blink in time for some of them."
— Andy Sawyer, state coordinator for the Michigan Big Tree Program
Michigan has one of the oldest state registers in the nation. For the past 65 years, the program has maintained a scientific register of the largest trees of each species, thanks to dedicated club members who volunteer.
Paul Thompson was the state's first Big Tree Program coordinator, and over his 45-year tenure, he personally measured and documented more than 4,000 trees. Sawyer has been coordinator since 2008.
Mike Lindquist is not an official "tree hunter" like Sawyer, but they share the same enthusiasm to explore.
Retired from the research lab at the Munising paper mill, Lindquist knows trees. So when he heard of a huge white pine near his family camp northeast of Melstrand, nestled near Pictured Rocks National Lakeshore and the Hiawatha National Forest, he had to investigate.
What he found took first place in the 2012 ReLeaf Michigan Big Tree contest. The white pine measured 198 inches around — 16.5 feet — and 131 feet tall.
Imagine coming across something as tall as a nine-story building in the middle of one of the most remote sections of Alger County. Lindquist named the tree the "Great White Pine," and he admits he's found a "pretty good white pine" along with some giant cedars and birch in the neighborhood.
Sawyer hopes to meet up with Lindquist and visit the Great White. As Sawyer says, "I know there's a new national champion somewhere in Michigan — I just haven't found it yet."
He's patient. That's one of the lessons he's learned as a "tree hunter."
"Trees live such long lives, it helps me to reflect on what time really means," he says. "A few days or even years are just a blink in time for some of them."
---
Michigan's oldest trees
"Just because a tree is the tallest, doesn't mean it's the oldest," says Jo Ann Samuelson of Marquette.
Always out for an adventure, Samuelson learned the oldest reported trees in Michigan are the northern white cedars along the limestone bluffs of Fayette Historic State Park overlooking Lake Michigan.
Professor D. W. Larson of the University of Guelph in Ontario has aged the senior tree in this ancient forest that lines the Niagara Escarpment at 1,414 years old.
"It's hard to get anywhere near these trees," according to Park Supervisor Randy Brown. "We have a number of lookouts on the hiking trail which tops the 90-foot bluff, but probably the best way to see the trees is by kayak."
He admits, "Their size is not impressive. In fact they look more like a bush, but they have survived because the only thing to get at them is the weather."
Adapting is the secret to survival and if these trees could talk, they would surely tell quite a story about living at the edge of a Great Lake.
Another example of a tree existing in the face of all odds is the white pine standing atop Chapel Rock along the Lake Superior shoreline in Pictured Rocks National Lakeshore.
Chapel Rock and the surrounding area are closed to preserve this precious geological formation, comprised of soft, eroding sandstone that is an estimated 500 million years old, according to a historical marker at the national park.
More than a century ago, the sandstone arch that supported the tree's roots gave way, leaving the lifeline exposed. Still the white pine appears to be flourishing, a testament to Michigan's state tree.
---
Writer Frida Waara loves where she lives on the south shore of Lake Superior in Marquette. Most days you can find her outside looking for a new story.
Facebook Comments