ATHRILL-SEEKING GOLF EVENT of a few years ago included a stop at The Rock golf course at Drummond Island.  Early in the round, a golf partner spied huge animal footprints in the groomed sand of one of the few fairway bunkers.
The tour affirmed that water, island courses and, yes, even the dreaded island greens were part of Michigan golf.
"Bear or bigfoot?"
The foursome gathered to look and ponder. Said one, eyebrows raised: "Either way, I'm not going to be the one who asks the big fella to use a rake next time."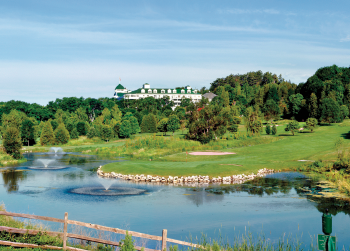 On that Michigan trip, the objective was to seek out exotic or unique golf courses. The tour affirmed that water, island courses and, yes, even the dreaded island greens were part of Michigan golf. The trip included golf on Drummond, Beaver and Mackinac islands. A later trip with a similar adventure theme revealed a course near East Lansing that featured a replica of one of the most famous par 3 island greens in golf.
AT THE EDGE
Consider first Drummond Island, that large island just off the east end of the Upper Peninsula in Lake Huron. It is golf on the edge of Michigan, isolated, off the grid, rustic and fun. The Rock, which opened in 1989, was carved out of 400 acres of hardwood, cedar and limestone.
Wildlife is everywhere, though there is no confirmation that Bigfoot is about. The second hole, a long par 3, features a large peninsula green surrounded by water save for a land bridge that allows access. It's one of many well-designed holes by Harry Bowers at the course. Those looking for a unique golf adventure cherish the course's isolated areas.
ISLAND TIME
Mackinac Island, while not rustic, is locked in a less stressful age where horse-drawn transportation is the norm. Golf at Mackinac Island is that way, too, with an emphasis on serenity.
Wawashkamo Golf Club is one of Michigan's oldest active courses, on what was a War of 1812 battle site. Gorgeous views from several great vantage points are guaranteed, and golf is truly timeless and open to the elements.
Located across from the Grand Hotel, The Jewel is well-named. Its Grand nine offers views of Lake Huron and Round Island, while the Woods nine winds into the island's interior and features vistas of the mighty Mackinac Bridge and the forested Upper Peninsula. After golfers play the Grand nine, a horse-drawn carriage transports them in serenity to the Woods nine.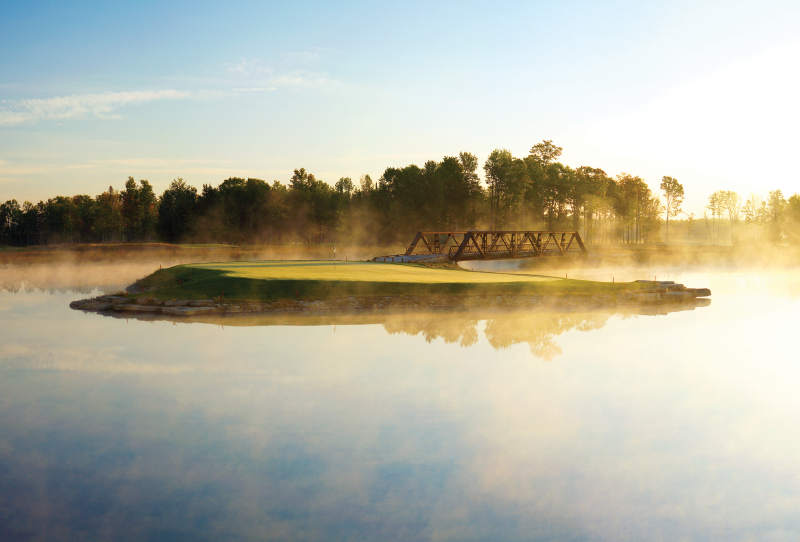 SUNSET PLAY
Beaver Island's simply named The Beaver Island Golf Course bills itself as "a wee bit of Scotland on the Emerald Isle."
In the 1950s, golf professional Matt Melville played Charlevoix's famed Belvedere Golf Club with former Illinois governor and presidential candidate Adlai Stevenson. Later, while working as a boatswain on an ore carrier, Melville visited Beaver Island. History reports that locals convinced him golf was needed to help attract tourists. He's credited with directing construction of the course that broke ground in 1957.
Hit and hold your breath is a good plan for most island par 3s…
The nine holes are low key in a scenic pastureland on the east side of the island. Look for wonderful sunsets if you play late in the day.
SAWGRASS HONORS
Sunsets are spectacular at Eagle Eye Golf Club near East Lansing, too. The 17th hole at Eagle Eye is a replica of the 17th hole at TPC Sawgrass in Florida, where each year television audiences watch one of golf's most famous island greens beguile the best players in the world. One professional carded a 9 — while another made a hole-in-one in the recent drama of the 2016 Players Championship.
Designer Chris Lutzke said part of the Eagle Eye site seemed perfect for an island green, and he decided to honor his mentor — Pete Dye, regarded as one of the best and most prolific golf course designers in history — by recreating Dye's most famous hole.
"If you are in a position where you have to go after the pin, the breeze is blowing, you feel the pressure, it's pretty easy to drop one in the pond," said Scott Hebert, a multiple Michigan PGA Championship winner at Eagle Eye. "It's one of those shots you hit and sometimes hold your breath."
Hit and hold your breath is a good plan for most island par 3s, and No. 17 at Eagle Eye is not the only dramatic island hole in Michigan golf.
ISLAND MONSTERS AND MORE
Near Kalamazoo, a little public course called Lake Doster Golf Club features the "Little Monster." A drawing of the green and bunkers are part of the course's great logo.
The par 3 No. 3 hole is just 100 yards in length, but with about 90 feet of elevation change from the tee high above, it is especially difficult to judge the shot. Three deep sand traps frame the hole and keep a lot of shots from going in the water, though the attempted sand shots often then end up wet. It's fun, but golfers need to be ready early in the round for the precarious little shot.
At the Upper Peninsula's Sweetwater Resort in Harris, where they host a Symetra Tour event, designer Paul Albanese fashioned an island green that incorporates a historic metal-truss, one-lane bridge that connects the golfer to an island green. The bridge is one of five rescued from old roads in the area and incorporated into the course.
The green is named Turtle Island. Albanese took inspiration from the local Potawatomi culture for his design, which demands a 186-yard shot from the very back tees, or about 140 yards from the middle tee areas. It offers a sizable target, but not without some trepidation.
Other courses around Michigan offer water-surrounded greens that invite argument over whether they are truly island greens. Island Hills in Centreville has its No. 17 green on an island surrounded by wetlands, but it is a large island that includes a tree stand and room for several greens. The No. 9 green at The Bear at Grand Traverse Resort juts out on what is really a peninsula, but that's no consolation to golfers who face the diabolical par 3.
---
Greg Johnson is a member of the Golf Writers of America and serves as a trustee to the Michigan Golf Hall of Fame committee. He has covered golf for 34 years.
Facebook Comments