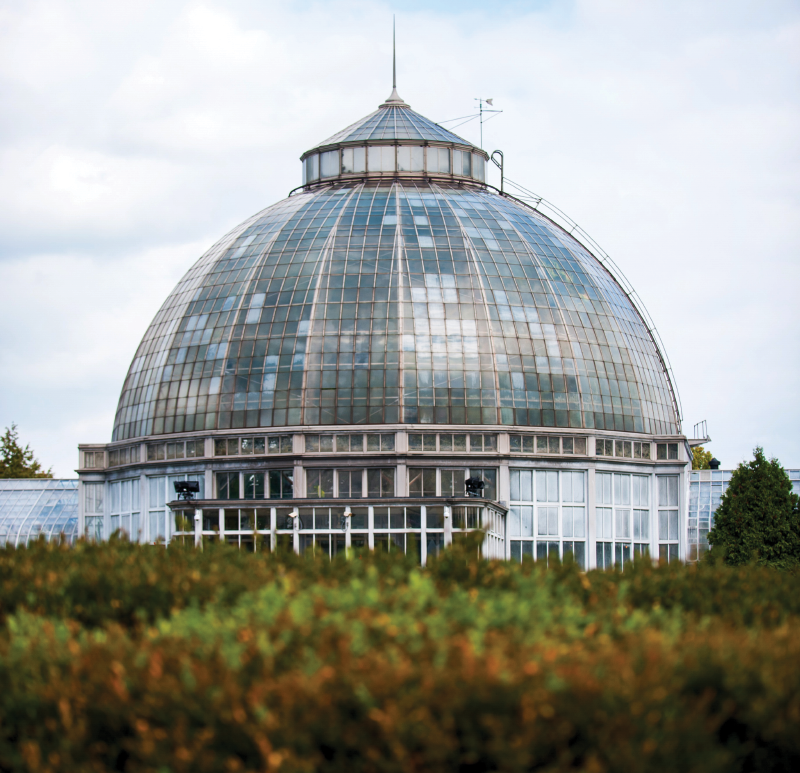 Although Detroit is a treasure trove of gems — like its Art Deco architecture — its crown jewel could easily be Belle Isle, especially as it is now being returned to its former glory.
In the late 1800s, the city purchased the 985-acre island in the Detroit River from the Campeau family to develop as a city park, and it's had a long, beautiful history ever since, says Michele Hodges, president of the Belle Isle Conservancy.
"It has an architectural pedigree worth noting," adds Hodges, referring to the contributions of Frederick Law Olmsted, who designed Central Park in New York City, and the conservatory and aquarium designed by Albert Kahn. Other areas, like the horse stables, were designed by George Mason, who also designed the Grand Hotel on that other Michigan island we know and love, she says.
In October 2013, the city of Detroit and the Michigan Department of Natural Resources signed a 30-year lease agreement to make Belle Isle a state park. In the first three years, $10 million to $20 million coming from grants, bonds and private donations were expected to be spent on much-needed improvements.
Spring is a popular time to visit the newly restored site.
"People meet for family reunions and get married or engaged. Belle Isle is a place to mark life's milestones," says Hodges. "It's really a wonderful time, ecologically. The beavers and bald eagles are back and migrating birds use it as a stop."
Though challenged for a number of years, Hodges says now is an exciting time for Belle Island due to some dramatic improvements.
"It's a wonderful little aquarium, built in 1904. We run it on weekends and we're very proud of the fact that admission is free. It's a signature accomplishment."
— Sarah Earley
"The engaging community continues to make Belle Isle a tradition. If you only had five minutes, I would head straight to the (James Scott Memorial) Fountain. It's close to Sunset Point."
"A really magical time is sunrise at the Nancy Brown Peace Carillon where you can hear the chimes when the sun is rising. If you're really lucky, you might see the profile of a freighter. There are not many places that (offer) that, where all the elements play together. … There's so much to do.
"It really touches your soul for so many reasons — the people, the passion. That to me is really more testament to the fact that it's very special," says Hodges whose childhood memories of ice skating and feeding Wonder Bread to the ducks remain with her today. "It really anchors you to the island."
CONNECTING WITH NATURE
When Sarah Earley, chair of Belle Isle Conservancy, took a History of Landscape Architecture class years ago, she wrote a paper on Frederick Law Olmsted. As she explains, despite the area's shift from rural to industrial, he believed in the need to stay connected to nature. "He saw it as a social justice issue," she says.
At the turn of the century, people were leaving farms and small towns and coming to the cities to work in manufacturing. Then, after WWII, city dwellers flocked to the suburbs. When they left, cities stopped investing in parks, and by the '80s and '90s, the state of Belle Isle and other parks in the nation had become dismal.
But that triggered the beginning of the idea of park conservancy, led by Elizabeth Barlow Rogers in New York — an idea that caught on across the country.
"Our goal is to have something that lasts longer than we do. We want what's best for the park," says Earley. "We have very dedicated volunteers — some have been there since the early '70s."
She recommends a visit to the newly reopened Beaux-Arts style aquarium, staffed with volunteers. "It's a wonderful little aquarium, built in 1904. We run it on weekends and we're very proud of the fact that admission is free. It's a signature accomplishment."
Another highlight is the Livingstone Memorial Lighthouse. "It's marble and on the far east end (of the island). You can walk there and never know you're just across the water from a major city," says Earley.
"I love being right on the river in this green, calming space where you feel like you can reach out and touch a freighter while looking toward the Ambassador Bridge and Windsor.
"It's such an important piece of the fabric of the city. There's a lot of recreation that goes on every single day — ball leagues, runs — there's always something."
ONGOING EFFORT
It truly takes a village to maintain a site of this magnitude. As Karis Floyd, manager of the park for the Michigan Department of Natural Resources explains, the DNR handles everything from managing the facilities to updating structures like the lovely Belle Isle Casino building, which can be rented for meetings and events.
Floyd grew up in Detroit, not far from Belle Isle. "I remember my grandmother and my mom and dad would bring us there for picnics, and we would watch the fireworks or go on the Giant Slide," he recalls.
"When I was asked to come on board, for me it was a no brainer to try to return the island to what it once was and to be able to bring the giant slide back up and running five days a week. I remember going up and down a zillion times. We had approximately 27,000 people ride the slide last summer."
Additional picnic shelters and playground structures are among the current projects. Kayaks and canoes are available for rent once again, and local outreach programs bring groups of all ages.
"We really try to get into the community. Senior Power Days get seniors back into the park. We'll have a walking event or a brunch. A Christmas program with dancing and caroling was a big hit," says Floyd. "For me, that was just huge to see so many seniors participate from Detroit and other communities."
FEEL GOOD
All public parks should have two major ingredients, notes Ron Olson, chief of the DNR Parks and Recreation division. "People want a clean and safe place to go and recreate, and that's what we set out to do," he says.
It might not sound glamorous, but getting most of the park's bathrooms reopened was a major achievement. For added safety, the DNR team works with State Police and conservation officers to establish a consistent presence of enforcement.
Attendance has been on the rise.
"Belle Isle serves as an example of working together, partnering and keeping an eye on a goal that's an asset for citizens and a symbol of the comeback of the city," says Olson. "What makes it unique is the diverse set of opportunities. It's a great place to bike and to run races, or go to the beach area. It's attractive because it offers a variety of things."
The progress will continue with 40-some partners coming together, from federal agencies to nonprofits, human service groups and youth service groups.
"In order to be successful as an entity itself, everyone has to be all in for it. There are so many interests. We respect all the ideas and try to keep a balance," says Olson, who encourages people to participate in monthly meetings.
"Belle Isle is a lot of things to a lot of people. It's a people's park, a public park."
THEN AND NOW
For more than 25 years, Jan Ellison, a native Detroiter, has been a volunteer on the island.
"As a child, I remember going to the little zoo. There was a bench where we would sit and have our picture taken," she says.
Now the Anna Scripps Whitcomb Conservatory where she volunteers is among her favorite spots. "It's serene, especially during the week. It's a nice place to escape to, and I've made a lot of good friends volunteering there.
"People should come down to Belle Isle. It's really beautiful."
For more information, visit michigandnr.com and belleisleconservancy.org.
---
On the waterfront
These days, urban renewal often finds tremendous support. In 2003, the Detroit RiverFront Conservancy was launched by three key partners: the city of Detroit, which provided valuable riverfront land and significant infrastructure improvements; General Motors, which invested an additional $25 million into its waterfront renovations at the Renaissance Center; and the Kresge Foundation, which provided its largest grant ever to a single project — a $50 million challenge grant that served as the economic catalyst to launch the Conservancy's efforts.
The first phase of its west riverfront project, the 20-acre West Riverfront Park, features an extra-wide RiverWalk for jogging, walking and fishing, pathways linking the riverfront to Jefferson Avenue, security cameras and call boxes, benches, bike racks and green space galore.
Finished portions of the riverfront — and its sister rails-to-trails greenway, the Dequindre Cut — welcome around 3 million visitors each year. Mark Wallace, president and CEO of the Detroit RiverFront Conservancy, says the area has become a very special place for the city and the region.
Like Detroit, many major cities reside on a river, Wallace points out, citing New York City on the Hudson and Minneapolis on the Mississippi, along with many more.
"From a natural perspective, there's been a reintroduction of wildlife and people on our riverfront. It's the first place the Detroit Tigers rookies come for their orientation. It functions a lot of different ways for different people — biking and walking; some plan to relax and interact with nature," he adds.
"We also have programs we're proud of that have really been embraced by the community, like GM's Reading & Rhythm on the Riverfront where kids have books read to them, listen to music, get a free ride on the carousel and receive a free book from the bookmobile," Wallace says.
"… The RiverFront is one of the first organizations in town to show people what partnerships can do to save the city money with the help of corporations and philanthropists. It's very common today, but it was uncommon in 2003."
Fresh perspective
This spring, Katie Kiyo, who owns Big Hug, a Bloomfield Hills-based online remembrance gift company, will supply tree plaques with locking cables that will be installed for Friends of the Detroit RiverWalk members who donate $1,000 to the Conservancy and who get to choose a tree along the RiverWalk that will be named in their honor.
Kiyo's most recent visit to the riverfront made a lasting impression. "There were boat tours, Jet Ski demos, plazas with benches to stop and rest, food pavilions and open green spaces.
"To me, the transformation is nothing short of remarkable. There were a lot of people jogging and biking, just enjoying themselves. It's very scenic," she says.
"It's a small cog in this big wheel in the rebirth of Detroit. I think of it as a real centerpiece for the city."
---
Jeanine Matlow is a Detroit-based freelance writer and regular contributor to a number of national and regional publications.
Facebook Comments