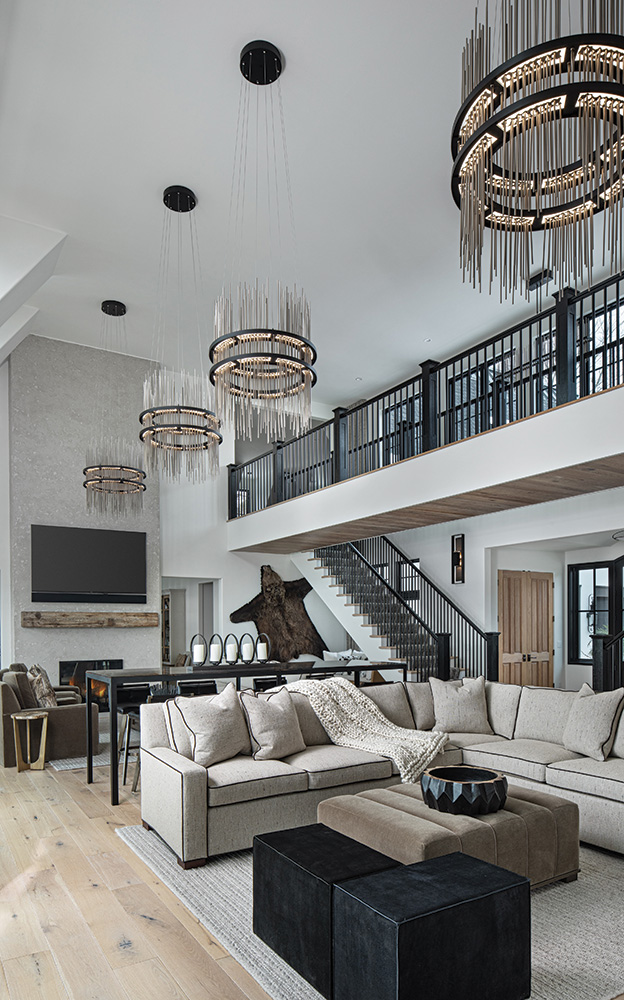 Future plans for a custom retreat located at the tip of Lake Leelanau prompted Rita O'Brien and her daughter, Colleen O'Brien-Seitz, lead design associate with Rita O'Brien Interiors, to create a special dwelling for a couple with a blended family that includes six grown kids. Since the Birmingham-based clients eventually plan to live up north, the end goal for the lakefront home is to be their main residence. "It has a view of the water from every nook and cranny in the entire house," O'Brien says.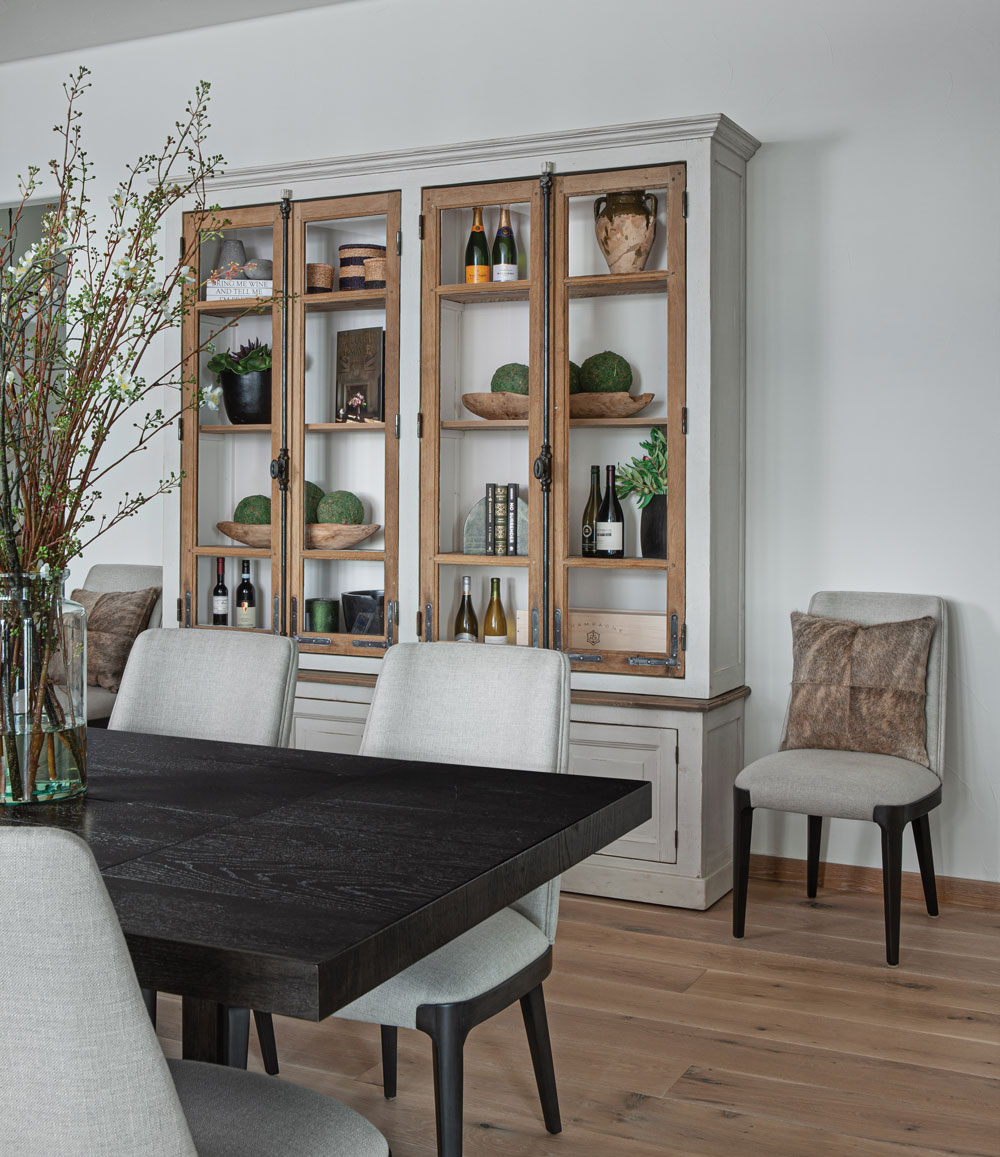 The views go both ways. "We were looking at the water, and how everything would look from the outside in, like the lighting and everything else on the main floor. You can go back and forth and have the serene feel of water when entertaining overnight guests," O'Brien says. Overnight accommodations include an existing cottage on the property, as well as a boat house with an upstairs loft and an entertaining area on the main floor. 
There's plenty for everyone to do inside and out, including water activities like boating and jet-skiing. "The couple works a lot, and when they go up north, it's a retreat where they have a relaxed lifestyle. They can also work up there," O'Brien adds. "It's clean and transitional, and natural-looking. Everything is serene; it's not busy."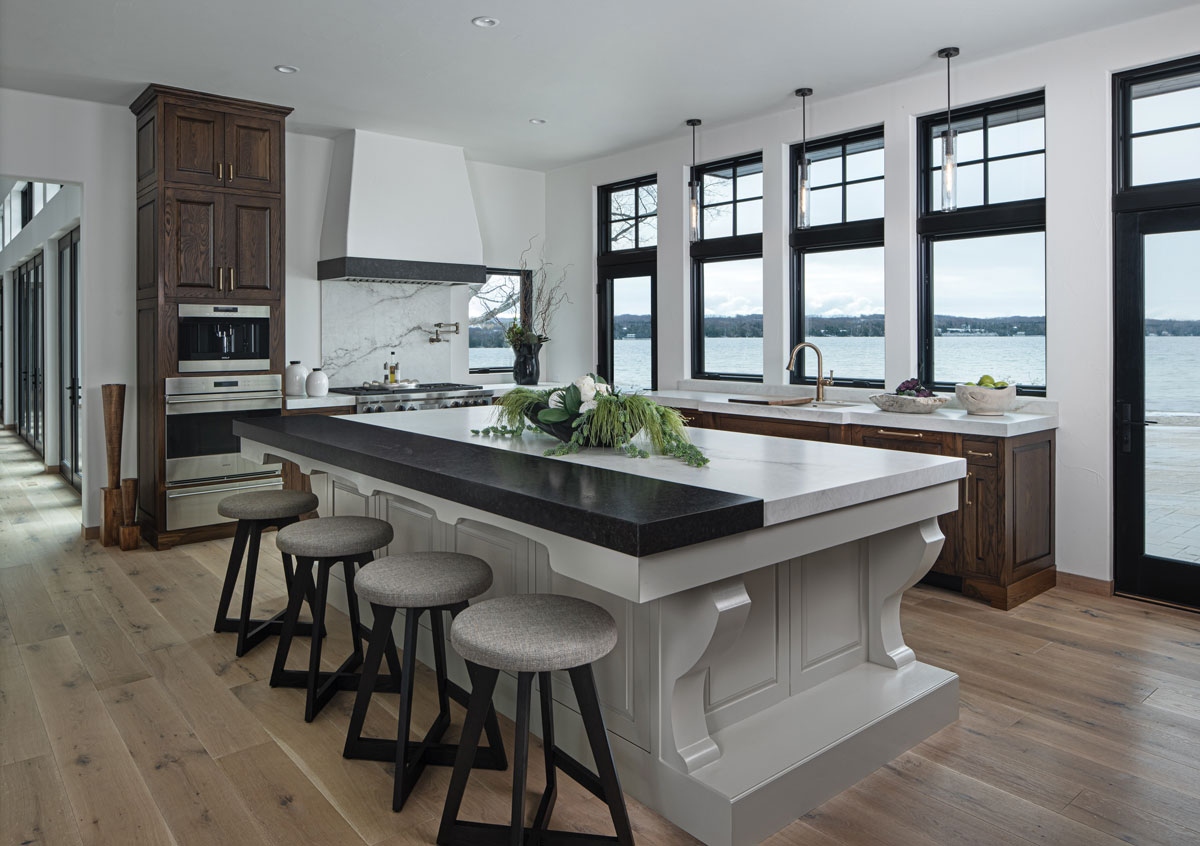 The main home meets the family's current and future needs thanks to high-quality selections such as cozy wool carpets, thick natural fabrics, and durable floor coverings that will stand the test of time. From a functional standpoint, the home has a spacious great room with two fireplaces, along with a three-season room with a pizza oven and another fireplace — perfect for the couple and their frequent guests for years to come. 
Each room combines luxury with livability. "It has a very warm and inviting feeling, with softer fabrics and furniture styles," O'Brien says. Custom touches include the four chandeliers in the great room, designed around and for the second-story windows. "They wanted stunning lights," she explains. "When you're on the lake and you look at the house, the lighting is beautiful."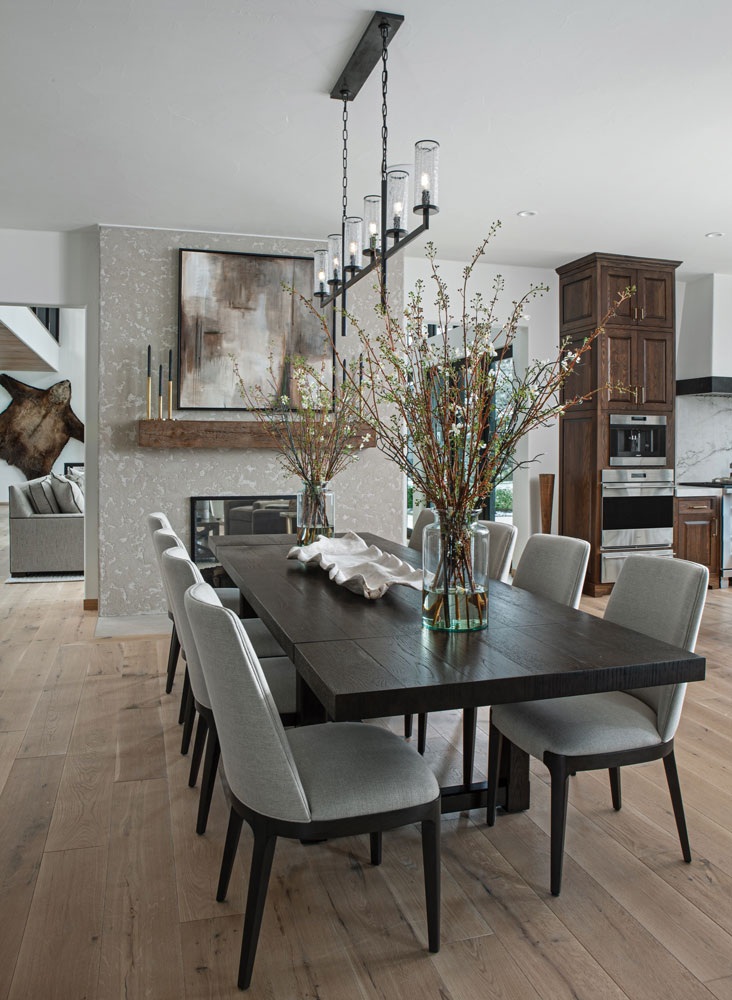 Comfortable places to gather support the couple's casual lifestyle. "They use the great room to the fullest capacity," O'Brien says, noting a seating area that features a fireplace and TV at each end of the room. A neutral sectional with contrasting trim joins a custom mohair ottoman and custom leather stools, while a custom-built bar-height table with swivel stools is another popular spot to relax. "There's plenty of flexible seating," O'Brien adds.  "You can have 25 people in the room, or just a couple, or four."  
The natural color palette centers on creams and chocolate browns, with touches of black and green. A custom catwalk and staircase designed in collaboration with Rita O'Brien Interiors and the home's builder add a powerful architectural presence. Other details include a Venetian plaster treatment that mimics stone and lends texture to the fireplaces. All of the home's mantels are made from reclaimed wood, while all of the artwork in the residence was made by Michigan artists. Durable indoor/outdoor rugs make the spaces pet-friendly for the couple's dog. 
In the kitchen, warm walnut cabinets and wood floors surround a custom island built by a local carpenter with parts featuring porcelain and black granite. Swivel stools with shapely bases to accommodate the island's curvature and non-standard counter height also enhance the space, along with an antique hutch from France that has anchor-themed latches that suit the lakefront setting. Upholstered chairs support a traditional dining table that can seat 12.
"They said they were going to use the heck out of this home, so they wanted to make sure it was durable and beautiful," O'Brien-Seitz says. 
"Any time they're there, there are 20 people, so there's nothing that's breakable," O'Brien adds. "The pieces they have look great and still have a purpose." 
All of the lighting for the unique fixtures — including a semi-flush burlap and bronze metal pendant with custom coordinating sconces in a guest room — is on dimmers. Another bedroom has a pale palette that combines shades of blue with a variety of earth tones and is accentuated by a wood and metal chandelier. On the main floor, a stone wall behind a four-poster bed in the primary bedroom is flanked by cement pendants. Personal spaces for the couple include a private exercise room, bathroom, walk-in closet, sitting room, and covered patio. 
Before embarking on this project, their design team did some work in the family's Birmingham home. "It was such a great opportunity to work with them. They were very engaged in the process, but we had input on everything," O'Brien says. Her daughter agrees: "They gave us a lot of creative freedom," she says.
For anyone planning to build a second home that eventually will become a permanent dwelling, O'Brien has some suggestions. "(There needs) to be a more conscientious idea of what you put into the home and how you build it, because it's going to be forever," she says. "To make it your house, you have to be very selective with every piece you bring in, keeping in mind during the whole process that this will be your forever home."  
Facebook Comments