What do a fish boil, a 5K run and jammin' concerts have in common with blueberry pies and a parade? All are highlights of the 49th annual National Blueberry Festival, Aug. 9-12, held in the historic beachside city of South Haven.
Festival co-chairperson Brenda Daggett, R.N., enthusiastically notes the blueberry's expanding availability. In fact, Michigan State University's Blueberry Team declares Michigan the largest producer (100 million pounds annually!) of Highbush blueberries in the nation.
Daggett loves eating the "blues" on cereal and in vanilla yogurt and muffins.
Cooling lake breezes slow spring growth and cloudier skies keep winter air warmer to protect tender fruit buds.
While "they're just like eating candy," she says of her sweet favorite, the "really big" Jersey variety, the U.S. Highbush Blueberry Council cites the fruit's antioxidants, fiber, manganese and high Vitamin C content.
Third-generation blueberry farmer Bob DeGrandchamp and his brothers cultivate 13 varieties (he favors the sweeter flavor and firm "pop" of the Duke; his brothers prefer Bluecrop for refrigerator shelf life and Jersey for baking excellence) on 150 acres at their South Haven farm.
Fertile lands like theirs are found along Lake Michigan's eastern coast and mark the state's famed Fruit Belt. DeGrandchamp explains that cooling lake breezes "slow growth in spring" and "cloudier skies" keep air warmer in winter — which protect tender fruit buds from "drying out in extreme cold."
---
Salmon & Strawberry Salsa Crostini
YIELDS: 6-8 Servings
Salsa (AnniesEats.com)
2 cups fresh strawberries, rinsed, hulled, and diced
1 cup cherry tomatoes, quartered
1 small bunch of chives
1 teaspoon fresh parsley, minced
1 tablespoon balsamic vinegar
1 teaspoon fresh lemon juice
Drizzle of olive oil
Drizzle of honey
Salt and pepper, to taste
Crostini and Salmon
Lox (very thin fillet of cured, cold-smoked salmon)
1 baguette
Olive oil
Stir together the strawberries, tomatoes, chives, parsley, vinegar, lemon juice, olive oil, honey, salt, and pepper. Cover and chill. Slice baguette into thin slices. Brush both sides with olive oil. Bake on a foil lined baking sheet at 350 degrees for 15-20 minutes. Cool on baking sheets. Top with lox and strawberry salsa. Sprinkle with additional chives and parsley. Top with fresh cracked pepper. Serve.
---
From u-pick farms to upscale dining rooms, blueberries aren't the only sweet crop turning on tastebuds.
The state's first commercially successful fruit, the venerable peach, took root in Berrien County and inspired the Coloma Glad-Peach Festival, Aug. 3-5, in Coloma, near Big Paw Paw Lake and Lake Michigan. Juicy-sweet Red Haven and Starfire peaches (with vitamins A and C and potassium) make delicious treats alone or in pies. Home-canned Michigan peaches and cream make a quick, elegant dessert.
Cherries take center stage, as they have since 1926, at Traverse City's National Cherry Festival, July 7-14, on West Grand Traverse Bay. The "Superfruit" tart cherry excels in pies, turnovers and sauces or dried and eaten in pastries, salads or alone, as sweet cherries are best served.
The first "fruits" of spring are actually berries, and they can be found in the northern reaches of the Lower Peninsula, including Alden, the site of the annual Old-Fashioned Strawberry Festival, June 16, and down to Berrien Center, where you'll find the June 20-22 Strawberry Festival.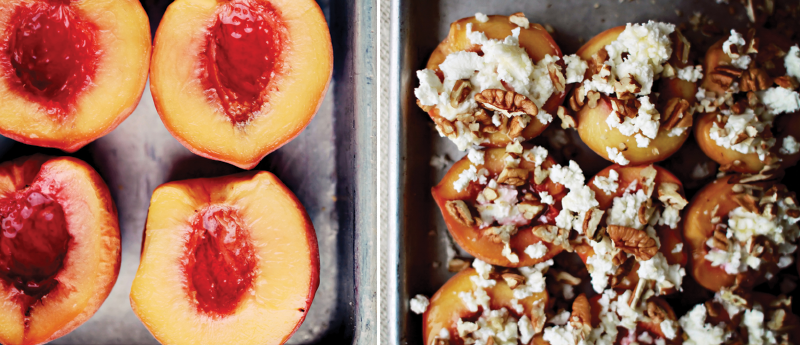 Chef Ryan Thornburg, of Bistro on the Boulevard in Saint Joseph and owner of Thornburg and Company Fruitbelt Preserves, extols the virtues of Michigan's fresh fruit: "They taste better because they're right in our backyard."
---
Roasted Peaches
YIELDS: 4 Servings
4 peaches, halved and pitted
1½ teaspoons lemon juice
1 tablespoon sugar
4 ounces goat cheese
2 tablesoons honey
¼ cup pecans
Preheat oven to 425 degrees. Toss peaches with lemon juice, then with sugar. Arrange halves cut-side up on a foil-lined baking sheet. Roast until peaches are tender, 20-25 minutes. Place each half on a small plate. Divide crumbled goat cheese, honey, and pecans between all of the peaches. Serve immediately.
---
Eton Mess Parfaits
YIELDS: 4-6 Servings
Fruit
1 cup cherries, pitted, and quartered
1 cup blueberries
Sugar, to taste
Grand Marnier, optional
Cream
2 cups heavy cream
1 teaspoon vanilla
2 tablespoons powdered sugar, to taste
Meringue kisses, crushed
Toss the fruit in sugar. If desired, splash in some Grand Marnier. Set aside.
In a large bowl, using an electric mixer, beat the heavy cream to stiff peaks. Stir in vanilla and powdered sugar. Fold in crushed meringues. Layer fruit and then whipped cream mixture in jars. Serve immediately.
---
Sorbet Ice Cream Sandwiches (Adapted from "The Perfect Scoop" by David Lebovitz)
YIELDS: Makes about 30 2 ½-inch cookies/15 sandwiches
Lemon Poppy Seed Cut Out Cookies (Adapted from CreatedBy-Diane.com)
1 cup (2 sticks) unsalted butter
1½ cups powdered sugar
1 egg
Zest from 1 lemon
1 teaspoon lemon juice
1 teaspoon vanilla
2½-3 cups all-purpose flour
2 teaspoons baking powder
1 teaspoon salt
2 teaspoons poppy seeds
Cream together the butter and sugar. Add the egg, lemon juice, zest and vanilla. Meanwhile sift together the flour, baking powder, salt and poppy seeds. Add to the butter mixture and mix until a dough forms. Add more flour if necessary.
Roll out on a floured parchment paper and cut into shapes. Bake at 400 degrees for 7-8 minutes.
Berry Sorbet (makes 1 pint)
(Strawberry and Blueberry Sorbet pictured; double the recipe below to fill all the cookies. Ice cream maker required.)
1 pound berries
¾ cup sugar
Half a lemon
Pinch of salt
Toss berries and sugar in a medium bowl, stirring until the sugar begins to dissolve. Cover and let stand for 45 minutes to 1 hour, stirring every so often. Purée the berries and their liquid in a blender with lemon juice and salt until smooth. Press the mixture through a fine mesh strainer to remove the seeds.
Chill mixture for a couple hours and then freeze in your ice cream maker according to the manufacturer's instructions. Serve between lemon poppy seed cookies.
---
Freelance writer Pat Stinson resides in Leelanau County. For more recipes visit takeamegabite.com.
Facebook Comments