---
Bay City, where Michigan's mitten attaches to the Thumb, was built on lumber. Giant pines from the surrounding lands were floated, sawn, stacked, and transported along the Saginaw River from more than 100 mills. Later, Bay City was a hub for shipbuilding, including for the Navy during World War II, and autos.
The mills and shipyards are gone now, with piles of sawdust still buried along the Saginaw River, and only remnants of slips and docks remain as evidence of launchings here.
But Bay City, population just about 33,000, has relaunched itself with tourism at its core.
With a great restaurant collection ranging from no-frills family-style eateries to Chicago chic, riverfront festivals and cruises, and a reputation as Michigan's largest one-stop antiques store collection, the city offers all the makings of a great 72-hour fall destination. Here's a bit of what you can see and do, based on my many years of exploring this city by the bay.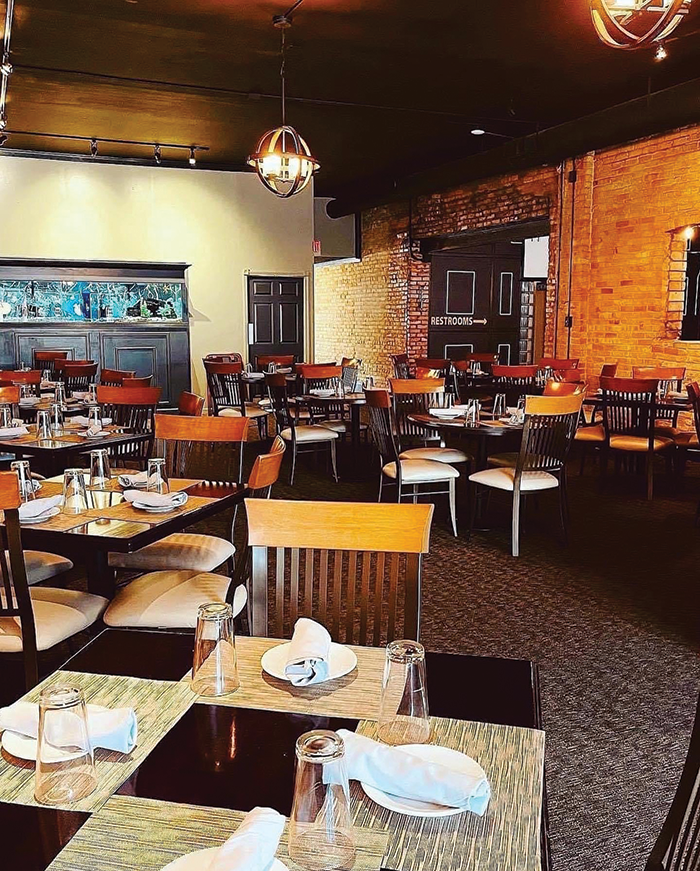 ---
Checking In
Hotel? B&B? There are a surprising number of good choices. On the east side of the river, downtown, consider the Comfort Inn Bay City-Riverfront or the DoubleTree by Hilton Hotel Bay City. There's also the Courtyard by Marriott Bay City in the Uptown District (more on that later) and the Webster House B&B, a historic mansion on Center Street — which is lined with even more Victorian ladies — that once belonged to a lumber baron.
Bay City is a great walking town. Its east side downtown district was saved from "renewal," so there are scores of 19th century buildings there. The riverside Wenonah Park bandshell is a favorite for summer concerts. Stop in at the famous jewelry store, Herman Hiss & Co., owned by the same family since 1867. The interior has changed little since it opened on downtown's main street.
Stay downtown for dinner, where you'll find plenty of great choices. Old City Hall is one. Yes, it was the city hall in the 19th century, says General Manager Brandon Massnick. More than 150 wines await to complement an inventive menu that includes garlic butter pork tomahawk, grilled peach salad, and Korean bibimbap bowls.
OCH is a fun, brick-walled space that fills the casual fine dining spot downtown. For even more casual fare, head to the riverfront and wander into Drift, where you'll find up to six food trucks to complement the liquid refreshments served inside. That's also where you might find a pop-up shop or two before heading to the riverfront deck and boat slips.
Massnick says that Drift, which opened in late spring, satisfies the "unfulfilled potential in the city for land and water" fun. Glance across the street to get a preview of where you may want to head tomorrow. Tavern 101 has craft brews and bar food, and if a steak or seafood is in your wheelhouse, head for Gatsby's.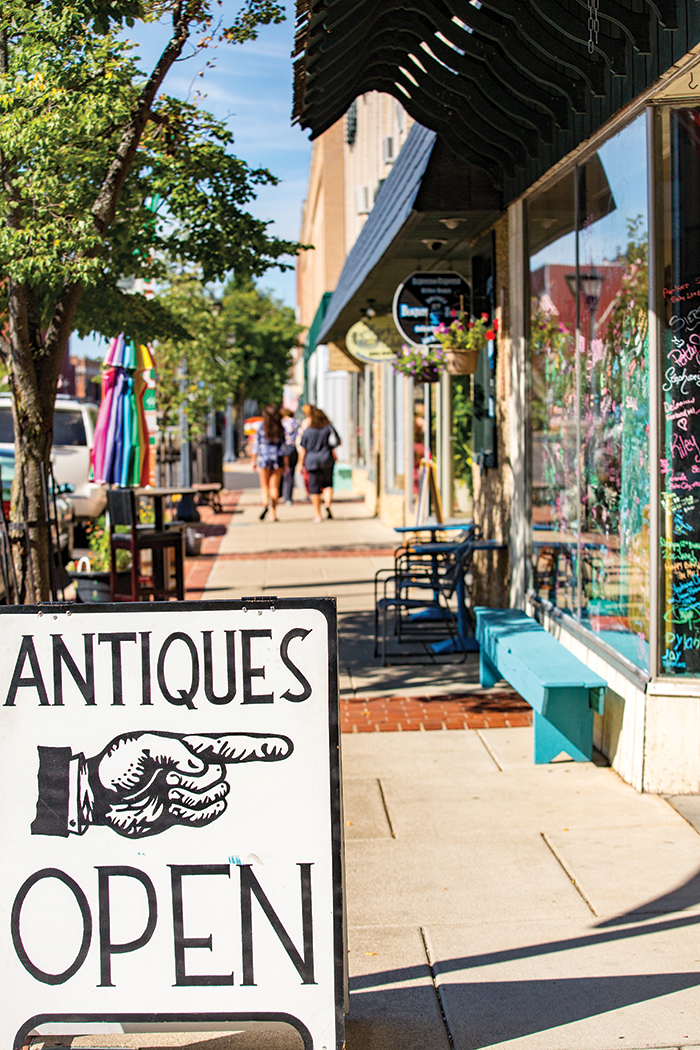 ---
Saturday Mornings
Breakfast at spots such as the Uptown Grill or MI Table feature ridiculously yummy treats like kale feta crustless quiche, Amish bread French toast, and California-stylin' eggs Benedict with avocado. Cops & Donuts, Sutherland Precinct, is on the river's west side downtown. Keep in mind two other west-side establishments, VNO Wine Warehouse and New Age Restaurant, and Latitude 43 Bar Grill & Bar, for possible evening visits.
If you prefer, grab a coffee and pastry at these java spots: Harless + Hugh Coffee, Live Oak Coffeehouse, Populace Coffee, or the Beatles memorabilia-themed Beatles and Beans Coffee Emporium, which happens to be right between your next stops.
Antiques On Water
If you're into antiques, head to North Water Street and environs, home to the largest collection of "antiquity" in Michigan.
The Bay City Antiques Center is across from the Drift space. It's where more than 60,000 square feet of oldies but goodies reside in the historic Campbell House Hotel building. Walk next door to the Bay City Antique Center for more, or continue exploring at the nearby Americana Co. Antique Center and Retro Attics Studio.
Treat Time: St. Laurent Brothers, kitty-corner from the antiques store, is Michigan's oldest candy store. Stop in for house-made spreadable — either smooth or crunchy, salt, or unsalted — peanut butter in jars or tubs, plus other nutty chocolate treats.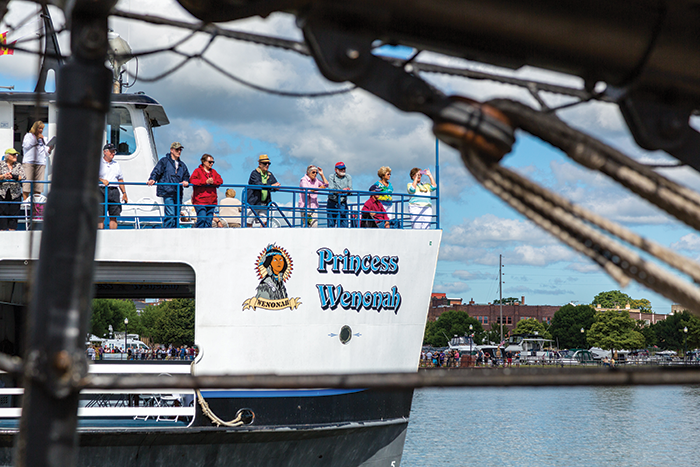 ---
Waterfront Fun
Relax aboard a waterborne tour here. Sailing from Wenonah Park, the Appledore IV takes passengers on educational day and evening sails along the river and into the bay during cruises through October.
The Princess Wenonah also leaves from Wenonah Park on Saturdays in September, and on Friday evenings a band entertains.
It wasn't built here in WW II, but the retired destroyer U.S.S. Edson is the anchor of the downriver Saginaw Valley Naval Ship Museum. Take a self-guided tour. Volunteer guides may also be present.
Rock and Roll Notes
Head to the Historical Museum of Bay County's new Michigan Rock and Roll Legends Hall of Fame permanent exhibit. You mean you didn't know Madonna is from Bay City, and the '60s group ? — that's Question Mark — and the Mysterians were from here, too? Learn more fun factoids inside. Currently there are 120 inductees listed on the hall of fame's website. You'll also get the down-low on the Bay City area's history here, from the First Nations on.
Got kids along? Check to see whether the downtown Delta College Planetarium has any new programs during your visit.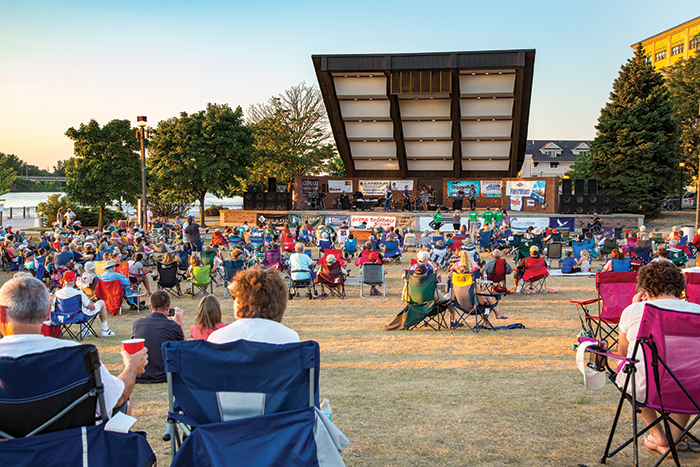 ---
Uptown Saturday Night
It's a short hop to the Uptown entertainment/restaurant/hotel district, anchored by the Courtyard by Marriott and some notable lunch/dinner spots. In the district's north end, fill up at the EV Level 2 charging station, one of four charging spots in the Bay City area.
Near the Marriott Courtyard, Real Seafood Co. is on the water, offering everything from swordfish to walleye. Costela Brazilian Steak House prepares meats over a mesquite wood fire grill. Nearby, the Uptown Grill is for breakfast and lunch, and Cream & Sugar Ice Cream serves just that.
Cannabis Tourism
Whether you agree with the idea or not, cannabis is legal in Michigan, and Bay County is an industry epicenter. Bangor Township, just north of the city, was the state's second municipality to approve sales, and its 2021 fiscal year posted $677,000 extra in its treasury, which it spent on roads and its fire department, says Glenn Rowley, township supervisor.
There are 24 dispensaries in Bay County. Only Ann Arbor has more. Before legalization, many municipalities like Bangor and Bay City were struggling financially, and their funding is now more secure, Rowley adds.
---
A Polish Heritage
Thousands of Poles arrived in this area of the state in the late 1800s. Taste that heritage during Sunday lunch or dinner at Krzysiak's House Restaurant. Order from a menu that includes Czarnina soup, or try its buffet for no-frills but solid fare including kielbasa and sauerkraut. Don't forget to buy some Chrusciki, or angel wings.
St. Stan's Polish Festival takes place each June at the St. Stan's Athletic Club complex.
Get Outdoors
Visit part of the Saginaw Bay Birding Trail at Bay City State Park, along Saginaw Bay. Fall is a perfect time to climb the park's viewing towers for a look over 1,652-acre Tobico Marsh, a stopping point for thousands of birds and waterfowl heading south. The paved 1.25-mile Frank N. Andersen Nature Trail is part of nearly five miles of trails. There's also a campground and the Saginaw Bay Visitor Center, with wildlife and educational displays.
Want to catch some walleye? At least 15 charter captains want to meet you — like Brandon Stanton, of Team Gunsmoke Sportfishing & Guide Service. Boats range from cabin craft to pontoons and operate seasonally. Or hook up with Stanton for a guided winter ice-fishing trip.
Other opportunities include walleye fishing schools run by Freshwater Fishing Hall of Fame member Mark Martin — one on the Saginaw Bay ice in February, and another in May from the state park's Saginaw Bay Visitor Center. Nearby, gain a wilder perspective on an upper Saginaw River tour by Wil Hufton, your captain aboard Johnny Panther Quests, where you'll see bald eagles, deer, beaver, and other wildlife.
That's just a sampling of why this town is a fun place for a great weekend visit, regardless of the season.
---
PLAN IT!
Great Lakes Bay Regional Convention & Visitors Bureau
gogreat.com
Downtown Bay City
downtownbaycity.com
---
---
By Bill Semion
Facebook Comments