Connected to both Lake Erie and Lake Huron by navigable rivers, Lake St. Clair has been a commercial thoroughfare since its discovery by 17th century French traders who paddled across it in fur-laden canoes. It's been crisscrossed by bootleggers dragging booze beneath their hulls during Prohibition and remains a vital commercial waterway for ships weighted with iron ore and copper.
Today, this bi-national lake carved out by glaciers thousands of years ago is a vibrant and dynamic place to live or visit — from diverse ports-of-call and historical attractions to inviting parks and endless water recreation.
"It's the busiest urban waterway in the U.S., and there are countless ways the lake is used," says Brad Simmons, director of the Lake St. Clair Tourism Initiative, a public/private, non-profit association created to build awareness, protect and develop the rich and diverse assets of this freshwater community. "But in terms of a destination, we're often overlooked."
The initiative's goal is making those who live less than two hours away from this 160-mile coastline aware of what's here, Simmons shares, although the campaign (which includes a widely distributed Lake St. Clair Circle Tour map and website, tourlakestclair.org) far from stops there.
"We're inviting everyone to visit."
Life on the Bay
Lake St. Clair is a boater's paradise. Approximately 26 miles long and 24 miles wide with an average depth of 10 feet and surface area of 430 square miles, the lake features a sandy bottom, multiple islands and plenty of shallow areas for dropping anchor to fish or swim. More than 200 marinas and 150,000 registered boats are noted within its three adjacent U.S. counties: St. Clair in the northwest, Macomb embracing the western shoreline, and the upper eastern corner of Wayne. The province of Ontario is easily accessed from both rivers and the lake itself.
"The difference between Lake St. Clair and the bigger lakes like Huron and Erie is that everything is so close and easy to get to," described Simmons. "Boaters can leave a marina and find a quiet place to swim or a great place to eat at a lakeside restaurant in 15 minutes."
Much of the action — both onshore and off — takes place in and just out of Anchor Bay, which encompasses multiple bays of its own in the northern portion of Lake St. Clair.
"To us in Macomb County, this is our Great Lake," says Mark Hackel, a Macomb County executive who avidly promotes his area as a destination to visit and place to live.
Beyond thriving neighborhoods, the burgs dotting this shoreline not only offer spectacular water views but stellar shopping, dining and entertainment.
"New Baltimore, for instance, has a charming downtown and a beautiful little beach," notes Simmons of this inviting community on Anchor Bay's northern shore. And the population is growing.
"Tremendously," he says.
In fact, the Southeast Michigan Council of Governments (SEMCOG) forecasts that the Anchor Bay Watershed population will  increase 40 percent and households will increase by almost 58 percent between 2000 and 2030.
"Lake St. Clair is surrounded with numerous communities, each offering visitors unique ambiance, destinations, events and a diverse business mix," Simmons notes. The initiative's website, tourlakestclair.org, lets users view community profiles and lists all related content associated with each.
"This will allow for users closer to a given 'district' to fully explore all it has to offer," he says (see map on page 52). "It will also help users who may be traveling to a specific destination or business to find other activities, events and business that they may also want to view while there."
Natural Attractions
The St. Clair River runs low and slow by the time it reaches Anchor Bay in the northern end of Lake St. Clair. There it splits into channels, spidery creeks, marshes, smaller bays and islands that collectively form the St. Clair Flats, the largest freshwater delta in the Great Lakes system. Traditionally a migratory area for waterfowl, dozens of bird species from bald eagles to diving ducks have been spotted there, making it an avian lover's dream.
But it's not just for the birds.
"Let me tell you right now that Lake St. Clair is the best smallmouth fishery on the planet," says professional bass fisherman Kevin VanDam (bassmaster.com/columns/kvd). "I'm amazed at how the lake gets better each year…There just isn't any place like it. It offers a lot of variety with rivers coming into the natural lake, expansive flats, weeds, rocks and nice drop-offs. Some fish live shallow and others deep. It's that kind of lake."
Early in 1997, Macomb County established the Blue Ribbon Commission on Lake St. Clair to develop an action plan addressing water quality issues. Macomb and St. Clair Counties have been instrumental in developing the 171-square-mile Anchor Bay Watershed on the edge of the St. Clair River and Lake St. Clair. The bay encompasses 38,000 acres of wetland habitat for fish and wildlife including the 2,500-acre wetland of St. John's Marsh.
Less than an hour's drive from Detroit, this maze of reeds, grasses and cattails make it the ideal place for a kayaker to spend a few hours communing with nature.
The Tour Lake St Clair website recently added a paddle sport section that includes the Lake St. Clair Coastal Water Trail, a map of paddle trails on the lake and places to rent or purchase paddleboards and kayaks, says Simmons.
Currently, the St. Clair County Parks and Recreation Commission is also working with other government units to pave a 54-mile pedestrian/bike trail from Lakeport State Park on Lake Huron to New Baltimore.
"The Bridge to Bay Trail extends from St. Clair County's northern border; under the Blue Water Bridge; through Port Huron, Marysville, St. Clair, Marine City and Algonac; past state and municipal parks, museums, gazebos, and lighthouses," reports the commission.
As of early 2012, 37.5 miles have been paved.
The Lake St. Clair Coastal Water Trail map, which highlights 22 different launch sites along Lake St. Clair and Anchor Bay, took about a year to create through the efforts of the Michigan Sea Grant Office, Michigan State University Extension, Macomb County, local municipalities and county water sport stores. Although many of these launches are already well known, the map also provides a comprehensive look at how the waterway can be navigated and what each area has to offer.
Highlights include historical and natural features like the Edsel and Eleanor Ford House, Salt River Marsh, Harsens Island, the South Channel Lights and paddle trips around the Flats and Anchor Bay's north coast.
"This is what we needed to do," said former New Baltimore Director of Planning and Economic Development Judy Sproat. "We need to expose the recreational activities in the area, many of which people don't know exist."
Learn more at tourlakestclair.org.
---
What's Where
1 The Detroit River
2 The St. Clair River
3 South Channel
4 South Channel Lights
5 Middle Channel
6 North Channel
7 Big Muscamoot Bay
8 St. Clair Flats State Wildlife Area
9 Islands District.  Lake St. Clair's northeast portion, an extensive delta system also known as "The St. Clair Flats," features multiple islands including historic Harsens on the U.S. side; east of South Channel, Walpole in Ontario has been home to aboriginal people for over 6,000 years (michigan.org/city/harsens-island; walpolealgonacferry.ca).
10 Algonac. The birthplace of Chris Craft Boats — nicknamed "The Venice of Michigan" for its many canals — is a prime spot to see freighters and ships cross through the Great Lakes (bluewater.org).
11 St. John's Marsh
12 Fair Haven. Stop by Anchor Bay Scuba, Inc. to learn about open-water dive classes in this friendly, small coastal city.
13 New Baltimore. This Anchor Bay hub offers a quaint and bustling downtown and expanded waterfront park with soft shore boat launch, fishing pier, picnic spots and top-rated beach (cityofnewbaltimore.org).
14 Brandenburg Park. Chesterfield Township's 17-acre haven features a 500-foot pier, boat launches, hike/bike path, open air pavilions and courts for tennis, basketball and sand volleyball (chesterfieldtwp.org).
15  Clinton River
16 Boat Town District. Dozens of boat-related businesses and marinas populate the Clinton River here in Harrison Township, and out on the lake itself, where waist-deep, sandy-bottomed "Poor Man's Beach" is a favorite place to drop anchor and swim.
17 Mt. Clemens. Macomb County's epicenter of nightlife offers a thriving dining scene and hosts an array of events and festivals including grand fireworks display (downtownmountclemens.com).
18 Lake St. Clair Metropark
19 St. Clair Shores. Parks, canals and The Nautical Mile characterize this destination, a world-renowned mecca for boaters and boating (nauticalmile.org; stclairshores.net).
20 The Pointes District. Tree-lined streets, boutique shops and grand homes are staples of the Grosse Pointes, five separate historic communities (grossepointechamber.com).
---
Top Regional Attractions
The Tour Lake St. Clair Initiative (tourlakestclair.org) lists an array of ways and places to enjoy Anchor Bay and the rest of Lake St. Clair. "Each of these destinations provides visitors a new window through which to see this freshwater community," notes director Brad Simmons.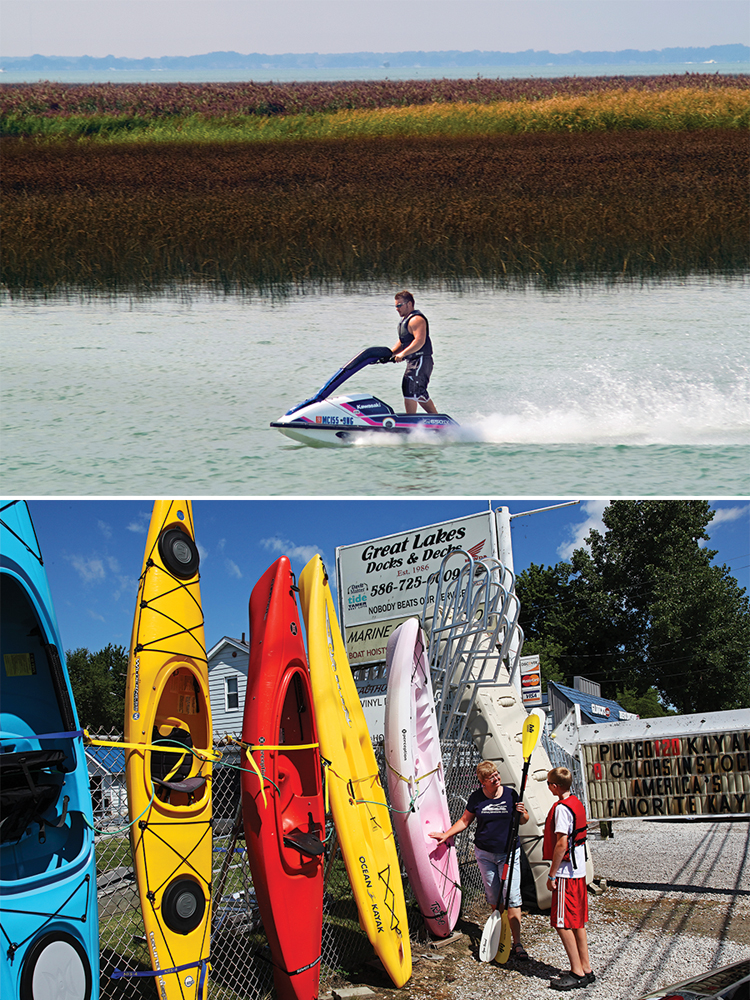 Popular spots include:
Lake St. Clair Metropark. This inviting 770-acre park near Mount Clemens offers a paved shoreline trail, marinas, boat ramps, an Olympic-sized pool with waterslides, a par-3 golf course, diversity of nature trails and 1,000 feet of sandy beach on Lake St. Clair (metroparks.com).
Harsens Island. Flanked by the North, South and Middle Channels, historic Harsens Island is a rich blend of heritage, nature and many recreational opportunities (michigan.org/city/harsens-island).
Edsel and Eleanor Ford House. Situated on 87 acres along Lake St. Clair, the Cotswold-styled residence and renowned grounds of Henry and Clara Ford's only child Edsel and his wife, Eleanor, is open to the public (fordhouse.org; also see page 44 in this issue of BLUE).
The Nautical Mile. Beyond its full-service marinas, unique shops, dining and nightlife destinations in St. Clair Shores, Metro Detroit's boating hub hosts a variety of events and festivals (nauticalmile.org).
Detroit Riverwalk. The 3½-mile path extending from Joe Louis Arena past General Motors' headquarters to Belle Isle is fringed by myriad restaurants, splash fountains, river tours, regular events and more (detroitriverfront.org).
Belle Isle. Embedded with architectural landmarks and a century-plus of history, this 982-acre park offers fishing, a public beach, freshwater aquarium, par-3 golf course and maritime museum (fobi.org).
Lakeshore Drive, Grosse Pointe. This scenic route winding through the historic Grosse Pointes along the shore of Lake St. Clair is hailed as one of the country's most spectacular drives (tourlakestclair.org).
Coastal Paddling Trails. A labyrinth of reeds and cattails teeming with wildlife, St. John's Marsh is a serene escape from urban routine. For details about kayaking this expanse of wetlands and other freshwater routes, go to tourlakestclair.org/paddle-sports and click "Lake St. Clair Water Trail Paddling Routes."
---
Freelance writer Cymbre Foster resides in Traverse City. Lisa M. Jensen is editor of Michi­gan BLUE.
Facebook Comments