By Frida Waara   |   Photography by Aaron Peterson
Winter affords no anonymity. Snow hides no secrets. Out on the ski trails, alone in the quiet of first light, my eyes read the snow like a gossip column. Tracks zigzagging along my route reveal where deer crossed and bunnies burrowed; once I even saw wing prints where an owl swooped down to snatch a mouse. 
We all leave some kind of tracks — boots, snowshoes, skis — a sure sign of the season. But I'll never forget the first time I was out for a leisurely ski, staying put in the classic track, when I noticed the continuous snake of a bike tire weaving a groove in the fresh snow. 
What the …? 
It looked like a bike tire, but how could it be? How could a bike float in fresh snow? A tire roll with so much resistance? 
Then I caught up to the biker and saw, while the frame looked like a mountain bike, the tires were fat — not just mountain bike fat, but cartoon fat. They were easily double the size of a mountain bike tire and had to be pushing four inches wide. 
At first, biking in the snow was a calling for the hard core — the bikers with legs and lungs of Olympic endurance. They not only had to figure out tire size and tire pressure but also how to make the geometry work with forks and cranks and brakes and gears. 
Fortunately, in Marquette, these are the same guys who have a grip on how to use tools and toys. For them, part of the lure is figuring it out: fun and function.  
They got better. Tires got fatter. They started grooming trails with a rig pulled behind Mike Brunet's Tundra snowmobile to better firm up the snow and add miles to their playground. 
"Fat tires on a snow bike are like fat skis to an alpine powder skier," explains Brunet. "When we dialed in tire size and air pressure, it was like we flipped the switch to go four seasons and not have to stay on a street or a road to ride." 
Brunet serves on the board for Marquette's Noquemanon Trail Network, which includes a snow bike route, a dedicated singletrack for bikes. The fast, narrow trail features flowing terrain, steep descents and large, bermed turns. It's believed to be the first trail of its kind and a growing attraction for snow bike enthusiasts across the state and nation.
"Because of the snow we get here in Marquette County (200-plus inches) and the push to add miles to the trails, we're really inventing snow bike grooming," Brunet says. 
About that time some of my girlfriends got into snow biking too. As Sarah Anderson puts it, "Snow biking makes you smile and laugh like a 10-year-old boy, and that is a heck of a thing for a middle-aged woman." 
In January 2012, on the Sunday of Noquemanon Ski Marathon weekend — dubbed the "Wild Side of the Noque" — I went to watch the snow bikers compete. As far as any of the Noquemanon organizers knew, it was the world's first championship snow bike race.
In spite of the high degree of difficulty, racing took the new sport up another notch and the groomed trail system grew, now covering between 50 and 60 miles. Marquette added another event, the Polar Roll and a Great Lakes Fat Bike Series developed. 
As a snow lover and a girl of glide, I started to think, "I must be missing something." 
Then one of my ski heroes, Kristian Saile, a former U.S. Ski Team coach, started posting pictures of his snow bike jaunts. This was a man who skied the biggest, baddest mountains with the world's fastest racers, and even he was addicted to rolling rubber.
"I got a fat bike to try out snow biking," explains Saile, who recently moved back to Marquette from Colorado. He recalls an early ride where he set off along the frozen beaches of town, riding south to the Noquemanon Trail Network South Trails. 
"By the time I got there, my feet were frozen — my first lesson that hiking boots and ski socks don't cut it — and by the time I got home, my feet were blocks of ice," he remembers. "But I couldn't wipe the smile off my face. I was hooked."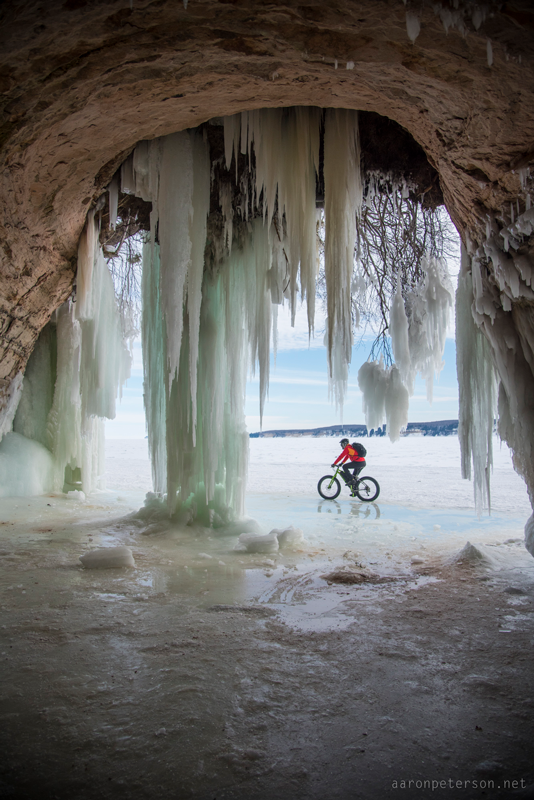 For Saile, as well as Anderson, their most epic rides have been crossing Lake Superior to Grand Island to tour the ice curtains. "Marquette is really on the leading edge of this emerging sport," says Saile. 
Much of the credit can go to "Cold Rolled," by Aaron Peterson's Clear Cold Cinema, featuring the innovations by Brunet and his buddies in creating the network of winter singletrack. In fact, several bike companies use the area for product testing. 
As Saile says, "Marquette is the right place at the right time." And following his lead, this jaded skier may just have to go borrow a bike and give it a try. ≈
Freelance writer Frida Waara loves where she lives on the south shore of Lake Superior in Marquette.
Facebook Comments