Just because a road may be less traveled doesn't mean there is less to experience along the way. This is surely the case for the quieter side of the state, where Port Huron makes a great starting point to explore before heading north. Whether you're seeking to reconnect with nature or visit a variety of cultural venues, you'll soon discover why those in the know find Michigan's east coast so captivating. 
WELCOME WAGON
Though it may be all in a day's work for Danielle Kreger to promote the area, the administrative assistant to Marci Fogal — president of the Blue Water Area Convention & Visitors Bureau — has a genuine passion for the Sunrise Side of the state, and it's easy to see why.
"A lot of the places are untapped to a lot of people who still need to discover the area," she says. "They often think of the west-side beaches, but we have really quaint towns and so much access to the waterfront and a slower change of pace." 
In Port Huron, there's the Blue Water River Walk, a scenic stretch along the St. Clair River that remains a wild habitat for native plants, animals and marine life. A pebble beach and a former ferry-dock-turned-viewing-platform are among the other highlights. 
Farther north, you'll find another gem in Lexington.
"One of the beauties of Lexington is that its quaint downtown street is lined with shops and eateries and leads right down to the marina and shoreline," says Kreger.
"Here you'll find the breakwall, and a stroll to the end gives you a gorgeous panoramic view of Lake Huron." 
For entertainment, there's the Lexington Village Theatre, a live-performance venue. "It's big enough for a full-house feel but small enough to get an intimate performance. Their lineup varies, from full band concerts and acoustic performances to comedy acts and more," she says. 
In addition, The Barn Theatre in Port Sanilac packs a popular lineup of live theater performances every weekend in the summer. "It is so quaint that there's no paved lot. Just park in the large grassy area out front, and don't forget to grab a chair cushion as you walk in," adds Kreger. 
EAT AND RUN
Originally a vineyard and a tasting room just south of Port Sanilac, the Lexington Brewing Co. and Wine House has grown to include a larger tasting room in downtown Lexington. Offering wine, brewed beer, food and entertainment, it's become a local hot spot for good reason.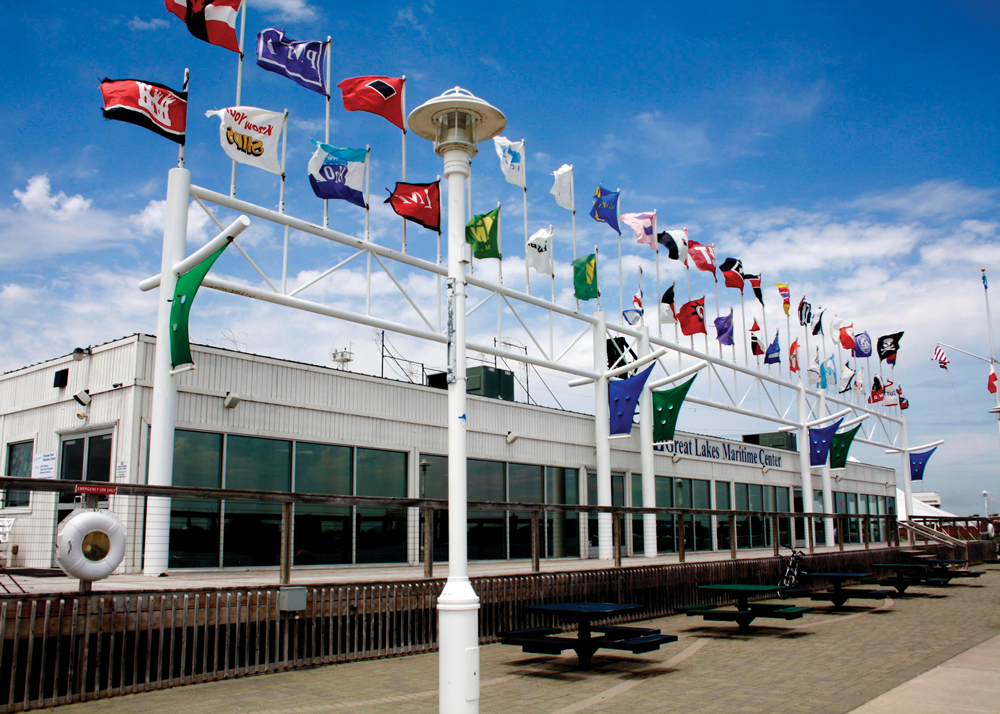 South of Lexington, in a little green building on the side of the road, you'll stumble upon the clever combination of Spun Gallery and Diana's Bakery. See the colorful array of art in the seasonal gallery of artist/glass blower Robin Hages, watch a glass blowing demonstration or take a class, and enjoy baked goods and other tasty treats made by his mom, Chef Diana Hages. 
Work off your meal at Lincoln Park, where a lengthy pier leads to a spot to launch a kayak or paddleboard or simply watch the sunrise over Lake Huron. For an escape, take a boat ride to the Harbor Beach Lighthouse and climb the tower for a 360-degree view (open most Saturdays during the summer). 
SUNRISE, SUNSET
From Port Austin's position at the tip of Michigan's thumb, the sun rises over Lake Huron in the east and sets over Lake Huron in the west, making this a great place for boating enthusiasts. Other activities include rental bikes, kayaks and paddleboards. Check out one of Michigan's top 10 farmers markets here on Saturdays, June through October.
For refreshments, head over to the Grindstone General Store, known for colossal ice cream cones. A family destination since 1890, the historic site also features Michigan-made gifts and other goodies. Daily ice cream socials add to the good old-fashioned charm of the timeless setting. 
If you reach Alpena, you'll find everything from shipwreck tours to a former burrito shack turned top-notch restaurant and sports bar. At The Fresh Palate, foodies can savor a fusion of West Coast fare and local farm-to-table ingredients in a lively atmosphere that draws a crowd from across the state. 
ON THE BRIGHT SIDE
Easy navigating is one advantage of the area.
"All it takes is a leisurely drive," says Kreger. "There are a lot of communities along M-29 and M-25. If you stay on the road, you'll hit the little communities. You really can't miss them."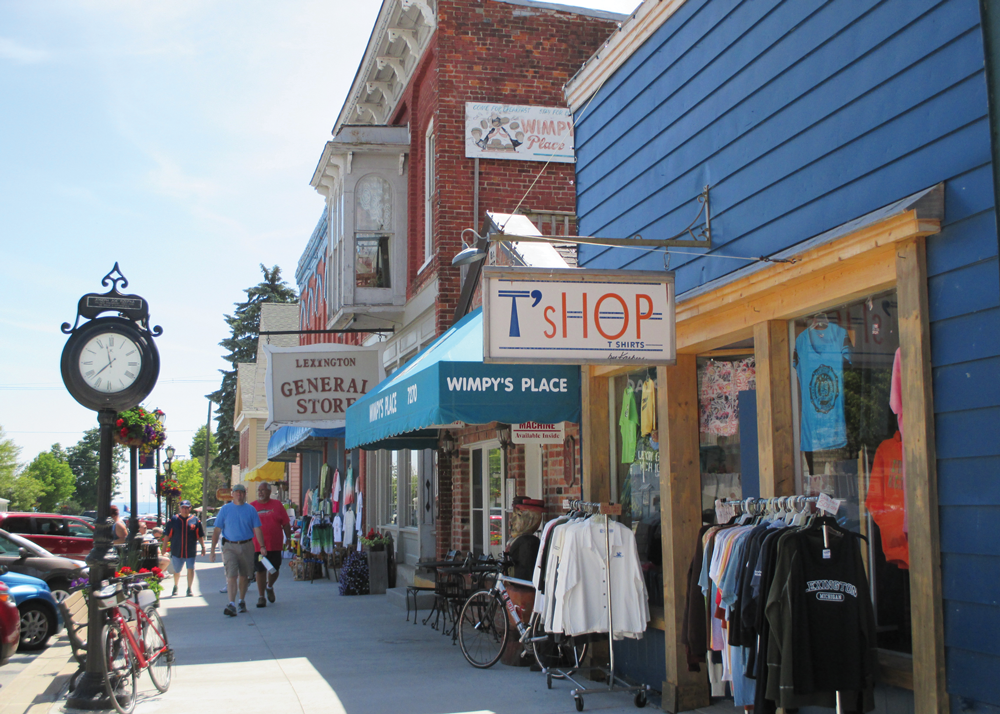 Restaurants and shops dot the coast.
"Just ask the friendly locals. There are many places to stay along the way, including B&B's and cottage rentals," she says. "You can stay in Port Huron, go to dinner and a show in Port Sanilac and return back to your hotel at night." 
The visitors bureau website makes it easy to plan your trip with "Choose Your Passion" tabs arranged by category. "People can think about what they love to do. We have everything from kayaking and wineries to bike trails," says Kreger. "We want people to discover what we have." 
See more at bluewater.org.
"If you reach Alpena, you'll find everything from shipwreck tours to a former burrito shack turned top-notch restaurant and sports bar."
It was a midlife crisis that led Traverse City author Loreen Niewenhuis to Michigan's Sunrise Side. After hiking the entire west side of Michigan's mitten, she opted to hike the entire east side, along Lakes Erie and Huron. What she found was a natural environment.
"It is more rugged and rocky. Since it's less populated, there are more wild areas," says Niewenhuis, the author of several long-distance hiking books about her experiences including "A 1,000-Mile Great Lakes Walk," published in 2013 by Crickhollow Books. 
Niewenhuis discovered some diamonds in the rough, like the quaint community of Presque Isle, which hosts an antique wooden boat show each year. A calcite limestone mine south of Rogers City is the largest limestone quarry in the world. It offers observation points for visitors.
"Limestone has been mined there for over 100 years, and they estimate there is another 100 years of limestone to be quarried," says Niewenhuis.
A leisurely drive also leads to some notable lighthouses like Fort Gratiot Lighthouse on the north side of Port Huron. It is the oldest operating lighthouse in Michigan, while Pointe Aux Barques Lighthouse is found on the tip of the thumb. 
The Sunrise Side encompasses a lot of lakeshore, and visitors may need a place to rest. Niewenhuis recommends visiting a few of her favorites, including the Adventure Inn just north of Port Huron, the Historic Webster House in Bay City, the East Tawas Junction and the Presque Isle Lodge. To learn more, see laketrek.com. ≈
Jeanine Matlow is a Detroit-based freelance writer and regular contributor.
Photography Courtesy of Alpena CVB/Angela Soltysiak; Tane Casserley; Paul Gerow

Huron Shore Scenic Highway
A road along the Lake Huron shore had long been a dream for the people of northeastern Michigan. And as early as 1858, the state authorized building one between Bay City and Mackinaw City. For years it wasn't more than a rough trail, hard for wagons to negotiate and certainly not adequate for future automobile traffic.
Facebook Comments