"The beautification of his hometown was Earl's lifelong passion," shares David Miles, co-director of the Charlevoix Historical Society's Harsha House Museum. "For decades, visitors from around the country and the globe have marveled at these buildings, often coming to Charlevoix for the sole purposes of viewing only them, then discovering the town itself."
Today, 24 homes and three commercial structures out of the 30 Young built in Charlevoix between 1918 and 1973 — often called "mushroom," "gnome" or "Hobbit" houses, made of stone and typically featuring curved cedar shake roofs and storybook cottage chimneys — are a draw for thousands of annual travelers who come by car and the busload.
"For some, Charlevoix is Earl Young and Earl Young is Charlevoix," Miles reflects in "The Mushroom Houses of Charlevoix" by Mike Barton. "Rarely has a town been so readily identified with one person. Rarely has a town benefited to such an extent by one man's vision and determination."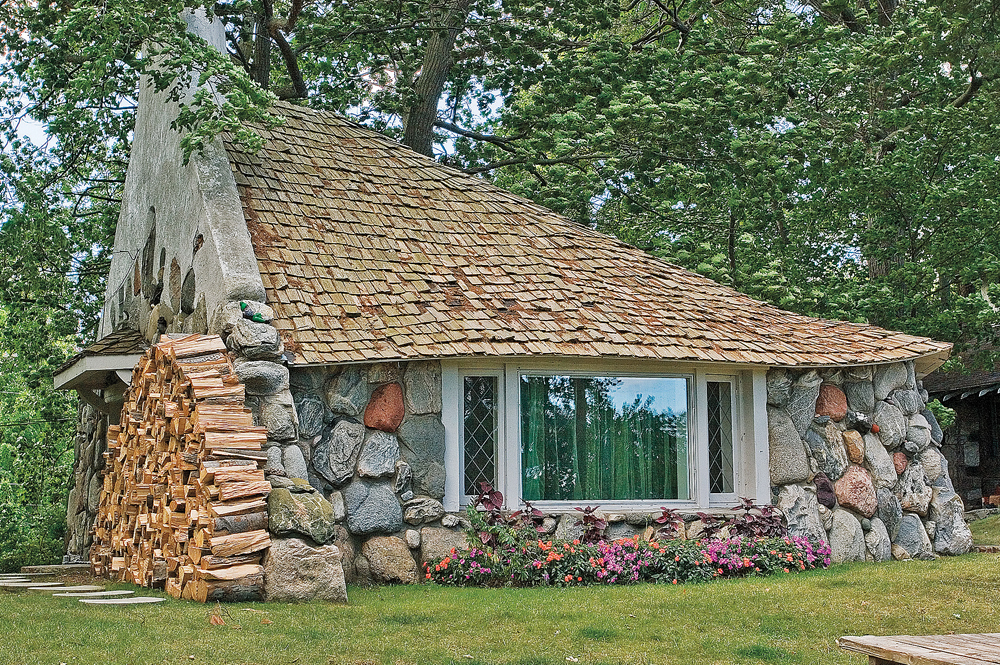 Boulder Discovery
Earl Young was born in Mancelona in 1889, the son of an insurance salesman who moved his family about 45 minutes away to Charlevoix when Young was 11. For Young, it was a Disneyland of sorts.
"When he came here, the shoreline was littered with boulders," Miles said. "They had been dropped by the glaciers at the end of the ice age about 10,000 years ago. Earl…probably immediately fell in love with them.
"A boulder to Earl wasn't an inanimate object. It had life to it. It had character. It had potential."
But every turn brings a new and delightful surprise … I felt the substantial stone walls and wavy umbrella-type roof sheltered my family in a special way.
— Jeannine Wallace, excerpted from "The Mushroom Houses of Charlevoix" by Mike Barton
Young read every book on architecture and construction that he could get his hands on. So it was natural for him to head to the University of Michigan to study architecture when the time came. But it didn't go well. Simply put, Young didn't think in squares.
"He left after he found out they like straight lines," said Jeannine Wallace, who knows only too well Young's penchant for undulating curves and irregular-sized rooms. While many of Young's homes have monikers, Wallace has resided for four decades in the one that officially carries the name, "Mushroom House."
Leaving U-M, Young returned to Charlevoix and apprenticed himself to a stone mason. Needing to earn a living, he went into the insurance business with his mother, Myrtie, who was by then divorced from his father. He also began selling real estate, going on to hold a real estate license for 60 years, Miles said.
"He always referred to the company as 'Myrtie Young and Son Real Estate and Insurance,' Miles said.
Myrtie died on Valentine's Day 1914, and a year later, Young married Irene Harsha. By 1918, they'd had two of their four children, and Young began construction on his own home at 304 Park Ave. in Charlevoix. Made of stone, the rectangular-shaped residence predates his signature storybook cottage style.
Boulder Park
Earl Young began developing Boulder Park in 1928, several years after buying the nearly 38 acres on which it sits from a widow who had intended to develop it into an upscale resort colony.
"LARGE LOTS FOR $100 & UP," proclaimed one of his ads. While the setting along Lake Michigan was beautiful, the land was flat — which may be why the "mushroom" effect isn't evident in the 10 homes he built there. There are two more homes in Boulder Park built in his style, but not by Young.
"He didn't really start his mushroom roofs until he left Boulder Park and started building on the Park Avenue block in 1938," Miles said, explaining that the terrain around Park Avenue is hilly, and that Young took to designing each home to flow with the landscape.
"All of the houses (Young built) in Boulder Park have a linear aspect to them," Miles said. "But he started to experiment with moving stone, moving lines, moving edges when he hit the houses in the Park Avenue area.
"The curving of the roofline, the curving of the eaves — they echo the ground on which the building sits."
What became evident at Boulder Manor, which Young built for his own family, was his mastery of using his beloved glacial treasures.
"I think it was the fact that the guy did it without any blueprints," said author/photographer Mike Barton, now a San Diego resident who grew up in Livonia and began visiting Charlevoix when his parents moved there in 1990. "He kind of did a sketch…He had in his mind what he wanted."
Boulder Collector
Young also had a computer-like inventory in his mind of boulders that he'd taken to searching out and squirreling away for future building projects. Discovering them in farm fields, forests and lake beds, he'd store them in the lake or woods or bury them until he had just the right spot for them, years later.
In fact, Miles said, it was a revelation to the community when, after Young began building Boulder Manor, the boulders started appearing. Miles' father knew Young, and told Miles that when Young started Boulder Manor, "Charlevoix's collective jaw suddenly dropped."
"They had no idea this man had this collection of stones until he started pulling them out and putting them together," Miles said, noting Young used cranes and trucks to move and haul them.
As the story goes, Young was building the road for Boulder Park in 1928 when his workmen hit a nine-ton behemoth. "They brought in a team of horses and some chains, wrapped chains around the boulder, hauled it out, dragged it a quarter mile into the woods, dug another hole and buried it," Miles said.
And so it remained buried for 26 years, until Young turned an old grist mill into today's Stafford's Weathervane Restaurant and chose it for the venue's fireplace capstone.
Young was also known for simply deciding a certain boulder belonged, say, in a public park or on a city corner. Boulders that can be found in a park at the intersection of Clinton Street and Park Avenue or at the corner of Park Avenue and Grant Street silently affirm, "Earl Young was here."
Only a few inches over five feet, Young was determined to do things his way, reflected Wallace, who knew him personally. Carrying a walking stick that was taller than he was, a plaid tam on his head and his big poodle in tow, "He walked every day, checking to make sure we were keeping the neighborhood just the way he wanted it," she said.
And, she added, the town is fortunate that so many people come here just to see it.
---
For details about "The Mushroom Houses of Charlevoix," visit mikebartonphoto.com. Freelance writer Kathy Buzzelli lives in Traverse City.
Facebook Comments