Manistee. Deriving its name from an Ojibwe word meaning either "river with islands at its mouth" or "spirit of the woods," Manistee owes its growth to logging, farming and the railroad. Starting out with just a population of about 200 in 1852, the burgeoning port became home to more millionaires per capita than anywhere in the U.S. during the 1880s.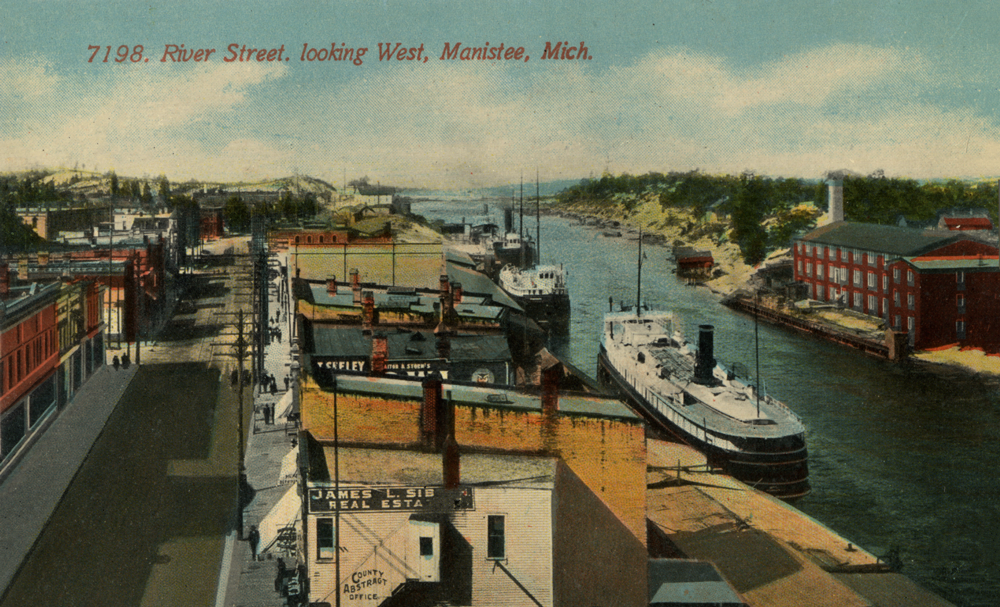 Today, historic Victorian architecture meets 21st-century vibe in an eclectic blend of riverfront eateries, boutiques, cafes, galleries and marinas along downtown Manistee's all-accessible Riverwalk, stretching almost two miles from U.S. 31 to Lake Michigan's sugary shoreline. Owed to its vast freshwater resources including five Nationally Designated Wild and Scenic Rivers, Manistee County also boasts one of the best documented catch per hour rates in all of the Great Lakes — from salmon, trout and pike to walleye, bass and pan fish. 
Logging started in 1840, when entrepreneurs opened a sawmill at the mouth of the Manistee River. The industry expanded during the 1860s, and when Manistee was incorporated in 1869, it boasted two dozen sawmills. Two years later, fire ravaged the city like "a tornado, hurling great clouds of sparks, cinders, burning bark and rotten wood through the air in a terrific fiery storm," the local newspaper lamented.
But Manistee survived, and within a week 40 new buildings were under construction. Lumbering also recovered and the city's sawmills sent much of its 1892 record 252 million board feet to Chicago to build the 1893 Columbian Exposition.  After moving to Manistee in 1868, local blacksmith Silas C. Overpack also buoyed the industry by introducing "Big Wheels," a horse-drawn logging wagon with massive 11-foot-tall wheels.
Early 20th-century Manistee also boasted a new theatre. After fire destroyed the city's previous two, Thomas Jefferson Ramsdell — lawyer, elected official and businessman — financed a new theatre and opera house. Designed with a grand horseshoe balcony by famed Chicago architect Solon Spencer Beman, this venue was hailed as "a magnificent work of art," is listed in the National Register of Historic Places and is a prime reason why the Michigan State Historic Preservation Office applauds: "Authentically, Manistee has the finest collection of historic buildings (over 1,000) in the State of Michigan." Learn more at visitmanistee.org.
Manistee
Historic Highlights
• Four self-guided walking or driving routes on Manistee's Historic Sites Tour unroll through the central business district of Downtown Manistee, past homes on city's East and West sides and destination sites throughout Manistee County, making stops at notable spots like the city's Romanesque Revival-style Fire Hall (est. 1888) and the Bottle House Museum, built with over 60,000 soft-drink bottles in 1941 and listed on both the National Historic Register and Ripley's Believe It or Not (manisteecountychamber.com; visitmanistee.org).
• While Manistee was the original planning site for the state's renowned salmon fishery 40 years ago and continues to maintain the strongest spawning runs, Michigan's modern steelhead era began in 1966 when the state's Department of Natural Resources launched its Little Manistee Weir operation, an egg-take and harvest facility that's most fun to visit in peak season (http://www.visitmanisteecounty.com/web-2-0-directory/little-manistee-weir-2/). 
• Outfitted with much brick and ornate carved stone, Manistee's entire downtown district — listed on the National Historic Register — carries guests back in time during its Victorian Sleighbell Parade and Old Christmas Weekend in December (manisteedowntown.com).
By Roger L. Rosentreter and Lisa M. Jensen, Michigan BLUE Magazine.
Photography courtesy Manistee County Visitors Bureau & Vintage Views
Facebook Comments