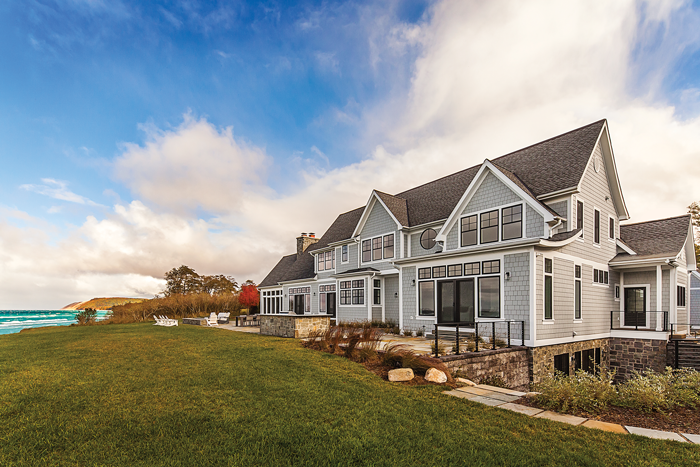 Wisconsin natives Chris and Traci Coffman grew up on the other side of Lake Michigan. After moving to the Great Lakes State in 1993, the pair started spending one week a summer up north with their young family, and they soon found themselves enamored with northern Michigan.
Eventually, their annual week-long getaway spurred a desire for something more permanent. Driving back to their Ann Arbor residence in 2017, Traci told Chris she had something she wanted to talk about.  "After 25 years, she suggested we stop renting and find a special place that we could call our own,"  Chris recalls.
They eventually settled on Empire, in part because the feel of that area reminded them of the Door County Peninsula in Wisconsin, an area they visited frequently while growing up, Chris says. They also say the beautiful Sleeping Bear Dunes area gives them easy access to Frankfort, Glen Arbor, Leland, and Traverse City and its convenient airport for family members flying in. They found a rare empty lot with approximately 160 feet of Lake Michigan frontage in a small association called Storm Hill. The Coffmans closed on the property in the spring of 2018 and started working on building plans, permits, and securing a builder that could navigate the challenges of the project and  "deliver great results," Chris says.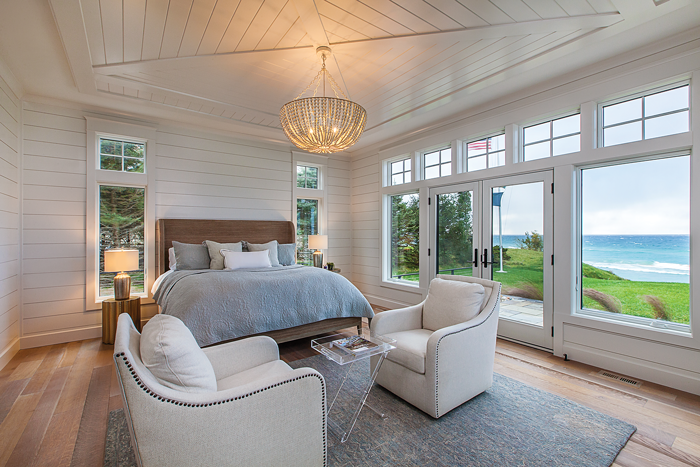 The couple had had a wonderful relationship for many years with Johnson Brothers  in Ann Arbor, with whom they had worked on other projects downstate, Chris says, so their decision was easy. Talking the builder into the long-distance project, however, wasn't quite as simple. Fortunately,  "he has a house in Elk Rapids," Chris explains,  "and once we begged, he agreed it felt like a good fit."
Don Johnson, who was ready to retire, says he was smitten with the dramatic location.  "I never got tired of the view," he admits.
The team also included Wisconsin architect James Marriott of Miller Marriott Construction and Todd Mathews of MOMUS in Ann Arbor, who works frequently with Johnson Brothers. The Coffmans were involved every step of the way.   "They had decided they wanted a Cape Cod Shingle style, which we do quite a lot,"  Marriott says, adding,  "it fits the relaxed vernacular."  The same went for the interiors.  "The owners provided many ideas and examples of what they wanted," Mathews says. "I took those ideas and synthesized them to support their overall design aesthetic of a cozy cottage."
The lot, which is next to a public beach and includes views of both the water and the nearby dunes, was prepared for construction in the fall of 2019; the foundation was poured late in November that year. The Coffmans' goals for the project were to "create something that, no matter what was happening in your life, when you pulled in the driveway you had an immediate sense of peace and comfort, followed by a grin."  Beyond that, the goal was to "take advantage of the world-class view," Chris says.
There were challenges along the way, including extra restrictions building on Lake Michigan and unexpected erosion. "We lost 15 to 20 feet of bluff that had fallen into the lake," Chris remembers. Johnson says he recommends building at least 100 feet from the lake, and says he talked the Coffmans into building farther from the water than they had initially planned. The team also decided against an attached garage, to ensure that the home had  "moveability" if needed in the future. The couple also decided to add a sea wall.  "We're experts on sea walls now," Chris laughs.
Interior design challenges included  "taking a large-volume space and making it feel homey," Mathews says.  "We used texture, contrast, indirect lighting, and other design tricks to add interest to the space and give it character while still making the view the focal point."
The 6,000-square-foot house is designed to accommodate a large number of guests while still remaining cozy, he adds.  The homeowners agree:  "We wanted it to work if it was just us or if we had 22 people," Chris says. Four master suites, two bunk rooms, and 6.5 baths make that possible.
An open kitchen and great room serve as the home's main gathering spaces.  "The grand fireplace and the beams on the ceiling make this room stand out," Mathews says. Different ceiling treatments allow the spaces to feel defined while assuring they feel connected.  "We had to give the interior architecture enough interest and character without overshadowing the view," he explains.
"Also, we didn't want the house to have an uptight feel," Chris says. "We have dogs and we wanted it to be a really mellow, no-drama,  comfortable type of experience."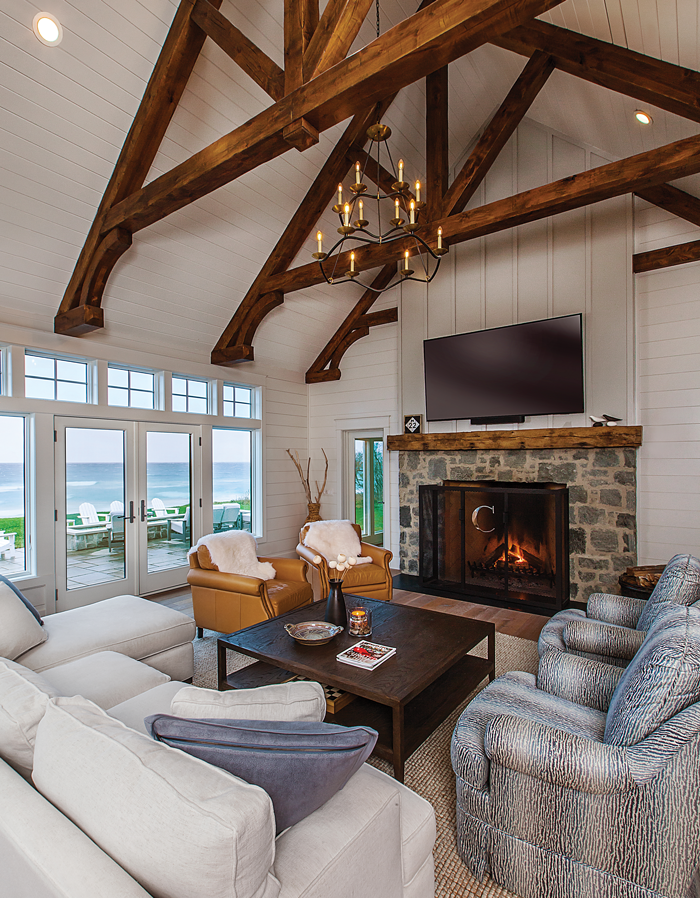 The family visited at Easter  last year for the first time, and then spent as much time there as they could last summer.  "It was better than we expected," Chris says, adding that every time they have to leave, they try to find a way to squeeze in an extra day.
"We wanted it to be easy for our grown kids to come, and hopefully it will be a place for our grandchildren someday," he adds. The family visits year-round. "The beach is amazing and the sunsets rival any in the world" Chris says, noting that they're also partial to afternoon swims with their two golden retrievers, Blue and Stella, and love using the firepit on the patio and looking up at the stars. "The only thing we regret is that we didn't do this sooner."
---
BUYER'S GUIDE
BUILDER
Johnson Brothers Construction, Ann Arbor, jbcaa.com
BEDROOM
Ceiling Treatment – Lewis Fine Carpentry and Millwork, LLC, Concord
Flooring – Launstein Hardwood Floors, Mason
Wall Paint – Sherwin-Williams, Drift of Mist
FOYER
Ceiling Treatment – Benjamin Moore, Pale Smoke
Chandelier – The Urban Electric Co.
Door – Lewis Fine Carpentry and Millwork, LLC, Concord
Wall Paint – Sherwin-Williams, Drift of Mist
Wood Beams – Lewis Fine Carpentry and Millwork, LLC, Concord
GREAT ROOM
Ceiling Treatment – Lewis Fine Carpentry and Millwork, LLC, Concord
Chandelier – Visual Comfort
Flooring – Launstein Hardwood Floors, Mason
Wall Paint – Sherwin-Williams, Drift of Mist
KITCHEN
Cabinetry – Lewis Fine Carpentry and Millwork, LLC, Concord
Ceiling Treatment – Benjamin Moore, Pale Smoke
Chandeliers – Lightology
Flooring – Launstein Hardwood Floors, Mason
Wall Paint – Sherwin-Williams, Drift of Mist
EXTERIOR
Building Materials – Cedar Shakes, James Hardie; Trim Siding, Boral
Masonry – Buechel Stone Corp
Paint Color – Sherwin-Williams, Ice Cube
Roofing – Timberline Ultra
Windows – Andersen Architectural
ADDITIONAL PROJECT CONTRIBUTORS
Interior Design – MOMUS Inc., Ann Arbor
Architect – Jim Marriott, Miller Marriott Construction, Wisconsin
Landscaping – Terra Bella Landscape, Traverse City
Facebook Comments