Streaming east across the country's upper portion from Washington's Pacific Coast to Michigan's Straits of Mackinac, U.S. Highway 2 is flanked by a great diversity of transcontinental terrain along the way — from a steep volcanic mountain range, fertile farmland and majestic Glacier National Park to the Great Plains' windswept open prairies, Missouri River and deep hardwood forests of the Great Lakes.
While another expanse of this renowned cross-country route traverses through Canada, Vermont and New Hampshire before ending in Maine near the Atlantic Ocean, the 306-mile leg running west from St. Ignace to Ironwood encompasses plenty of scenic, historic and recreational sites to fashion one unforgettable adventure.
Included within this trek are state-designated heritage routes, historic bridges, several memorial highway designations, a segment of the Great Lakes Circle Tour plus two national and two state forests.
But the road's sparkling star attraction is nearly 45 miles of its just reach-out-and-touch-it proximity to Lake Michigan's unspoiled freshwater coast.
"U.S. Highway 2, through Michigan's Upper Peninsula, is pristine," notes travel blogger Elizabeth Seward (gadling.com). "This stretch of road is so relatively far out of the way that its untouched beauty is its main attraction."
As you enter the U.P., your heart will suddenly feel freer. Adventurous. Happy. Cross the Straits … and stir your soul.
— uptravel.com
From Mackinaw City, begin your trip by arcing five miles over the Straits on the Mackinac Bridge, always a kind of magical adventure in itself. The western hemisphere's largest suspension bridge, with towers soaring more than 550 feet above water, transports residents from the Lower Peninsula to a different frame of mind.
"As you enter the U.P., your heart will suddenly feel freer. Adventurous. Happy," expresses the Michigan Upper Peninsula Travel and Recreation Association (uptravel.com). "Cross the Straits…and stir your soul."
Mackinac County
Emerge from the Bridge into one of the nation's oldest continuous settlements, St. Ignace. The port city's Aboriginal and French heritage is prevalent throughout a self-guided, interactive walking tour of its historic downtown and waterfront boardwalk; its evolution from fur trading and commercial fishing to lumbering and iron production is further highlighted in a 36-page booklet prepared by the Michilimackinac Historical Society.
Sponsored in part by Kewadin Casinos, fireworks over Moran Bay every Saturday night from July 12 through Sept. 6 enliven a visit to downtown St. Ignace. Indulge in a pasty and some festive fun before resuming your ride west.
Within a few miles, breathe in a high, panoramic Great Lake vista at Gros Cap Overlook. Then get ready to park your vehicle on either side of the highway up a few miles more: Here, fringed by whispering dune grass and shimmering surf, the vast, lunar-like sand dunes of Hiawatha National Forest unfold.
Get out and claim an open, golden expanse of Lake Michigan beach of your own to explore or enjoy a picnic; the water's welcoming warmth throughout August also invites an invigorating swim or shoreline stroll. Should you pass through on the right night, nothing will lessen the memory of a full moon reflecting a path down to the beach from above.
Another acclaimed spot to stop is well-kept Cut River Bridge Roadside Park. Soak up a steep view of the forested, songbird-enlivened limestone gorge from 147 feet high up on one of Michigan's only two cantilevered deck truss bridges or embark down steps to sites to sit en route to the shores below.
Naubinway A natural port for ships of the last century's lumber boom, Naubinway on the eastern side of Mackinac County actively focuses on commercial fishing and visitors can purchase fresh local catches right off the natural harbor's dock. Paired with modern lodging, the area's primeval natural beauty is worthy of more than a few minutes' exploration.
Schoolcraft County
"From misty sunrise to constellation-glimmering night, this is a natural playground for the wave wader to the most avid outdoor enthusiast," the U.P. Travel and Recreation Association notes of Schoolcraft County. "Only here can you hike, paddle or drive through the amazing Seney National Wildlife Refuge with its wildflowers, loons, black bear, eagles, moose and more."
This wild side is just on the flip side of historic Manistique's downtown shops and nearly two-mile boardwalk, which ends at Manistique Breakwater Light, a fishing pier and some of the most region's most stunning sunsets. Come fall, immerse yourself in rich gold and red hues drenching expansive Indian Lake State Park. And, don't pass through this county without riding the raft through Michigan's largest spring, "Kitch-iti-kipi," which is 200 feet in diameter, 42 feet deep and delivers 16,000 gallons of crystal clear water per minute.
Delta County
Tabbed the "Walleye Capital of the World" and home of ESPN's annual B.A.S.S. Elite Series Professional bass fishing tournament on Bays de Noc, Delta County's more than 200 miles of shoreline beckon fans of water sports from boating to diving shipwrecks.
Landlubbers can revel, too, in the region's lush natural surroundings hiking or riding horses on the Bays de Noc-Grand Island Trail or venturing to a bygone era by foot at Fayette Historic Townsite and State Park on the Garden Peninsula, where a restored industrial smelting village from the 1870s and rocky shoreline beach and cliffs engage visitors of all ages.
The same can be said for the Upper Peninsula State Fair in Escanaba Aug. 11-17, which features unique entertainers and family activities on the midway free with paid gate admission.
Menominee County
Bordered between Green Bay and the Menominee River (flanked just on the other side by Marinette, Wis.), the City of Menominee offers an expansive park system including an inviting historic downtown district, top-rate marina and calendar of special festivals and events. From dining and shopping to combing beaches and watching boats sail by, visitors will find plenty to do and places to stay. Check into the Island Resort & Casino to relax and play, or swing easy at the scenic and adjacent Sweetgrass Golf Club.
Dickinson County
Opportunities to indulge in history and outdoor recreation abound in Dickinson County. Travelers journeying along U.S. Highway 2 will discover the area's highlights include the new WWII Glider & Military Museum (recalling when the Ford plant in Kingsford became a base for crafting wooden gliders to fly reconnaissance missions over the English Channel); the Cornish Pump, largest steam-driven pumping engine built in the U.S.; plunging underground mine tours and whitewater rafting through Piers Gorge on the Class IV Menominee River rapids (see page 30 in this issue).
Iron County
"With 900 miles of streams and rivers, nearly 100 inland lakes and the Michigamme Reservoir, there's an inexhaustible list of great fishing spots all year-round," says the U.P. Travel and Recreation Association of Iron County, which is also ideal for canoeing, kayaking, boating and swimming and hosts engaging events such as the U.P. Championship Rodeo and Humungus Fungus Festival in July. (Crystal Falls boasts what's been identified as perhaps the world's largest oldest living organism, a 100-ton Armillaria Bulbosa mushroom species spanning 38 acres beneath an Iron County forest.) Meanwhile, the castle-like Iron County Courthouse is an iconic stop for architecture fans.
Gogebic County
A true rugged wilderness getaway so far west its clocks are set on Central Time, Gogebic County's crystal clear waters are prevalent in many places, from pristine Lake Superior and the Cisco Chain of Lakes — where jumbo perch and pike, walleye and smallmouth bass abound — to 13,000-acre inland Lake Gogebic and an abundance of waterfalls. Stop by the Ottawa National Forest Visitor Center in Watersmeet where Highway 2 intersects with U.S. 45, and tie up your hiking boots to revel first-hand in the wondrous natural bounty of Sylvania Wilderness Area.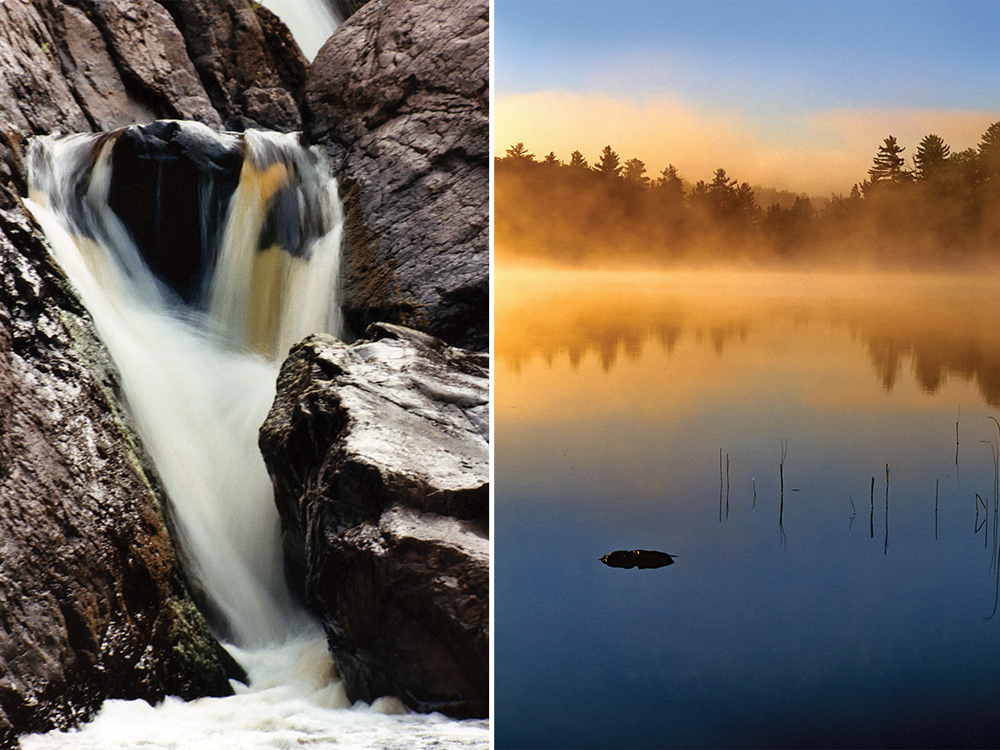 To learn more about popular natural sites and attractions along U.S. Highway 2 and other 5-Star Wilderness adventures that await in Michigan's Upper Peninsula, visit uptravel.com.
---
Lisa M. Jensen is editor of Michigan BLUE Magazine.
Facebook Comments