---
Days are (finally!) longer, snow piles have oozed into puddles, and winter's bitter winds have mellowed into invigorating puffs of blustery breezes. And it seems that if you listen, you can almost hear Michigan's crisp, green asparagus spears bursting through the earth of Oceania County along the shore of Lake Michigan, near Manistee and Ludington. Here, rich loam soil (with sand particles and sediment for structure and fertility) provides the perfect ground to help our state grow 20 million pounds of this springtime crop each year.
Baby leaf greens, spinach, arugula, and broccoli, not very tolerant of heat, are also growing well under Michigan's cool spring conditions — especially near the lake shores, where temperatures are moderate.
As gorgeous as these vegetables may be in their naked state, it's easy to enhance their flavor and appearance with a variety of simple-to-make, healthy dressings that can suit all the tastes of your family members and guests.
Each of these dressings would be delicious over a base of Michigan's crisp Broccoli Floret Salad (see sidebar) or your favorite fresh greens.
---
Lemon-Garlic Vinaigrette
Ingredients
¾ cup extra virgin (or light, if preferred)
olive oil
4 tablespoons red wine vinegar
4 tablespoons fresh lemon juice
1 tablespoon Dijon mustard
1 clove garlic, finely minced
½ teaspoon salt
Ground pepper to taste
Tip for Success Use a jar with a tight-fitting lid for mixing the dressing and then storing it for up to a week, refrigerated.
Prep Combine all the ingredients in a jar and close the lid tightly. Shake well to combine.
Let's Eat! This versatile grab, shake, and pour add-on is perfect over grilled or steamed asparagus, baked chicken or fish, tossed green salads, and so much more. It's an easy and healthy flavor option for family and guests.
---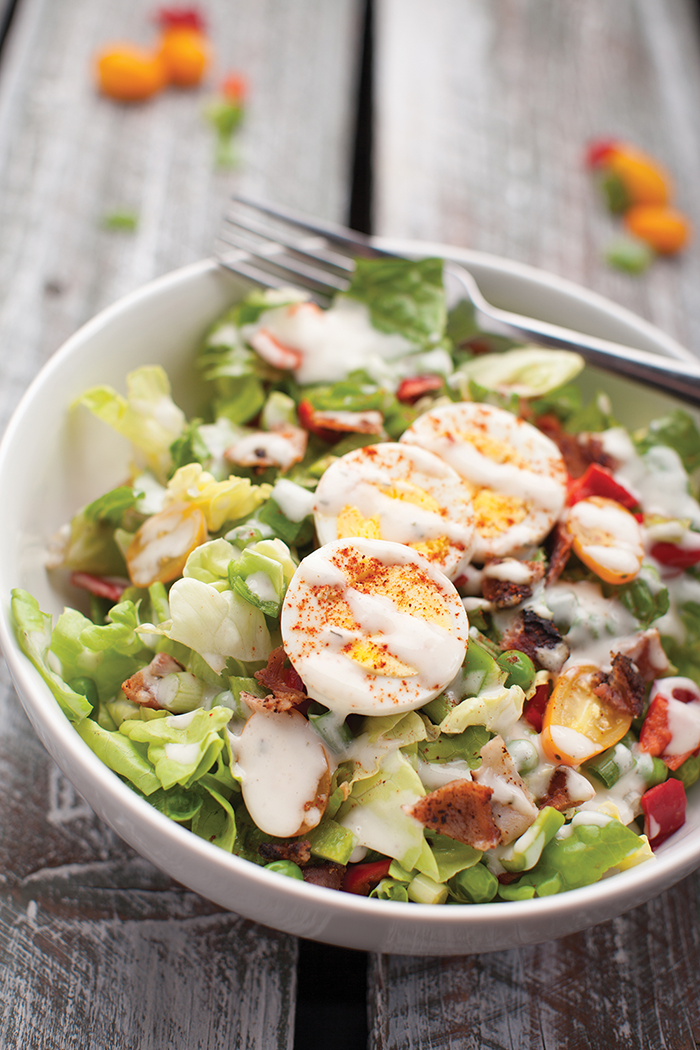 Creamsicle-Yogurt Dressing
Ingredients
1 cup plain Greek yogurt
3 tablespoons orange juice
3 tablespoons maple syrup
½ teaspoon vanilla extract
Optional: 1 teaspoon orange zest
Tip for Success Choose Greek yogurt
with a fat base of at least 2 percent (not
fat-free) to avoid a watery consistency.
Prep Gently stir all ingredients. Chill for
30-60 minutes before using.
Let's Eat! You, your family, and your guests can use this tasty, healthful, fun dressing in so many ways: over fresh-cut fruit, granola, or greens with blueberries and new Michigan strawberries; as a condiment for baked poultry or pork; or as a dressing for Broccoli Floret Salad (see sidebar).
---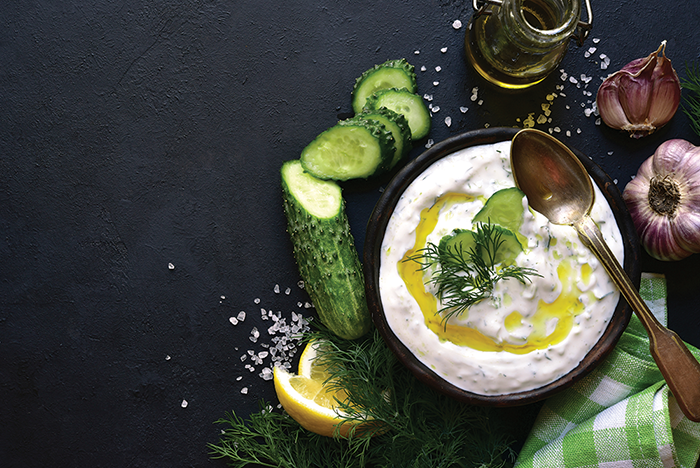 Big Red's Yogurt-Dill Dressing/Dip
(Big Red is my mom and was manager of the restaurant I owned)
Ingredients
1 cup plain Greek yogurt (2 percent or
higher fat content)
2 teaspoons lemon juice
1 tablespoon dried or 2 tbsp fresh dill
1 tablespoon dried or 2 tbsp fresh parsley
1 teaspoon granulated onion
1 teaspoon Mrs. Dash salt-free seasoning
1 small clove fresh garlic, minced
½ teaspoon Lawry's salt
½ teaspoon black pepper
Tips for Success If your guests aren't huge yogurt fans, regular mayonnaise can be substituted for a portion of the yogurt. This can be made ahead and stored, refrigerated, for 4-5 days with a light stir before using.
Prep Gently combine all ingredients.
Let's Eat! This recipe is the perfect spread for any type of sandwich, especially vegetarian. It's also great as a dip for fresh carrots, celery, peppers, snow peas, and (in moderation, of course) your favorite chips.
---
Best Creamy, Tangy Homemade Dressing
Ingredients
½ cup mayonnaise
½ cup plain Greek yogurt
3 tablespoons fresh lemon juice
3 tablespoons maple syrup
½ teaspoon salt
¼ teaspoon black pepper (optional)
Tips for Success If using this for a pasta salad or for the Broccoli Floret Salad (see sidebar), make sure the salad is thoroughly cooled before adding the dressing. If you're serving more than 4-6, double the recipe. Leftovers will keep, refrigerated, for 4-5 days.
Prep Combine and gently mix all ingredients. Before putting ingredients away, taste for the desired tanginess. Lemons can vary in their tartness. You may want to add more lemon juice or syrup.
Let's Eat! This dressing is especially ideal for any pasta salad or chunky, all-vegetable salad. It's what I always use for the fruited version (my favorite) of Broccoli Floret Salad (see sidebar).
---
---
BONUS RECIPE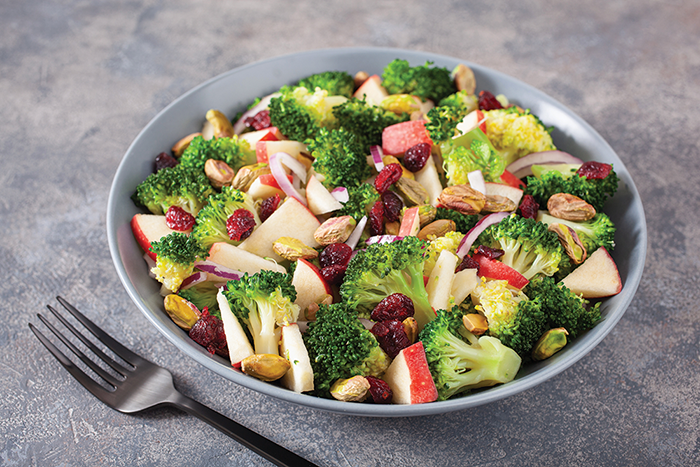 Very Versatile Broccoli Floret Salad
Basic Ingredients for All Versions
1 bunch broccoli, cut into very small florets
2 ribs celery, diced
¼ cup red onion, diced small
---
Additional Ingredients for Fruited Version:
1 chopped red apple
1 chopped green apple
½ cup dried cherries or cranberries
If desired: ½ cup chopped walnuts, pistachios, or pecans
Tips for Success for Fruited Version If the salad won't be eaten right away, you can toss the diced apples in a little orange or lemon juice to keep them from turning brown, and then drain the juice. Instead of adding the nuts and dried cherries or cranberries, it's easy to add the contents of a 2-ounce "snack pack" of dried fruits with nuts and/or seeds.
---
Additional Ingredients for Non-Fruited Version As desired:
½ cup chopped bacon
½ cup drained chickpeas or red kidney beans
½ cup feta, or shredded or diced cheddar cheese
½ cup chopped sun-dried tomatoes
1 carrot, finely chopped or shredded
¼ cup sunflower seeds
Other add-ins might include: sliced black, green, or Greek olives; capers; chopped red pepper; cauliflower; grape tomatoes; or other fresh vegetables
Tip for Success for Non-Fruited Version If your guests like garlic, you can include ¼ teaspoon granulated or 1 small finely minced clove of fresh garlic in the recipe ingredients.
Tip for Success for All Versions If you'd prefer your broccoli florets a little more tender than raw, you can blanche them for 1.5 minutes in a covered pan with 3 cups of boiling water. Drain, then plunge into a bowl of ice-cold water to cool and to stop the cooking.
Prep In a bowl, combine all chosen ingredients except dressing. Gradually add dressing, stirring, until the desired consistency is reached.
Let's Eat! This salad can be eaten immediately or refrigerated for a day, and your guests and family can enjoy their own version and ingredient choices.
---
---
By Honey Murray & Photos courtesy Adobe Stock
Facebook Comments