Go big or go home? For some Michiganders today, the saying should be "Go small and go home." That's because they see a smaller house as offering everything they need and want, and nothing more.
Northwestern Lower Michigan is a corner of the state with several new small-home projects. They include houses being constructed for customers, spec houses that are testing the market and a new small-home development near Bellaire. The latter is an undertaking of the design group beag+haus, which specializes in "innovative small homes for the everyday adventurer." Company co-founders Marc O'Grady and Dwayne Johnson, both northern Michigan natives, are readying the 33-acre site now and plan to build the first model home in the spring.
The Bellaire development will include houses ranging from as little as 400 square feet up to 1,500 square feet. Johnson said most will fall in the 800- to 1,000-square-foot range. Their first model home will be 600-800 square feet.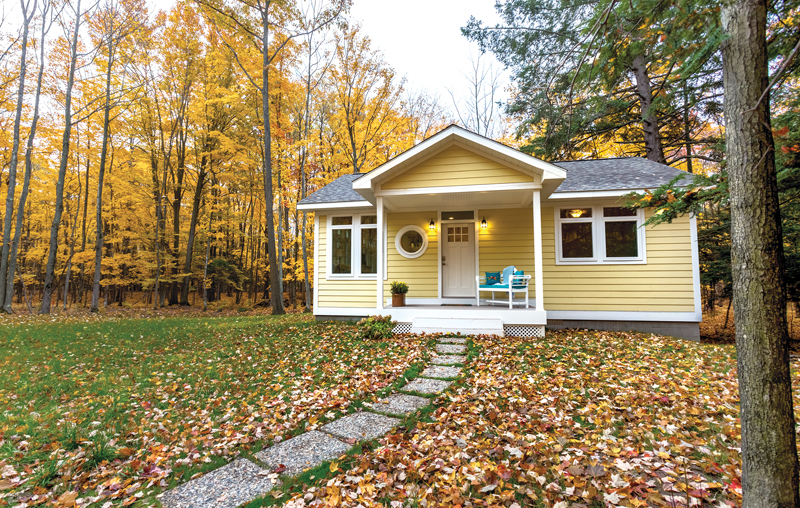 "We're doing that because most people don't have any experience with a house that size," he said. "Until they see a model or stand in a space that's 600 square feet, it's hard for them to judge what that means in terms of how quickly the space is taken by things like king-sized beds and traditional, full-sized kitchens. But at the same time, we can show them how they can exist in a space that's this size."
Likewise, Eastwood Custom Homes just built a 440-square-foot, one-bedroom and one-bath model just south of Traverse City. On the market for $149,900, it either includes a 1.5-car attached garage or an attic that provides extra space for storage or for conversion into a second bedroom, according to Eastwood sales associate Julie Lashmit. This is one of several small homes the company is constructing in the area. "We feel that there's room in the market for these smaller homes, especially for a single person who is looking for energy efficiency and lower heating bills," she said.
Sized to Your Needs
Living smaller is a different mindset from the bigger-is-better mentality of most American homebuyers, O'Grady remarked. While the cost per square foot of new construction is about the same regardless of size — around $200-$250 in northern Michigan — the benefit of a well-designed small home is that just about every inch is utilized.  He explains, "Instead of going out and buying what you think you need or what the market says you need, our approach is to take the amount of space that you actually use in your home and make that the total size of your home."
Besides the Bellaire small-home community, beag+haus is working on several individual projects, including one for Ellen Fred, a conservation law attorney. She had a 200-square-foot tiny house on wheels for recreational use and decided to sell that and build something a bit larger. She chose one of the company's designs with an approximately 700-square-foot main floor and a loft.
"At the last minute, we decided to add a little bump-out for a small master bedroom and bathroom, so that added another couple hundred square feet," Fred said. While she plans to use the new build as a home office for the time being, she is open to the possibility of making it her primary residence sometime in the future.
Fred's attraction to smaller living has many aspects. "I like the idea of living small and everyone being together as long as there's space for escape. It's cozier. And it's also greener in terms of saving resources, and it's less to clean, too," she said. "Really, if it is a very functional space with everything you need, it just doesn't have to be big."
The key to living small is decluttering, Fred said. "As a society, we tend to collect things, so if you look in your kitchen drawer, you may have three garlic presses even though you just need one high-quality garlic press, and that's all," she said. "If everything is truly functional, you only need a small amount of space."
Making Small Work
Small spaces do present a few challenges. One is the battle between a light and airy open concept and the need for privacy and compartmentalization, Johnson said. "For instance, people see photos of lofts in magazines and they look great without walls because they open up to the first floor, but if there are multiple people living in that house for anything more than a couple of days, the loft is the worst place in terms of privacy," he said. "Those are the types of conversations we're constantly having with clients."
Another consideration in creating a purposeful smaller home is to design in space-saving features. O'Grady used the example of a small media room. If you add pocket doors, you can open it up when you have guests to increase your living space.
Carlie Humphrey, a marketing professional, has been giving a lot of thought to getting the most out of the beag+haus small home she is building near Traverse City with her husband. "We have (planned) a crawl space below the house that we'll be using for extra storage. And we are building an enclosed outdoor shower, and instead of a dining table, we'd like to put in a kitchen island, which is better for gathering and as a cooking (surface). We're really trying to maximize the space," she said.
Their house will be an A-frame with 800 square feet on the first floor and a 200-square-foot loft, where they are planning to add a small half-bath. A native of Plymouth but currently living in Chicago, Humphrey said she and her husband hope to move to the small house full time in a couple of years, and in the meantime, offer it for short-term rentals when they aren't visiting themselves.
"I like the idea of living small and everyone being together as long as there's space for escape. It's cozier. And it's also greener in terms of saving resources."
— Ellen Fred
An advantage of small homes, however, is that owners have nearly no limit on finishes, including those that might be cost-prohibitive in a larger home, O'Grady said. For instance, a remnant piece of otherwise expensive marble may be all that's needed to outfit a kitchen counter.
Finishes were on the mind of Cathleen Hawthorne, who took on her first house project by overseeing construction of an 880-square-foot home in Benzie County. "My vision was to build a small home that combined cottage charm with the quality and elements of a larger luxury home," she said. Completed last year, the little yellow house features ample windows with craftsman-style trim, a fireplace in the bright living/dining area, a farmhouse sink and upscale counters in the kitchen, two well-appointed bedrooms and a small sitting porch.
Humphrey also is excited about adding distinctive touches to the interior of her new place. "Because you have smaller spaces, you can then invest in really neat things, and I hope to find some things to outfit the house that are local to Traverse City or that are special to our family," she said. "I definitely want to keep it as local and as unique as possible so when guests come up, they will feel like they're in northern Michigan and not just another cabin."
Who Goes Small?
Whether people are looking at small homes for rentals, seasonal living or primary residences, a common thread is their appreciation for and desire to spend time outside, O'Grady said. "Most of our clients are really outdoorsy kinds of people. They like to be outside, so they don't need all the indoor space."
That description fits Humphrey and her husband perfectly. She comments, "We really wanted a place that was in the midst of the activities and all of the fun stuff to do up there, so we just felt like it wasn't necessary to have a lot of extra living space. We'd rather put our money toward the adventure and everything else outside of the home."
While retirees have approached beag+haus about downsizing to smaller homes, most of their clients are in the 20-40 age range, O'Grady said. "What we're seeing among millennials is that they don't necessarily want the traditional American dream that their parents wanted or that people have told them they should want. They don't want a big house. They don't want a big mortgage payment," he said. "What they do want is enough house, not the most house they can get. That's the trend. And that's our philosophy, too."
---
Tiny Living RV-Style
The collection of elfin homes at the end of a winding road near Traverse City may look like miniature houses, but they aren't. Rather, they fall under the description of RVs — "temporary living quarters for recreational, camping, travel or seasonal use," as defined by the RV Industry Association.
The homes are part of Cottage Estates, a section of the Traverse Bay RV Resort that is reserved strictly for these tiny RV homes, most of which are Amish-built, 400-square-foot (plus loft), Park Models manufactured by the Indiana company Woodland Park, according to Kathy Scheppe, who owns the resort with her husband David.
"We only purchase their top models with as many options possible, including front and rear porches," Kathy said. The homes, which come with a 192-square-foot matching shed and are set on a lot that's at least 5,000 square feet, run about $140,000.
Tennessee resident Dean Toscano bought his Park Model after touring the region for the first time this past summer. "My wife and I went up to Traverse City and the Cherry Festival for our 30-year anniversary and were just blown away by the area: the lakes, the different towns — Traverse City, Charlevoix, Petoskey, Glen Arbor — everything about it was just so cool."
While visiting a friend at the RV park during that trip, he and his wife saw the unit and bought it a few days later. With its gas fireplace, large-screen TV, upgraded interior, good-sized porches and scenic views, he says it feels like "a very nice upscale condo."
"As far as a seasonal vacation home, it's perfect. You don't need a giant house with lots of rooms because you're not going to spend a whole lot of time inside.
— Dean Toscano
Michigan natives Ron and Cam Hurley also purchased a place in Cottage Estates this past year, but theirs is a stick-built model that was constructed as a spec home by local builder Todd Gokey. "We've been in Florida for 11 years now, and we usually rent somewhere in Traverse City and have the kids meet us up there in the summer," Ron said. This year, however, Cam pushed the idea of buying a tiny RV home instead. Although originally not as enthused about spending six months a year in a space that is about one-sixth the size of their Florida home, he says he found it surprisingly easy to downsize to 400 square feet.
They listed the high-quality trim work, a large glass shower, cathedral ceilings in the kitchen and living room, and ample decks off the master bedroom and living room as being big positives, but one of the things they like best is how quickly they can clean their tiny home. Cam said it takes only an hour and a half to "have the whole house spit-polished, so we can be free for the rest of the day."
The only real challenge so far has been jostling for position in the kitchen. "We both enjoy cooking, so that's been an adjustment. There has to be a little give and take — he takes, and I give," Cam said with a laugh.
The Toscanos and the Hurleys agree their decision to go tiny was the right one. Toscano summarized, "As far as a seasonal vacation home, it's perfect. You don't need a giant house with lots of rooms because you're not going to spend a whole lot of time inside. You want to be out exploring and enjoying the sights and doing the outdoorsy, adventurous things that attracted you to the area to begin with."
---
Leslie Mertz is a freelance writer and environmental educator. She lives Up North near a branch of the Au Sable River.
Facebook Comments