At 91 years old, Chris Smith still works with his hands. He inherited his skills from his grandfather, Chris-Craft founder Christopher Columbus Smith, who carved out his early wood boat designs and pulled them through the water on a piece of string to see how they would ride. As a child, Chris did the same thing just for fun.
"People often ask me what the most significant event in my life was. I tell them it was the day I learned to swim," Chris said with a chuckle. "My mother wouldn't let me go to the Chris-Craft plant alone until I could at least dog paddle."
His older brother, Chuck, helped him learn. Chris relates the story of being 7 years old when his brother said to their mother, "Can't he swim yet?" His brother then tied a rope around the younger sibling's waist and threw him off the dock. Chris kicked and clawed his way back to the ladder and climbed out, earning the freedom to come and go from the waterfront factory unsupervised.
"From that day on, my whole life revolved around Chris-Craft," Chris said proudly. "In fact, I never took a paycheck from any other source."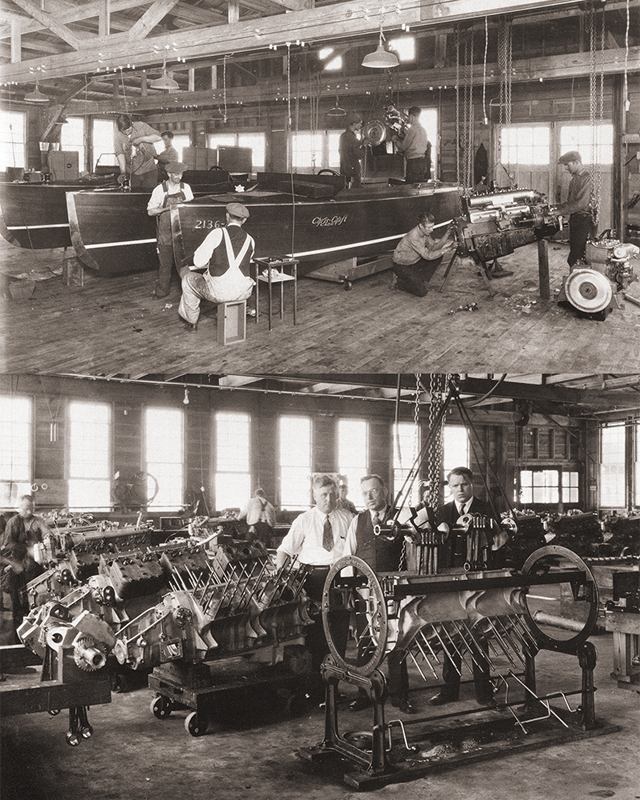 Chris' involvement with his family's company grew during his school years. He spent weekends and summer breaks at the Algonac plant where the Chris-Craft legacy began. He worked at odd jobs around the factory, learning the tools and tasks required to create mahogany boats from the men and women who operated each station along the assembly line.
In 1947, after two years of college, Chris told his father he wished to drop out. At 20 years old, he had spent his life prowling around the Chris-Craft factory. He knew what he wanted to do. He was a capable boat builder; the men and women of the factory had seen to that.
"I told my dad I just wanted to work with my hands," Chris said. "I couldn't imagine being cooped up in an office all day."
Bernie, his father, agreed to let him work as an intern at the Algonac factory for two years if he promised to return to school once he was released. Chris never did. He became a prototype engineer, translating the plans for each new Chris-Craft model from lines on paper to rough wooden shapes and then completed vessels always sold as Hull #1.
Chris designed the Chris-Craft prototypes and others for their subsidiary, the Roamer Steel Boat Company, until the company closed its Holland factory and moved the last of its operations to Florida in 1986. Chris chose to retire rather than leave West Michigan.
While in Holland, he helped produce the very first fiberglass Chris-Craft in 1955 and oversaw production of the company's largest vessel, the 74-foot Roamer Yacht, in 1957. His design skills allowed him to customize almost anything he touched, even modifying a single-engine airplane in 1955.
Purchased as a kit, Chris decided the plane wasn't good enough and redesigned it. He deviated so far from the original plans, the Federal Aviation Administration informed him he would have to classify it as his very own model.
Chris and his wife Melva moved from Algonac to Holland in 1957. They bought a house on Lake Macatawa. He had floats added to his second aircraft, a Cessna 180, and redesigned his boathouse to accommodate his two Chris-Crafts and the aircraft all at once.
He continued to build wooden boats after retiring from Chris- Craft at 59 years old. In 2016, Chris' 14-year-old grandson, Zachary, approached him about building a one-of-a-kind, 20-foot mahogany boat in the workshop behind Chris' Holland home. Chris reworked the original plans to create a sleeker, more stable vessel, and the two built the boat together.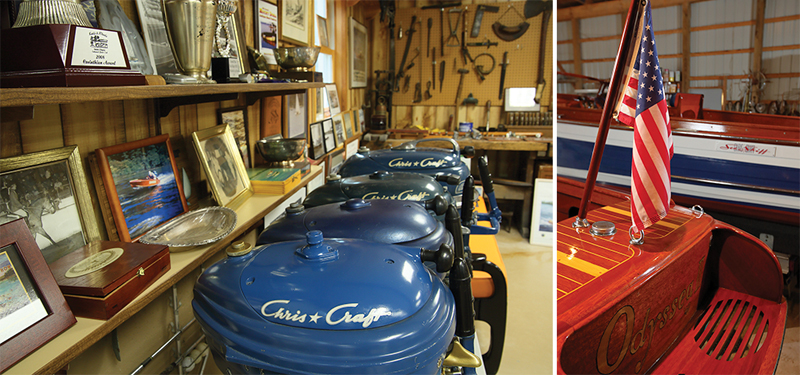 That August, about a month before the boat was completed, Chris suffered a stroke that left him without the use of his right side. Although he was unable to finish the boat, Chris' son, Mark, stepped in to complete the boat with Zachary. A month later, the boat made its maiden voyage — with Chris in the front seat. It was a sea trial that showcased three generations of family craftsmanship.
Chris still has trouble accepting his physical condition. Working with a physical therapist, he has regained much use of his right side. He can navigate the narrow staircase that leads to the lower level of his house where he keeps a shrine to his family's company.
Pictures from every era line the room. The original workbench his grandfather used to start Chris-Craft occupies one corner, while the drafting table from his Holland offices sits in another. A line of original Chris-Craft outboard engines sits below shelves filled with trophies won by boats at antique shows and early races.
Chris is especially proud of a trophy from 1929, a silver cup from the Lady Astor Women's boat race. It bears his mother's name. She won the race in her husband's 26-foot 1929 Chris-Craft racing boat. "I had no idea she ever raced," Chris said, turning the small, silver chalice over in his rough, woodworker's hands. "My sister gave me the cup after she passed away."
After spending most of his life on the water, Chris now lives inland, just south of Lake Macatawa in a house he built with his oldest son, Larry, in 1986. He traded the waterfront for the Laketown woods. Windows in the back wall of his home look out over the pond and the woods beyond. A recliner sitting next to a wood stove is his favorite place to sit.
"I thought I would miss the water, but I don't," Chris said. "I love to watch the deer and turkeys now — and the birds.
"… My son and I were thinking about building a catamaran." Chris said a bit later, turning a roughed-out shape in his hands. "This is my first try with multihulls. We'll see what happens."
---
Chuck Warren is a boating writer and licensed captain. He lives in Grandville and has worked around boats for 50 years.
Facebook Comments