From east to west across the state, competitors and spectators alike are preparing to celebrate summer — along with Michigan's distinct shoreline communities — in the sand.
"If you want to get involved in something, what a wonderful thing this is," shares Ron Beeber, chair of the Pentwater Sand Sculpture Committee. Beeber assumed the contest's reins in 2012 and drove in high spirits right into his labyrinthine role of coordinating volunteers, judges, participants and other details of this popular event in one of the state's most quintessential Lake Michigan communities.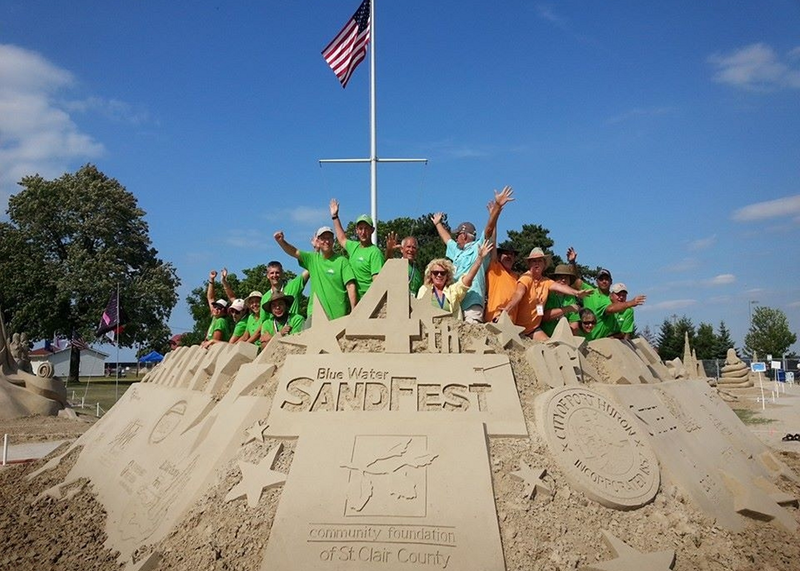 This summer, Pentwater welcomes more than 50 teams including over 200 participants to Charles Mears State Park on Friday, Aug. 14, the first day of the picturesque town's annual homecoming celebration. Offering seven varying categories, the Pentwater Sand Sculpture Competition invites a wide variety of vision and skill. But most of all, Beeber says, "It's just great fun." 
For him and many competitors who participate each year, the heart of this traditional event is family.
"There are no professional sand sculpting groups here — just authentic amateurs, down-home vacationers or residents who love Pentwater, Lake Michigan and playing in the sand," expresses Sherry Kloostra, who's been competing in the contest with her family here for 25 years.
While Pentwater is the epitome of small town charm, South Haven is nationally renowned for its blueberries, and the South Haven Area Chamber of Commerce established a sand sculpture contest as part of this scenic community's National Blueberry Festival 15 years ago.
"We love having the sand sculpture competition as part of our event lineup," says Chamber Assistant Director Susan Diepen, noting that a 5K, 10K, pageant and parade are also popular events. "It's a fun event for kids and families."
After the blueberry socials, pie-eating contests and a pancake breakfast, the Chamber will host the contest on North Beach on Sunday, Aug. 9. First and second prizes are awarded in nine different categories in which 20-35 teams of 2-5 people each compete. Participation in the South Haven National Blueberry Festival Sand Sculpting Competition — sponsored by Sea Scouts Ship #5191 — is free.
"If you've got as much sand as we do," Diepen says, "you might as well use it to make cool sculptures!"
Forty-five minutes outside of Grand Rapids, the always bustling Lake Michigan beach city of Grand Haven celebrates its 34th annual sand sculpture contest on Saturday, June 20 at the City Beach. "I think [the community] loves it and looks forward to it every year," said Courtney Geurink, program and events manager of the Grand Haven Chamber of Commerce. With at least 1,000 spectators and 30 teams made up of 200 participants attending the event, the sand proves its popularity. Each of the contests' six-team categories compete using only the Michigan's natural elements. "They can't use any artificial supports," Geurink underscores. "It's just water and sand."
While Pentwater, South Haven and Grand Haven focus on family-friendly fun, the Blue Water SandFest in Port Huron hosts an event for professional sand sculptors each year. Partnering with The Sand Lovers, a professional sand-sculpting company based in Florida, the Friends of the Fort Gratiot Light hosted their first contest in 2012.
Attracting master and amateur sand sculptors from around the world, SandFest draws thousands to its annual event. "We've had people as far away as Russia wanting to come to the competition this year," shares David Brooks, chair of the Friends. With tickets priced at just $5 per person and live music and show-stopping sculptures, SandFest is a festival designed for the entire community. "It's just a welcoming event," he notes. Listed among USA Today's 10 Best Sand Sculpture Competitions for 2014, this year's event takes place July 3-5.
For more details about these shoreline sand gatherings, visit pentwater.org; blueberryfestival.com; visitgrandhaven.com; and bluwatersandfest.com. — Lauren Fay Carlson
Facebook Comments