Before the days of jet travel, when winter vacationers stayed closer to home, winter was a time to celebrate. Several northern Michigan communities celebrated the cold months by sponsoring winter festivals as early as the 1920s. Those festivities caught on in the 1930s and '40s and continued through the '60s.  Ice skating, skiing, tobogganing, hockey and snowshoeing were popular, but there also were sleigh rides, ice sculptures, pageants, parades, dog derbies, ice clown acts and games. The "crowning" event of many festivals was the coronation of a winter queen.
Special "snow trains" from Chicago and Milwaukee brought hundreds of winter sports enthusiasts to frigid locales, such as Iron Mountain and Houghton. Excursion "snow trains" from Detroit brought hundreds to Grayling's Winter Sports Park. Other trains ran from Chicago and Grand Rapids to Petoskey. Trains from Bay City and Saginaw brought people to Alpena's Winter Carnival. Hotels, rooming houses, restaurants, cafés and shops were kept open to serve these guests.
To break the monotony of long Upper Peninsula winters, many U.P. towns sported winter festivities. Michigan Tech in Houghton established one of the earliest winter carnivals in 1922, called "Ice Carnival." It began as a student show with a circus theme. Gladstone's festival started in 1933 and included snowshoe softball games.
Munising's carnival had an annual ski competition starting in 1936. One of the traditions was for the winter sports queen to pose in a bathing suit, despite the weather. In 1937, Sault Ste. Marie, in cooperation with its Canadian counterpart, hosted a four-day international winter carnival and crowned two international queens
Escanaba claimed to have the "largest and most perfectly conditioned outdoor ice rink in the country." The winter carnival featured fancy skating exhibitions, couples waltzing on skates, freestyle skating in pairs and crowning the winter carnival queen. In 1937, a magnificent ice throne, with colored lights and a statue of liberty carved in ice, formed the backdrop for the Escanaba winter carnival queen and her court.
Miss Verna Wesa, a blond department store clerk, was crowned as the 1938 Ishpeming winter carnival queen. She and other winter queens of Upper Peninsula towns entered that year in the first competition for the title "Queen of the North," under the sponsorship of the Ishpeming Winter Sports Club. Her throne in the Ishpeming High School gymnasium captured the "glory of a northern winter" with clumps of evergreens, artificial snow and lighted stars. An "ice palace" contained box seats for the queen and for Gov. Frank Murphy, who crowned the queen. A "snow fort" held a nine-piece dance orchestra.
The Newberry Winter Carnival began in 1939. Over 100,000 ballots were cast for the queen of 1940. Marquette's winter carnival originated in 1940 as a week-long event, with neighborhood contests, school pageants, and of course, coronation of a queen. Sliding was permitted on 15 city streets. Ironwood's winter festival in 1940 had competitions in ice sawing and wood chopping.
In the Lower Peninsula, several towns hosted winter festivals. While most were in the northern Lower Peninsula, areas such as Petoskey, East Tawas, Boyne City and Cadillac, and other places, such as Brighton, Ionia and Belle Isle, also hosted festive winter events.
Petoskey's winter carnival began in 1928, and the town became known as the Winter Sports Capital of Michigan. Petoskey's Winter Sports Park featured a quarter-mile toboggan slide and a 400-square-foot ice rink.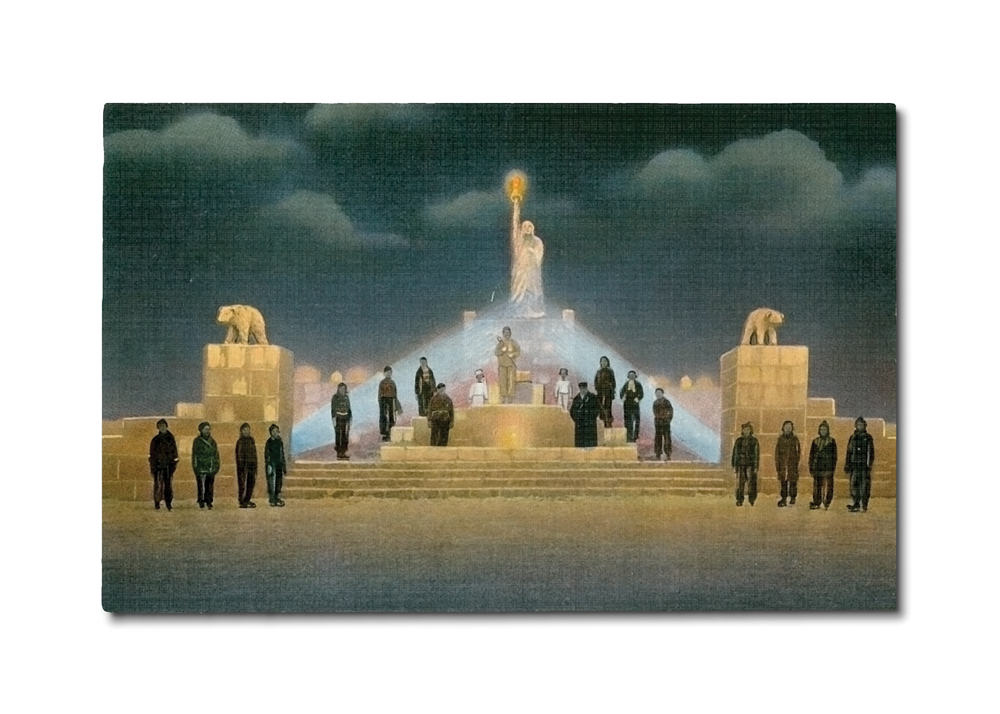 Its winter queens were crowned on a throne of ice, created by local artists and built by city workers. One of the most elaborate thrones was created in 1935 by artist and sculptor Stanley Price Kellogg. The solid ice sculpture illuminated by colored lights emulating the Aurora Borealis, was 125 feet long, 100 feet deep and 75 feet tall. It weighed 1,300 tons and was claimed to be the largest ice sculpture in the world.
In 1934, fireworks hailed the coronation of Miss Eunice Schaller, "Michigan Winter Queen," in Petoskey. The 20-year old brunette graduate of Petoskey High School presided over the festivities, which included a winter sports ball attended by Gov. William Comstock and his wife.
While World War II interrupted some of the celebrations, winter festivities resumed during the 1950s and '60s. Some were hosted by civic organizations, sports clubs or ski resorts. Winter sports remained the dominant theme, and gradually, the crowning of winter queens dwindled, and the sparkling ice thrones of the past melted into history. ≈
BLUE Vintage Views Columnists M. Christine Byron and Thomas R. Wilson reside in Grand Rapids.
Facebook Comments