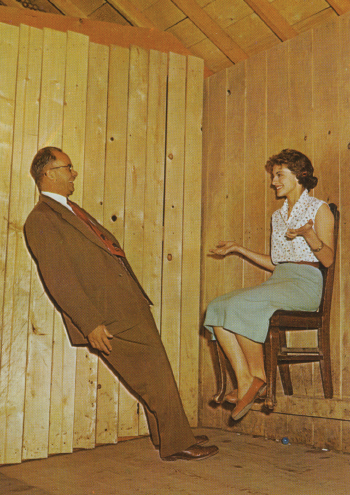 For centuries, travel has afforded a chance for people to escape their mundane, everyday life and encounter new things. Travelers have come home with stories of strange sights and experiences. Motorists on some of Michigan's highways and byways in the mid-20th century may have encountered some fun, interesting or even quirky roadside attractions.
Maybe they were drawn by gaudy billboards to Sea Shell City in Cheboygan to see "the man-eating clam," or were "captured" in the Haunted Fort near Mackinaw City, or felt shivers roll up their spine in the Murder Room of the Walker Tavern in the Irish Hills. But a chance to suspend the laws of gravity tops the list of strange experiences.
Mysterious places that "defy" gravity have beckoned Michigan travelers since the 1950s and 1960s. Michigan isn't alone in marketing these kinds of "natural phenomena" to tourists. There are at least 35 "mystery spots" in 22 states. Two of the earliest from the 1930s were the Mystery Spot in Santa Cruz, California, and the Oregon Vortex in Gold Hill, Oregon.
Seeing the success of these tourist attractions, entrepreneurs sought opportunities to lure weary travelers off Michigan roads by promising to showcase the natural laws of gravity gone berserk. Interestingly enough, these gravity-defying "black holes" were "discovered" suspiciously near popular highways. These highway "side shows" use spatial distortion and misdirection to trick a traveler's normal visual expectations. While doubters might write off "mystery spots" as a gimmick to lighten the wallets of visitors, it seems that tourists never tire of being fooled by a good illusion.
Mysterious places that "defy" gravity have beckoned Michigan travelers since the 1950s and 1960s. Michigan isn't alone in marketing these kinds of "natural phenomena" to tourists.
Like the strange feelings you might encounter in a carnival funhouse, these roadside attractions all present a similar assortment of experiences, including walking on walls, balancing on a chair, feeling the sensation of falling backwards, seeing water run uphill or a ball refusing to roll downhill, and perceiving people standing on a level plane grow or shrink as they compare heights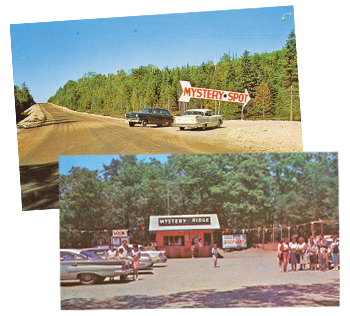 The "world famous" Mystery Spot, five miles west of St. Ignace on US-2, is one of the best-known tourist attractions in the state. "Discovered" in 1953, the tourist mecca has entertained millions of visitors. Advertised as entertaining, wholesome and perplexing, it's a curiosity where your "equilibrium is entirely upset."
A clever guerrilla-advertising act in the 1950s and 1960s placed bumper stickers on all the cars in the parking lot. Although the "educated, performing chickens" are no longer featured, today's visitors can ride down a zip line, explore a maze in the woods or, of course, shop for souvenirs.
Mystery Hill is located on US-12 in Onsted in the Irish Hills, enticing visitors to come if "you want laughter, puzzlement and queer sensations." Mystery Hill continues to draw travelers off the road for guided tours or a round of miniature golf.
Mystery Ridge was located between East Tawas and Oscoda on US-23. Here was hidden the "dark black magic of mystery" that seemed to defy the laws of nature. Advertised as "mystifying – baffling – sensational." But, alas, it is no longer in business.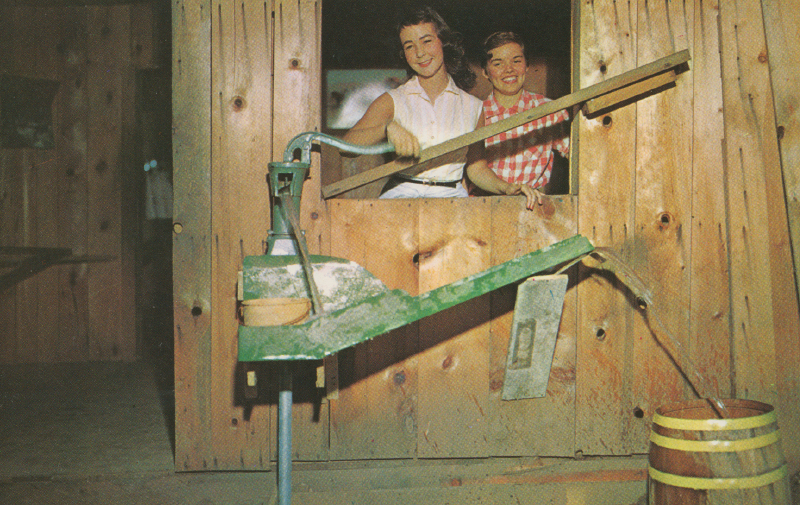 Another short-lived attraction was Glen Magic, a crooked house on M-22 near Glen Arbor. Here, the "mystifying forces of gravity" were suspended for the whole family's entertainment.
Many theories have tried to explain these strange phenomena. The most common explanations are fallen meteorites, magnetized mineral deposits, or earthquakes cause the strange effects. Spoiler alert: It isn't any of these but simple demonstrations of how the eye can fool the brain but, nonetheless, an entertaining and safe thrill for all ages.
---
BLUE Vintage Views columnists M. Christine Byron and Thomas R. Wilson reside in Grand Rapids. They are authors of the new book "Vintage Views Along Scenic M-22 including Sleeping Bear Dunes."
Facebook Comments