The sand dunes along the eastern coastline of Lake Michigan are one of nature's marvels and the largest collection of fresh water dunes in the world. Over the past 80-plus years, tourists could experience their majesty on various dune rides. Those breathtaking spins on natural "roller coaster" trails in duneland offered magnificent views of Lake Michigan, Silver Lake, Glen Lake and Goshhorn Lake.
Some tours offered "scenic" excursions with stops at lookout points as well as "thrill" rides emphasizing speed and daring. They ranged from 8 to 13 miles and usually took 30 to 45 minutes.
The first person to tour dunes in an automobile was Malcolm "Mac" Woods, the operator of Flora-Dale Resort on Silver Lake near Mears. The rides were started in 1930 when Woods took guests out to watch the sunset on his first "dune scooter," a Model A Ford converted with balloon tires and later modified with extra tires, creating a "10-wheeled monster."
Woods first offered dune rides only to Flora-Dale guests but soon opened them to the public. He added more scooters to his fleet over time, including Ford convertibles (1934, 1936 and 1948), a Dodge Power Wagon, a 1960 Studebaker, a 1968 International and others. The Woods family sold Flora-Dale Resort in 1960 but continued operating Mac Woods Dune Scooter Rides. Today, fourth-generation members of the Woods family still operate the dune rides and lease state-owned land at Silver Lake State Park in Mears.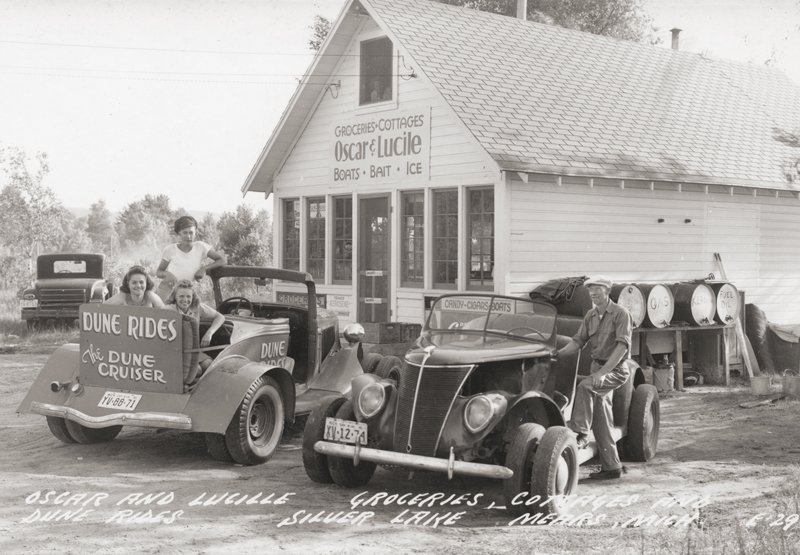 Bill's Dunes Rides near Silver Lake offered some competition. In 1954, Bill Lathers converted a two-ton Dodge Power Wagon using tires from old WWII bombers and bus-type seats that accommodated up to sixteen adults. Lathers expanded the business over the years and added more vehicles. He sold his 391 acres of duneland to the state in 1973 and continued his rides through the 1977 season.
Dune rides also were once popular at Sleeping Bear Sand Dunes, where Louis and Marion Warnes started their "dunesmobile" rides in 1935 with a used 1934 Ford convertible. Like Woods, Louis Warnes fitted the car with a set of balloon tires. By 1942, eight more dunesmobiles had been added, including a 1935 Ford, four 1937 Fords, two 1939 Fords and a 1941 Mercury. After WWII, 10 new 1948 Ford convertibles were purchased to replace the aging fleet. Red and white Oldsmobile Super 88 convertibles came in 1956. They were ordered without the optional heater or radio. The 1964 red Ford dunes wagons were the last fleet for the company. The 13-mile dune rides lasted over 40 years but were discontinued in 1978 under an agreement with the Sleeping Bear National Lakeshore to protect the fragile ecosystem of the dunes.
Goshorn Lake Dune Schooners date back to 1954, when Ron Jousma started the business by turning his 1942 Ford convertible into a dune buggy with added seats. He bought dune property east of Saugatuck Dunes and soon added two Ford coupes (1946 and 1947), cut off the tops and outfitted them with super-wide tires. In 1964, Jousma converted two half-ton Ford truck chassis and equipped them with seats bolted on to steel beds. Still later, Dodge Power Wagons were added to the fleet. Jousma sold the business in 1981 to Linus and Janice Starring, who eventually changed the name to Saugatuck Dune Rides, which still is going strong.
Over the years, there were a few other less well-known dune rides. Oscar and Lucille Shogren operated their "dune cruiser" rides in the early 1940s at Silver Lake near Hart. In the late 1950s into the 1960s, John Klomp of Grand Haven started giving dune buggy rides on dune property he leased from Construction Aggregates on the north shore. Melvin Essenberg operated the Spider Lake Dune Rides just north of Atwood on U.S. 31 in the 1960s using his four-wheel drive International Harvester Scout.
---
BLUE Vintage Views columnists M. Christine Byron and Thomas R. Wilson reside in Grand Rapids. They are authors of the new book "Vintage Views Along Scenic M-22 including Sleeping Bear Dunes."
Facebook Comments