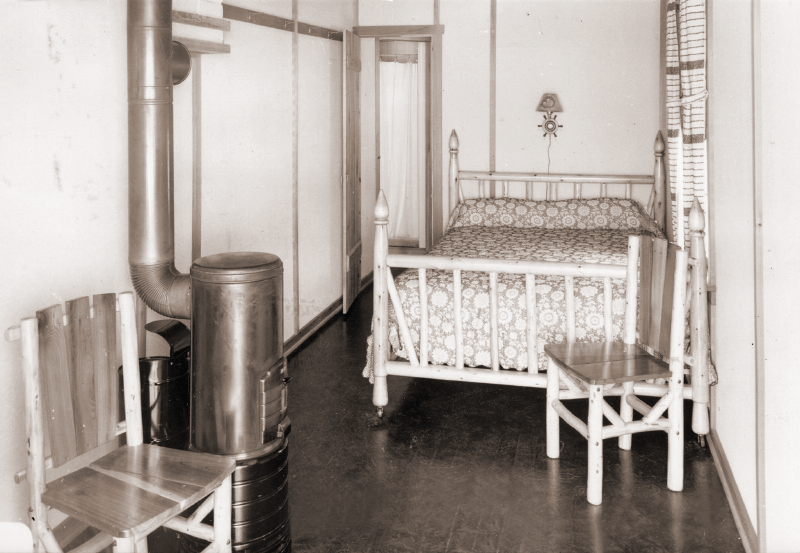 Michigan's lakeshore communities and forest lands are home to many vintage cottages and cabins. As postcard collectors, we have amassed a large collection of Michigan postcards, including many cottages, lodges and resorts. It is fairly uncommon to find interior scenes of cottages. Almost all that we have are "real photo postcards" — black and white photos from the 1930s to 1950s, usually printed in small quantities.
The cottage is a treasured retreat, a place to relax, escape from the pressures of everyday life, and enjoy the outdoors and time with family. The dictionary explains a cottage as a small, modest house at a lake or mountain resort, etc., owned or rented as a vacation home.
Although the "cottages" in Michigan's wealthier lakefront communities like Harbor Springs and Bay View don't quite fit this definition, there once were thousands of cottages around the state that embodied this essence of a cottage. It's these humble cottage interiors that we feature here.
These vintage cottages were commonly built of logs, native stone, or stick-built. The cottage interiors offered comfortable surroundings, maybe not luxurious, and with fewer amenities than we might have today. There were no microwaves, dishwashers, air conditioning or Wi-Fi. One was lucky to have running water, an innerspring mattress and heat. Stoves might be wood-fired, propane, or sometimes electric. Some cottage owners decorated with hand-me-downs, relics from the attic, or garage sale finds. Others were furnished with classic cottage furniture.
"Rustic" cottage furniture was made from hickory, cedar or pine. Michigan's best-known rustic furniture makers were Rittenhouse of Cheboygan and Habitant Knotty Pine Furniture of Bay City. This style of furniture, made from peeled pine poles or branches and finished with either shellac or varnish to enhance and protect the wood's natural lines, was popular in the 1930s through the 1950s and is quite collectible today.
Wicker furniture was light and airy and well suited to the summer cottage. Lloyd Loom of Menominee and the Ypsilanti Reed Furniture Co. of Ionia were Michigan's leading producers of wicker furniture in the 1920s and 1930s.
Arts and Crafts furniture from Stickley Brothers, Michigan Chair Co. and other Grand Rapids factories found their way into cottage life as home-decorating tastes changed in the 1920s from heavy, dark furniture to light, painted pieces. Arts and Crafts furniture harmonized well with log cabin architecture.
Books and magazines like Popular Science offered instructions for building cottage furniture. Simple construction techniques and tools were used by many amateur woodworkers to produce hand-built pieces. Custom-made, built-in furniture conserved valuable space in the small cottage. Excellent workmanship was not necessarily of vital importance, but better quality often stood the test of time. Furniture and accessories incorporating birch bark were not mass-produced but often constructed by folk artisans, sometimes combining twigs, branches or painted surfaces to decorate their work.
Wood floors, knotty pine paneling, scattered rugs and stone fireplaces were familiar features of a cottage interior. Windows with a lake view were of paramount importance. As a 1934 book on building cabins commented: "The cabin should be furnished in a manner that is entirely in harmony with the vacation spirit." Decorating accessories might include mounted fish or taxidermy animals, pictures of nature scenes, felt pennants and fishing poles.
Interest in classic cottage furniture declined in the 1950s as plaid-upholstered couches and laminate-topped tables became de rigueur. As other inexpensive furniture came on the market and replaced "old-fashioned" pieces, many cottages lost the charm of earlier days.
---
BLUE Vintage Views columnists M. Christine Byron and Thomas R. Wilson reside in Grand Rapids. They are authors of the new book, "Vintage Views Along Scenic M-22 including Sleeping Bear Dunes."
Facebook Comments