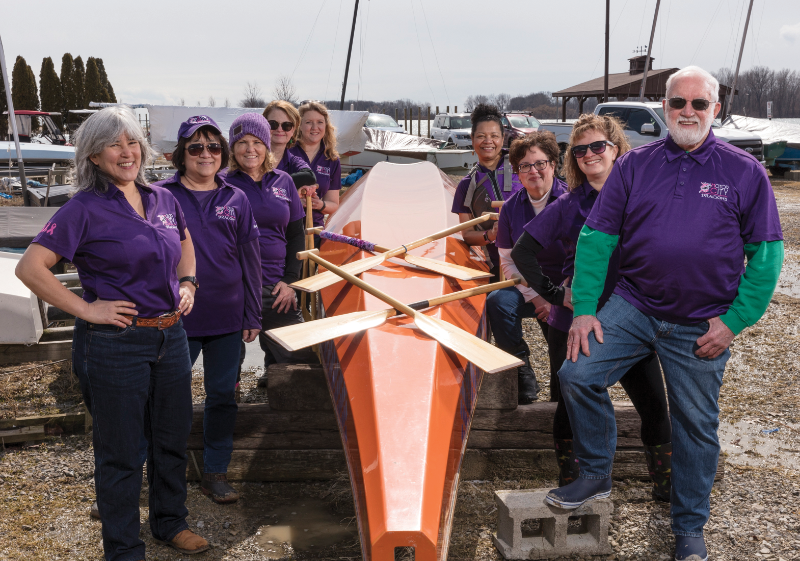 At modern-day dragon boat festivals, it's common to paddle casually out on the water and scatter flowers on the surface to honor those whose lives succumbed to breast cancer or those fighting it. Since many of the paddlers are breast cancer survivors, the effort is poignant, connecting the women in the 22-person boats in a quiet reflection about the purpose behind the paddle.
Although dragon boat racing dates back thousands of years to China and ancient Greece, it emerged in the Midwest in 1986. In Michigan, the teams abound, from the Motor City Dragons, sponsored by Ford Motor Company, to those from Lansing, Michigan State University, Charlevoix and elsewhere.
Csilla Gutay founded Motor City Dragons in 2012, two months after her neighbor and her best friend were diagnosed with breast cancer. After learning about its connection to breast cancer survivors, she created a team through Ford's Employee Recreation Association.
The sport's link to breast cancer grew out of a research study initiated by Dr. Don McKenzie, a sports medicine physician and exercise physiologist at the University of British Columbia in Vancouver. In 1995, he challenged the notion that breast cancer survivors should not do repetitive upper body motion because it would lead to lymphedema, swelling in the arm where lymph nodes had been removed.
"My goal was to get the team up and running, so (my friends) would have something to look forward to and help them with their recovery."
–Csilla Gutay
McKenzie sought volunteers for his team, Abreast In A Boat, and planned for them to paddle for six months to see if the prevailing wisdom proved true. None of his paddlers developed lymphedema. In June 1996, the first breast cancer survivor dragon boat team entered a competition, and in 1998, McKenzie published his findings in the Canadian Medical Association Journal.
The first breast cancer survivor dragon boat festival was held in Vancouver in 2005. The sport has since grown in popularity and become a favorite among survivors, who find that the act of paddling builds upper body strength and helps improve long-term health, said Donna Litman, a Farmington Hills resident who paddles with Motor City Dragons.
"Every year at my mammogram, since I've been doing dragon boating, the tomosynthesis machine doesn't hurt at all," she said. "Techs tell me they can see the development of muscle."
Gutay had never seen a dragon boat when she formed Motor City Dragons. "My goal was to get the team up and running, so (my friends) would have something to look forward to and help them with their recovery," she said.
Today, the team attracts survivors, their supporters and others just interested in dragon boat racing. The group is open to the public, with three to four races per season and weekly paddles in summer after work. Tammie Szabo-Fleming, a Canadian hospice nurse from Windsor, coaches the team.
Dragon boats are made of carbon fiber, fiberglass and other lightweight materials. They are decorated with dragon heads and tails for competitions, where 18 to 20 paddlers propel the boat forward guided by a steer person at the helm and a drummer emulating the dragon's heartbeat.
---
Lynne Golodner is an author and freelance writer. She lives in Huntington Woods with her husband and four children.
Facebook Comments