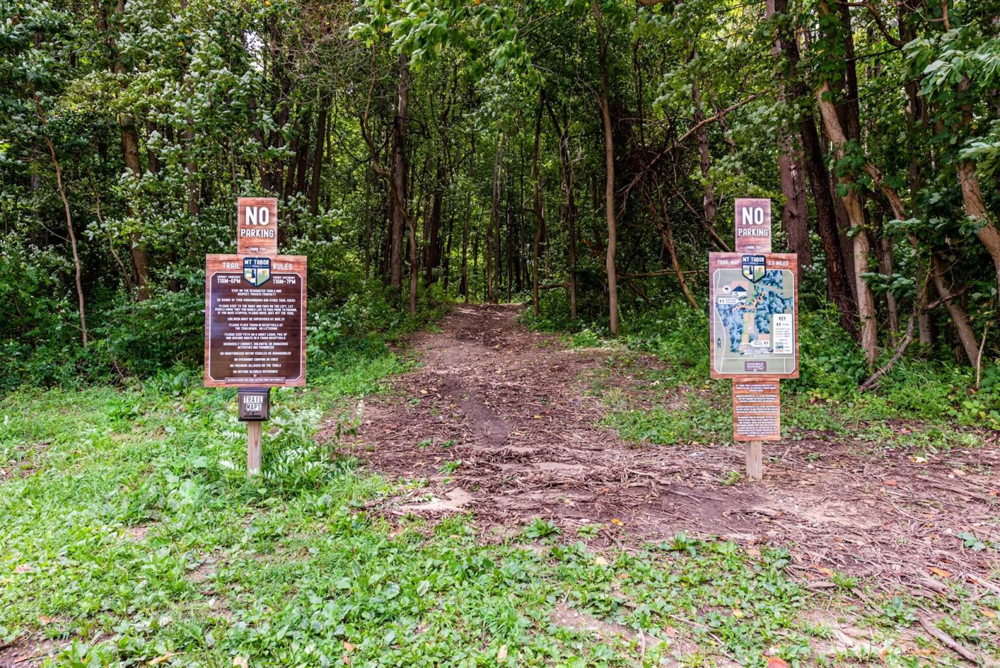 For Mother's Day this year, I decided to gift my mom an experience. After more than a year of lockdowns and limited trips outside of our homes, I hoped an excursion would be more meaningful than the standard candle or gift card. My research led me to Mt. Tabor Trails in Baroda, a system of hiking trails connecting two of Southwest Michigan's best wineries. And better yet, I learned wine and other libations could be enjoyed on the trails; in fact, it was even encouraged. My mom was thrilled that I had planned a family outing to the trails for the summer.
On a Friday in mid-July, my parents, my brother and his girlfriend, my husband, my 17-month-old daughter and I gathered in Southwest Michigan. After spending the morning exploring St. Joseph, we traveled along winding country roads to reach Tabor Hill Winery. None of us had visited before; our plan was to purchase glasses of wine to-go and head out on the trails.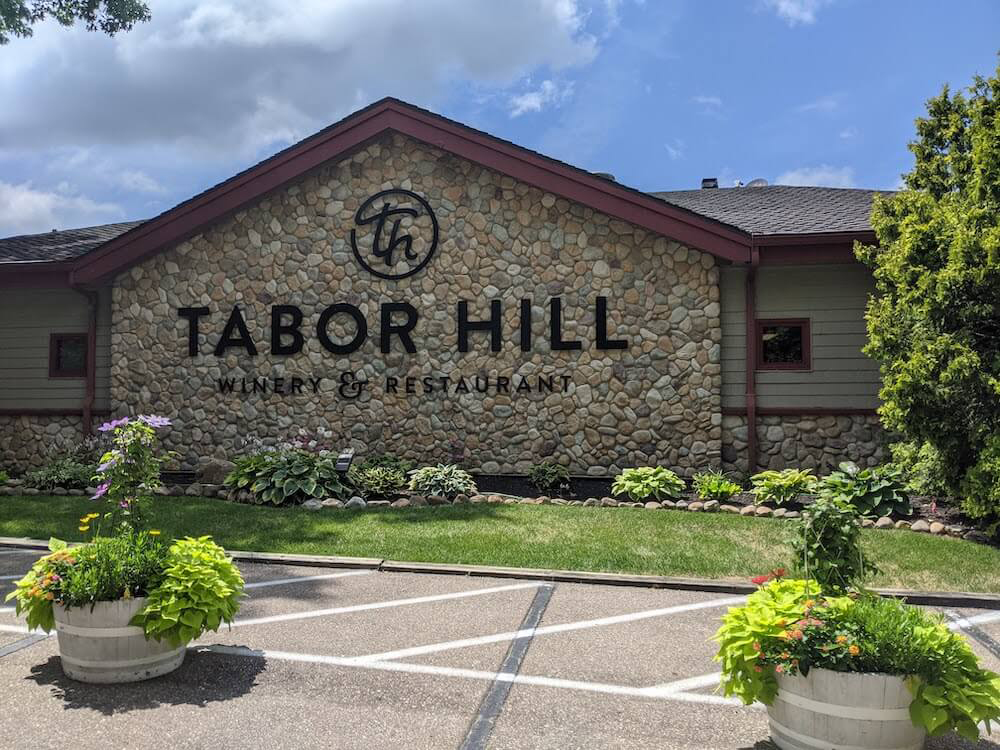 At the outdoor host stand, we were shown where to enter the trail, but were asked if we first, wanted to enjoy some wine in the outdoor Vineyard Lounge, located directly next to the winery's beautiful vineyard and the trailhead. We easily accepted, and I'm so glad we did!
We were led to our own private cabana, just steps from the grapes growing in the vineyard. Our shaded space included cushioned wicker couches and chairs encircling a coffee table, the perfect size for our group. The cabanas were generously spaced from each other, which gave my toddling daughter ample room to walk around us and explore without disturbing fellow patrons. Our server gave us a tour of the menu and helped us decide what to order based on our tastes.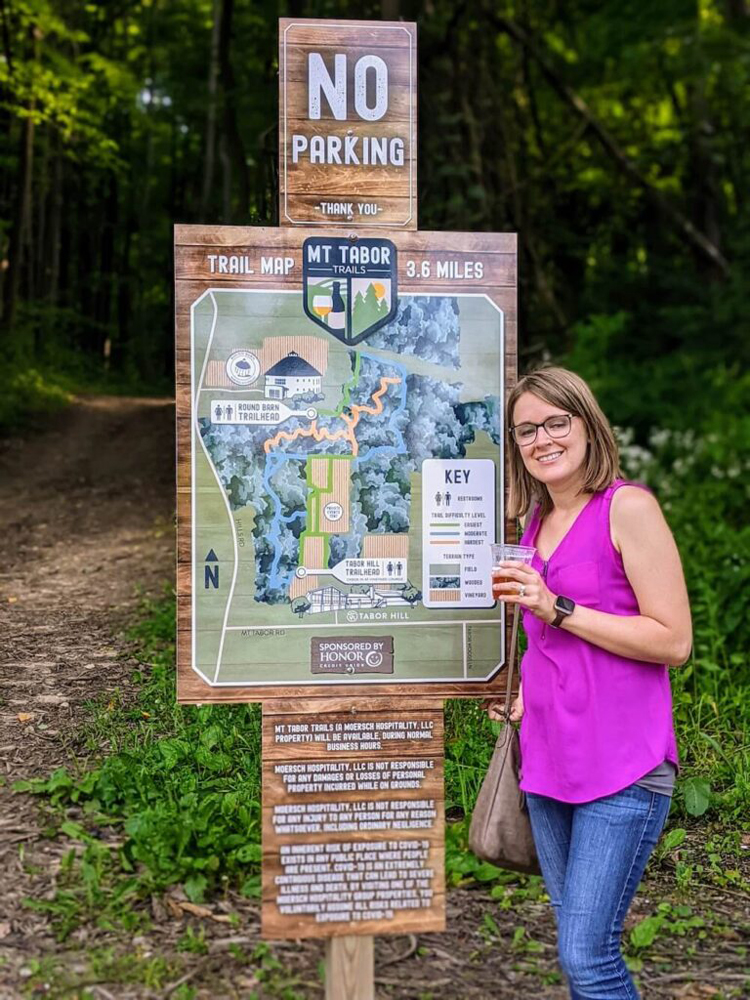 We decided on two bottles of wine to share: the new, semi-dry Blueberry Demi-Sec, a blend of Tabor Hill's Classic Demi-Sec and fresh Michigan blueberries; and the Cherryscato, a rosé-colored moscato balanced with Balaton cherries. Both were delicious, and the bottles provided enough wine for everyone to enjoy a glass of each.
We spent close to an hour sipping, chatting, occasionally chasing my toddler, and taking in the scenery, all while enjoying how "normal" it felt to be out in public and in each other's company. Although we could have easily worked our way through the tasting menu, we were also eager to hit the trails. We purchased a couple bottles of wine for later, filled our plastic cups with the remaining wine from our table and made our way to the trailhead.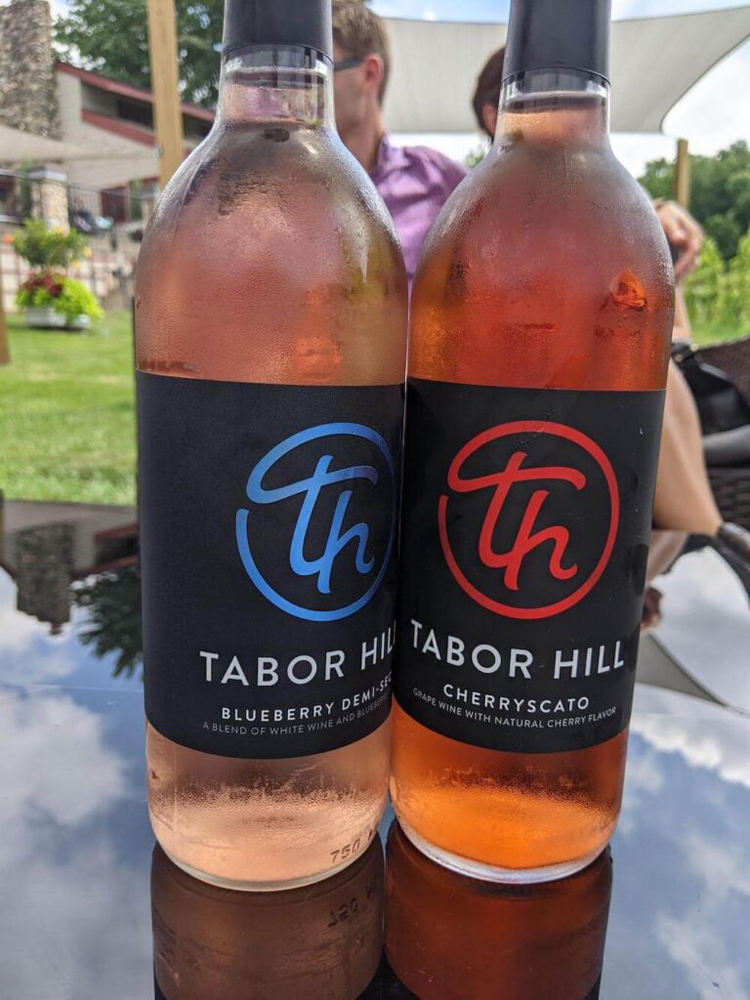 Mt. Tabor Trails is made up of 3½ miles of beautiful trails that meander through fields, woods and vineyards. The trails are free to use and can be accessed from Tabor Hill Winery or Round Barn Winery, Distillery and Brewery. The trails are marked as easy, moderate and hard and vary in length/duration. Kids and pets are welcome.
Although we thought we had picked the easy trail, I think we unknowingly chose moderate or hard. Either way, the scenery was beautiful, and the packed dirt, sometimes grassy path was relatively easy to navigate. My one regret was not bringing our jogging stroller — the small wheels on our everyday stroller made pushing it quite a workout. (The trail website states that the trail is not stroller accessible, which I learned later.)
My daughter had plenty of room to run and had fun gazing up at the towering trees and holding her grandparents' hands. Birds chirped from above, which only added to the trail's peacefulness. At points, the trail would turn from woods to vineyard, showcasing Southwest Michigan's bounty. Occasionally, we'd pass other trail-goers, taking it all in just as we were, all while sipping their drinks of choice.
About 20 minutes later, we arrived at Round Barn Winery, Distillery and Brewery, empty cups in hand. The namesake, turn-of-the-century Amish round barn was hard to miss and offered a historic vibe to the modern venue. At the outdoor host stand, we were lucky to learn that there was vineyard seating available for our party size and we were taken to a table situated under a large shady tree. Another beautiful location, our table provided a view of sprawling vineyards, the round barn and the Jammin' in the Vineyard live music stage, while a band called PT & the Cruisers filled the air with familiar cover songs.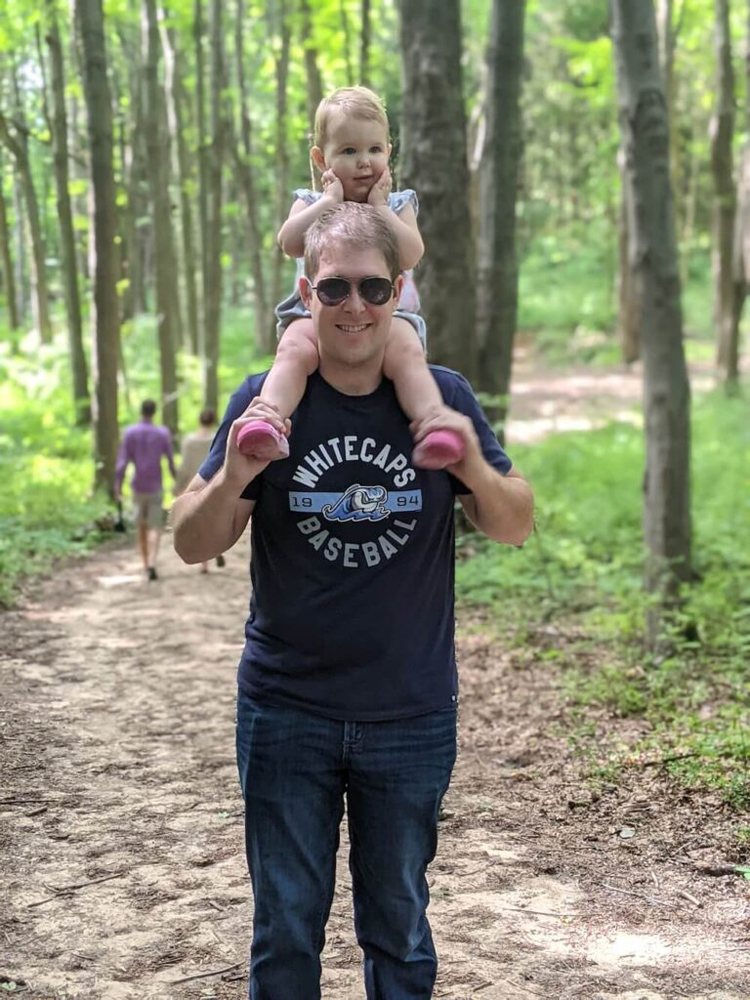 At Round Barn, many of us tried their craft beer selections, including Lake Michigan Light, an American Blonde; the Kölsch, a best-seller; and Vacation, a wheat ale — all which received rave reviews. In addition, we ordered pretzel bites from the on-site food truck, which were brought right to our table.
After getting settled at our table, my dad took my daughter's hand to walk around and explore. Drawn to the music, she led him to the stage, where she drew attention from the band for her animated bobbing and dancing. Once their song ended, the singer asked her name and dedicated his next song to her, which drew smiles and applause from our table. It was then when I was again hit with a feeling of "normal" and the validation that this was how summer days should be spent.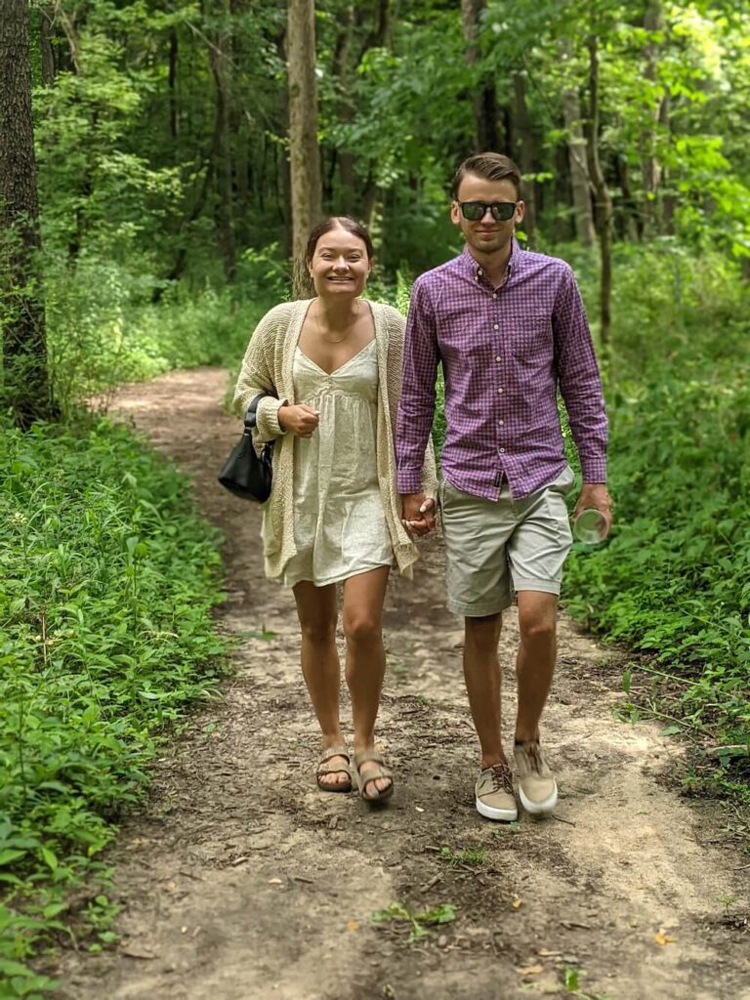 With full bellies, happy palettes and a sleepy-eyed toddler, we departed Round Barn and headed back to the trails, where we chose a different route for our return trip to our cars. We chatted less on the return — maybe partly due to the more difficult terrain, but I think mostly to let the experiences of the day sink in.
My mom thanked me for the gift and the cherished family time, something that had been in short supply for most families during the pandemic. For us, Mt. Tabor Trails will always be more than just hiking trails connecting two wineries.
---
Both Tabor Hill Winery and Round Barn Winery, Distillery and Brewery offer more seating, dining and tasting options than what's described in this piece. Please visit their websites for more information.
Facebook Comments