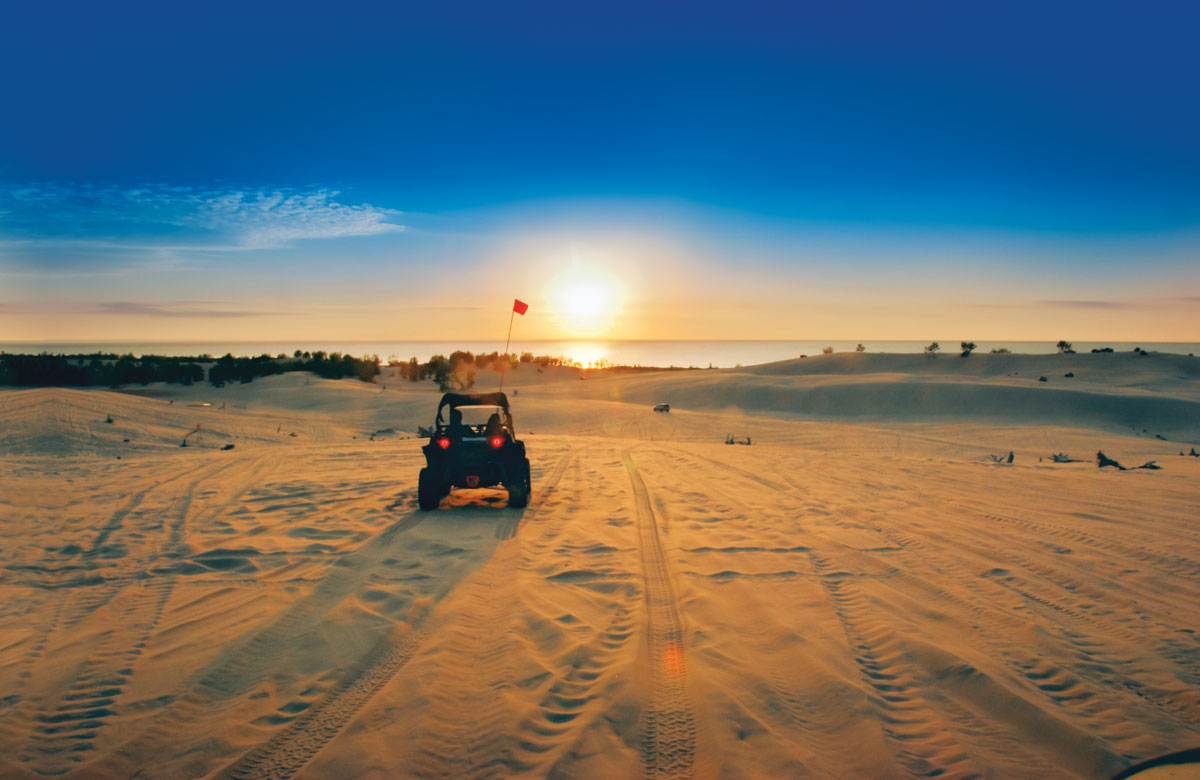 Over hills, dales, and sand, funky vehicles with oversized tires take tourists bouncing through west Michigan's soft, silky dunes. It may seem like a summer thing, but autumn is a vivid time to take a ride in an iconic sand dune buggy.
"Oh, yes, it's cooler. We're less busy. It's a much calmer environment," says Shelby Olsen, third-generation owner of Mac Wood's Dune Rides in Mears, near Pentwater. "It's beautiful. The colors are starting to change, and it's a more relaxed vibe in the fall."
Mac Wood's is open through Sept. 30. Farther south, the Saugatuck Dune Rides are open through Oct. 15, while thrilling self-drive dune adventures at Silver Lake State Park run through the end of October.
Few places in the United States still allow vehicles to operate on sand dunes. Most areas, like Sleeping Bear National Lakeshore in Empire, ceased the practice years ago to protect the mighty dunes. But Michigan's remaining dune rides are historic, dating all the way back to 1930 for Mac Wood's and 1954 for Saugatuck, and so far, the vehicles are allowed to keep rolling along.
The busiest time for dune rides is July. Mac Wood's doesn't take reservations, so visitors just show up and wait their turn. A fall visit speeds that process up, Olsen says. Saugatuck accepts online reservations up to two weeks in advance, and will continue to do so through the end of the season.
As northern Michigan's forests put on a joyful display of color in September and October, along the sand dunes, Lake Michigan is the central backdrop. "You can see a little fall color on the dunes, although it's mainly pine trees," Olsen says. She's seen the dunes change seasons her whole life, because Mac Wood was her grandfather. Now her son, representing the business's fourth generation, works there and "he'll take over when I leave," she says. "Even my granddaughter wants to work here, but she's only 13."
Mac Wood was a real person. He owned a summer vacation spot on Silver Lake, Flora-Dale Resort, back in the 1930s. Seeking activities for his guests, he came up with the idea of modifying a Ford Model A into a Dune Scooter that held four passengers. These days, the "scooters" are big, red four-wheel-drive vehicles with aircraft tires that can accommodate 20 people — yet it's the same old-fashioned ride.
The route winds for seven miles through what is now Silver Lake State Park, a massive 2,000-acre park that surrounds Silver Lake and stretches to Lake Michigan. The dunes are separated into sections for different uses: There's an off-road vehicle area, pedestrian area, a section leased by Mac Wood's, and at the far south, Little Sable Point Lighthouse. In addition to three miles of Lake Michigan frontage, the state park has camping, fishing, and hiking.
In Saugatuck, Ron Jousma started his own dune ride company in 1954 after he experienced Mac Wood's operation. His first vehicle was a 1942 Ford convertible that he fashioned into a dune buggy. Today, modified Dodge vehicles are used by current owners Janice and Linus Starring.
Beyond the family-friendly gentle bouncing dune tours, there's an edgier option for thrill-seekers. Silver Lake State Park still allows people to bring their own vehicles or rent motorcycles, ORVs, and ATVs, and zoom up and down the dunes at their pleasure, all the way until the end of October. Waivers are required because riding the dunes can be risky. Some spots let 16-year-olds ride by themselves if a parent or guardian signs off on it.
As summer fades away and winter is in our sights, take this opportunity to ride out on the dunes for one last sandy thrill. 
Riding the dunes
Silver Lake State Park in Mears has 450 acres of dunes for riding your own ORV or a rental, and it's open through Oct. 31. michigan.gov/dnr/things-to-do/orv-riding/silver-lake
These companies rent motorcycles, ATVs, and other ORVs for driving on the sand dunes at Silver Lake State Park: 
Silver Lake Buggy Rentals
Mears
silverlakebuggys.com
Open through Sept. 30; ORV rentals, guided sunset tours.
Silverback Offroad Rental
Mears
silverbackoffroad.com
Open through Oct. 31; ORV rentals.
Sunbuggy Silver Lake Dunes Rentals
Mears
sunbuggy.com
Open through Oct. 31; ORV and ATV rentals, escorted dune rides.
Facebook Comments