The enticement that pulled 19th-century settlers to the western coast of Michigan revolved around land, fortune, and lumber — a lot of lumber. Although logging boomed across the state, it was Muskegon that became known as the "Lumber Queen of the World" when 665,000,000 board feet were cut in the 1887 season — enough to stretch more than 12,000 miles or halfway around the world.  
"There was a time not too long ago when the West Michigan countryside was paved with gold — lumber," says Kurt Troutman, chair of the Social Sciences department at Muskegon Community College. "It was a pine-tree paradise and much of it was located right in Muskegon." 
The Good Roads movement led the way to the 1912 development of the West Michigan Lake Shore Highway Association and ultimately the West Michigan Pike. But it was the shanty boys and timber barons of the 1870s and 1880s who first recognized the region's industrial and infrastructural potential. They traversed muddy wagon roads and rivers like the Muskegon with dreams of timber fortune and prosperity in a new land.  
"No one worked harder than the loggers, with the possible exception of the draft horses who had to pull these trees, these wooden giants, out of the forest," Troutman says.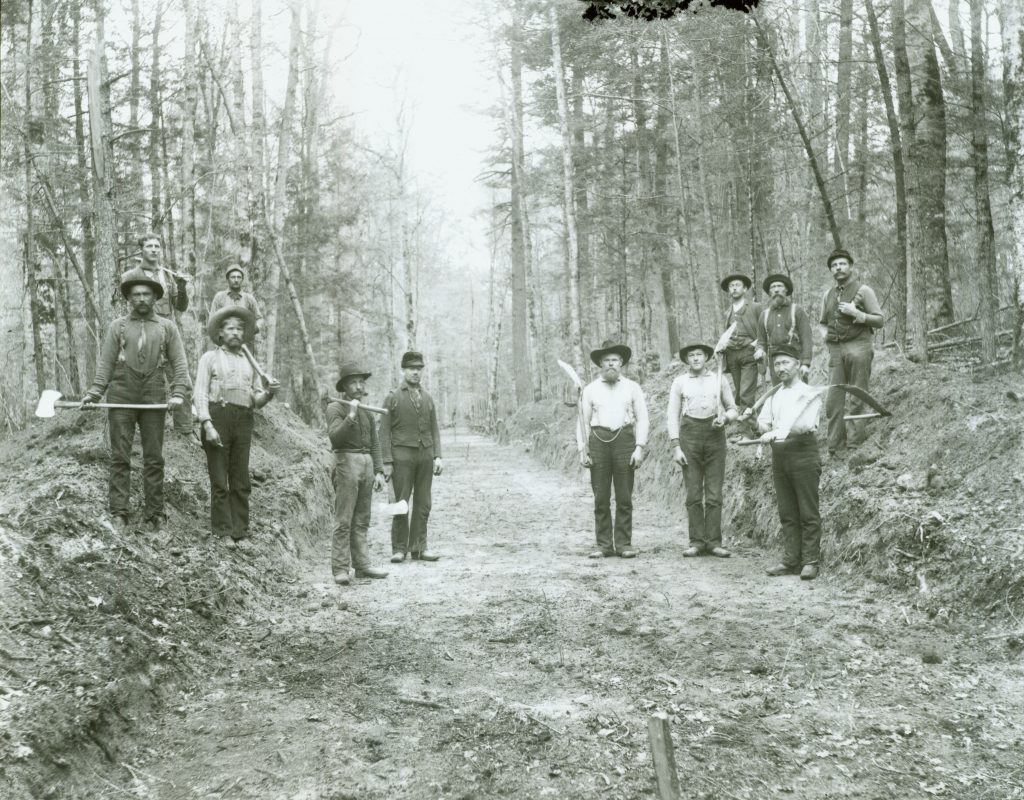 Money grows on trees
Charles M. Hackley arrived in Muskegon from Indiana in 1856. He teamed up with Thomas Hume to open the Hackley-Hume Lumber Mill, which successfully operated from 1856 to 1894 on Muskegon Lake. 
"Charles Hackley's lumber crew were a group of proud men," Troutman says. "They came to make their fortune and they worked hard at it. These proud loggers could say, 'We built West Michigan.'" 
Associations across Michigan sorted logs into a pond or bay where floating "booms" (barriers designed to contain timber) separated the property of one company from another. Every sawmill had its own unique mark, a hacked or stamped symbol, recognized by law. More than 400 log marks were recorded in Muskegon between 1860 and 1890, Troutman says.  
By the time the lumber industry peaked in the 1880s, 47 sawmills surrounded Muskegon Lake, while another 16 dotted White Lake. Hackley and Hume were two of many businessmen who made fortunes along the coast of Lake Michigan. Troutman says Muskegon alone had 40 millionaires — more than any other city in the entire country. And those barons and sawmills left a lasting impact on one of America's most vital industrial cities. 
Rebuilding Chicago
To say the 1871 Great Chicago Fire was devastating is an understatement. The blaze burned for three straight days, destroyed thousands of buildings, killed an estimated 300 people and caused an estimated $200 million in damages (upwards of $4.6 billion today). Following the flames, reconstruction efforts began rapidly and spurred great economic development. Architects planned the foundation for a modern city featuring the world's first skyscrapers — and the logs had to come from somewhere.  
The city of Chicago was rebuilt the same year by West Michigan lumber, Troutman said. Chicago's citizens turned disaster into triumph with an American can-do attitude. 
"A team of tugboats were stationed in Grand Haven, Muskegon and Ludington, ready to round up the logs, assemble them in rafts and bring them to the sawmills," Troutman says. "Rafts of up to 10,000 logs at a time were assembled." 
The decline of coastal logging
Michigan's logging boom lasted a brief two decades. By 1890, most of the forests were cut and the glory days of lumber were soon gone, Troutman says. 
"The lumber companies anticipated enough wood for hundreds of years," Troutman says. "Unfortunately, the companies and the employees would soon learn that was not going to be the case." 
Troutman attributes the decline to a couple of key factors, one being the railroad boom moving from east to west. Most Michigan pines were used to support railroads, but other states with old-growth forests, like Minnesota, were closer to western markets.   
The clear cut of Michigan's old-growth forests also contributed to the decline, Troutman says. The logs were essentially used up, and when the logging industry began waning, local communities experienced an economic downturn. 
"The lumber legacy in West Michigan was a shift to industry," Troutman says. "Muskegon and other cities became diversified as an industrial center, attracting international firms such as Shaw-Walker, Brunswick, Campbell-Wyatt-Cannon, Continental Motors and the Central Paper Mill."  
In addition to the enthusiasm for international firms, businessmen in West Michigan were convinced the region's resort trade would thrive if a well-marked, hard-surface road could be built.  
With sand and deep ruts making coastal roads nearly impassable, the West Michigan Lake Shore Highway Association promoted the construction of the first improved highway along Lake Michigan. Now known as U.S. 31, the West Michigan Pike extends from the Indiana state line north to Mackinaw City.
Facebook Comments