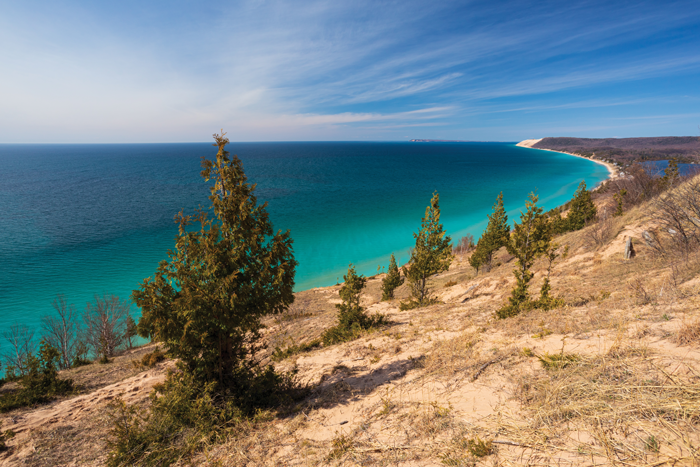 With annual numbers now topping 1.7 million visitors, one might wonder whether there are any areas of Sleeping Bear Dunes National Lakeshore where you can escape the craziness to enjoy the serenity of Michigan's most popular national park.
Absolutely, says Julie Den Uyl, a former Sleeping Bear ranger and lifelong nature enthusiast with extensive plant and wildlife knowledge and EcoSystem expertise. She founded Sleeping Bear Dunes Tour Co. in 2020 and was granted authorization by the National Park Service to guide visitors into the park's lesser-known, protected wilderness areas.
"As a Michigan native, I was thrilled to spend 2020 as a ranger at Sleeping Bear, but I was ready to do something that didn't involve as much office work when that position ended," Den Uyl says. "I felt I was in a good position to show people there's more to the park than the popular dunes — which, of course, can become really crowded at places like Empire Bluff and the Dune Climb."
She developed opportunities for all ages and physical capabilities to explore nature in the park and gain a greater understanding and appreciation of it.  "We take people off the main trails to the park's hidden gems like forested areas, near rivers and inland lakes, and more secluded spots near the Lake Michigan shore.
"I live a very nontraditional life and prefer wilderness settings, next to water, and with wildlife," she continues.  "My  'co-workers' are the animals within Sleeping Bear Dunes. By integrating myself in wilderness settings and connecting to the rhythm of nature, I developed the traits to guide others toward their own connections and appreciation of the natural world."
Den Uyl usually meets clients at a trailhead. Her outings can be tailored to their specific abilities and interests. All her tours support the National Park Service with a 3 percent gift.
Dune Options
Den Uyl offers multiple wilderness hikes, alternating with the seasons to avoid overuse of the landscapes. The hikes usually include numerous natural features such as maple beech forests, cedar swamps, open dunescapes, a natural spring, inland lakes and streams, and a stretch of Lake Michigan shoreline. Bald eagles are often spotted in flight or nesting.
"I really encourage people to hike the full five miles to get the most out of the experience,"  Den Uyl says.  "We always go at whatever pace they feel comfortable with and usually take three hours to really experience everything."
The Shore hike involves simply walking for miles along Lake Michigan while observing the terrain carved by winds and waves, a bald eagle's nest, shorebirds, wildflowers, and coastal plants, including the endangered Pitchers Thistle. Den Uyl's clients determine the distance.
"The Shore hike offers probably the best opportunity to learn about the Anishinaabe culture of the area's native peoples,"  Den Uyl says.  "I found how they cared for the land and lived, (which is) very inspiring."
The Dune hike heads to coastal dunes where wildflowers, songbirds, glacial moraines, kettle ponds, and some trekking through deep forest are all part of the experience, along with opportunities to identify trees, animal tracks, or other clues from nature. Patrons choose the exact terrain and distance.
After working with park officials and conservation experts, Den Uyl was thrilled to begin guiding Michigan's only Great Lakes Piping Plover tour last year. The treks, offered from May to July this year, take visitors to the nesting areas of the sparrow-sized shorebird known for its large head, full neck, and short, black-tipped bill. The area is home to more than half of the world's nesting population of the small bird, which has been on the federal endangered species list since 1986.
"We can take people on different stages of the plover's activity, depending on the time of year they go and what they want to see — like hatching time or when they're doing their mating dance, for example," she says. "People also have loved escaping for two hours to get views of the Manitou Passage (the waterway separating North and South Manitou islands from the mainland) and listening to the call of
these birds."
Other Trips
The busy Den Uyl also narrates full- and half-day, interpretive motorcoach tours for various touring companies to showcase the area's top sites, including Pierce Stocking Drive, portions of M-22, and the Dune Climb. She'll even help people find the perfect place for marriage proposals and ceremonies within the northern Michigan park.
"Julie's personal touch makes (her outings) an experience worth including in your travel plans," says Tony Farragh, sales director at The Homestead, America's Freshwater Resort in Glen Arbor.  "For first-time explorers, she'll take the stress out of adventuring off the beaten path. For experienced hikers, she'll share fun facts and history."
Den Uyl lived in Holland for 30 years nurturing an outdoor-focused family and working in school administration. In 2015, she jumped at the chance to turn her passion into a new career at Antilles EcoQuest guide service in the U.S. Virgin Islands. After hurricanes Irma and Maria devastated the business, she traded a tropical paradise for the tundra, and spent 2018 as a ranger in Alaska's Tongass National Forest. A desire to return to her home state led Den Uyl to Sleeping Bear in 2020.
---
Plan It!
Sleeping Bear Tour Co.
sleepingbeartourco.com
Facebook Comments