Rich, deep scents arise when you enter the Higher Grounds Coffee Bar and Roastery in Traverse City. Aromas of espresso and brewing coffees waft through the open space. Beyond a wall of framed glass, artisans slowly pour green coffee beans into a roaster. As they cook and turn color, different scents emerge: the fruity sweet scents of lighter roasts, the earthy toast-like smells of darker roasts.
Located in the Village at Grand Traverse Commons, Higher Grounds (highergrounds
trading.com) occupies the former laundry facility of the Traverse City State Hospital. The popular coffee shop, with its recycled mugs and outdoor sandbox, is more than a local gathering place. It is the hub of an international coffee business with an operating philosophy to do good for the local community and for the coffee farmers around the world who grow its products.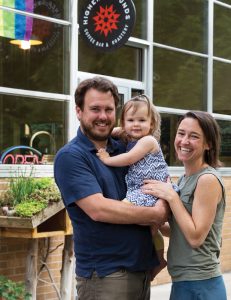 For founder and owner Chris Treter, the virtue underlying his business philosophy began to take shape during his undergraduate studies at the University of Cincinnati. "Working at a day center for mental health forced me to think systematically about a values-driven life oriented by compassionate activism," Treter said.
Higher Grounds coffee, for example, is served in a recycled ceramic cup rather than paper. Customers bring extra cups from home and leave them as part of the Higher Grounds community. A wooden box just outside the coffee bar says, "Please leave mugs here. Thank you — HG."
After receiving a master's degree in organizational management for social change from the School for International Training in Brattleboro, Vermont, Treter accepted an internship in Chiapas, Mexico. Working in the Mayan culture, he witnessed the struggles of local coffee growers.
Returning to Leland in 2002 to work for the advocacy-oriented Organic Consumers Association, a national nonprofit, Treter was encouraged to start his own coffee roasting operation. Back to Chiapas he went, returning to the United States with eight bags of coffee beans.
One Saturday morning, he set up a booth at the Traverse City market and sold four of the bags. "I realized then that a cooperative model targeting small-scale, indigenous coffee bean growers to distribute and sell their product in the U.S. could work," Treter said.
Higher Grounds has since worked with small-scale growers to help each garner a "living wage" and sustain their local farming communities by growing and exporting their organic coffee beans. The company is a member-owner of Cooperative Coffees, a "green coffee" cooperative and importer with 20 North American "roaster" company members who combine their purchasing power to help local growers reach bigger markets.
"I've always admired (Treter's) big-picture analysis of what's possible," said Joe Short, founder of Short's Brewing Company in Bellaire. Short's and Higher Grounds have been partnering for 13 years to produce Cup A Joe, a crème stout brewed with Higher Grounds espresso beans.
Treter and Cooperative Coffees members often travel to developing countries in search of new markets. In June, Higher Grounds held its fourth annual Saveur du Kivu — a trade fair — in the Democratic Republic of Congo, where small growers brought samples of their "green coffees" to explore the prospect of exporting to international markets.
One percent of Higher Grounds' profits go to fund the company's nonprofit On the Ground. Three of five seasonal coffee blends are dedicated to funding local initiatives in Traverse City, like a seasonal homeless shelter, a safe cycling initiative for youth and Groundwork Center for Resilient Communities, among others. Two coffee blends fund international initiatives like providing clean water for Mexican farming communities and a women's empowerment effort in the Democratic Republic of Congo.
Treter calls Higher Grounds a secret recipe for the "best cup of coffee in the world."
"It's a simple equation," he said. "You show your producing partners the respect of working hard to build community, and you find they will work hard to produce and deliver the best possible product. Seems simple but, unfortunately, rarely is it put into a practice."
---
Johnston M. Mitchell is an independent writer who lives in Leland with his wife Brenda and their two children.
Facebook Comments