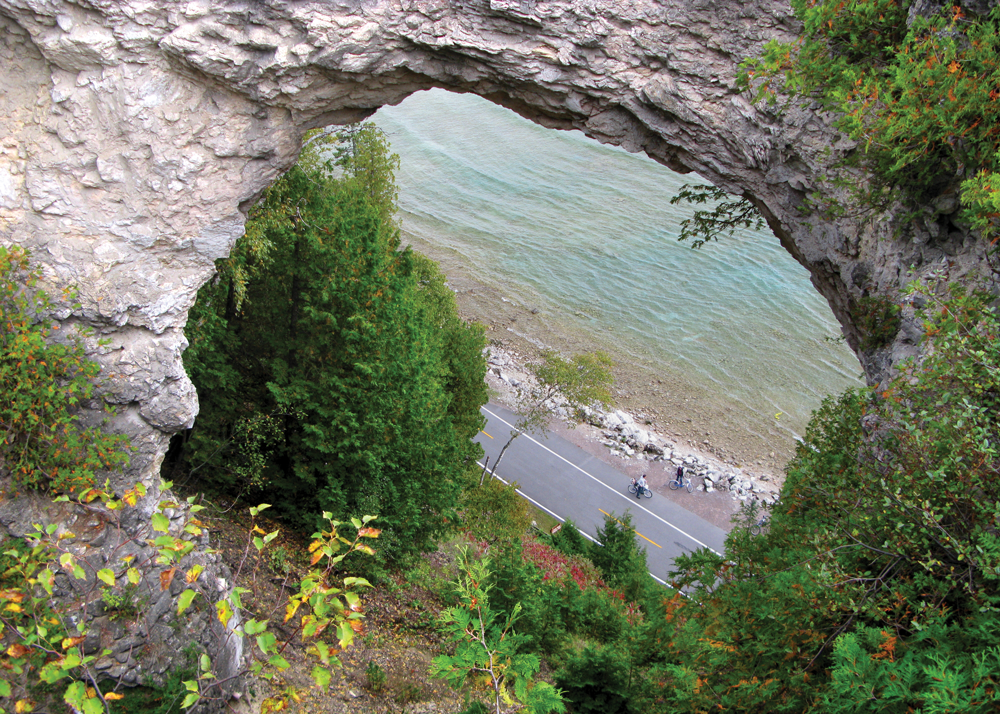 By Jim DuFresne
The best journeys in Michigan often end at a natural landmark that's worth hours in the car. Here are five stunning slices of nature that will leave you mesmerized: 
Lake of the Clouds, Ontonagon. The centerpiece of Porcupine Mountains Wilderness State Park is this 300-acre gem of a lake in the Western Upper Peninsula that can be viewed from the edge of a dramatic rocky escarpment and is surrounded by rugged ridges forested in virgin forests. Carved out by glaciers, Lake of the Clouds is as close to an alpine lake as we have in Michigan. Gaze at it from an overlook at the end of M-107 and then hike down to the lake and spend a night at a shoreline campsite (906-884-2047; michigan.gov/porkies; porcupinemountains.com/activities/lake-of-the-clouds).
Sleeping Bear Point, Empire. This headland is a key reason Sleeping Bear Dunes National Lakeshore earned top vote as  the country's most beautiful place. Within a quarter mile of a trailhead at the west end of M-209 you're surrounded by golden dunes, ghost forests and miles of undeveloped Lake Michigan shoreline scattered with pieces of 19th-century shipwrecks. Floating on a watery horizon are the Manitou Islands, and if you're lucky a freighter will be passing through (231-326-5134 ext. 328; nps.gov/slbe; sleepingbeardunes.com; Leelanau.com).
Pictured Rocks, Munising. These famous sandstone cliffs in Pictured Rocks National Lakeshore extend 15 miles between Munising and Grand Marais. Colorful and bold, the Pictured Rocks tower up to 200 feet from Lake Superior, which has sculptured these layers of sandstone into arches, caves, pillars and shapes that stir the imagination. You can view the stone bluffs by driving to Miners Castle Overlook, boarding a boat tour boat in Munising or hiking the Lakeshore Trail. But for an up-close encounter — so close you can touch the layers of sandstone — rent a kayak or join a guided paddle (906-387-2607; nps.gov/piro).
Upper Tahquamenon Falls, near Paradise. In the middle of Tahquamenon Falls State Park is this thundering cascade, third largest east of the Mississippi River. The most dramatic view of it is from an observation deck right above its 200-foot long brink, where 50,000 gallons of root beer-colored water plunge 50 feet every second to the river below. Beyond this, Michigan's second largest state park also features more than 40 miles of autumn hiking trails (906-492-3415; michigan.gov/tahquamenonfalls).
Arch Rock, Mackinac Island. Mackinac Island's beloved stone sculpture has been attracting visitors since the first tourists stepped ashore in the early 1800s. Reached on foot, by bicycle or as part of a horse-drawn carriage tour, the natural limestone bridge stands 150 feet above Lake Huron on the east side of the island and is almost a perfect 50-foot wide arch. Arch Rock frames a view of the clear greenish waters of Lake Huron and a stretch of M-185, the only state road in Michigan that doesn't allow motorized traffic (mackinacparks.com; 800-454-5227; mackinacisland.org). ≈
Jim DuFresne is a Clarkston-based travel writer and the main contributor to MichiganTrailMaps.com.
Photography by Lars Jensen
Facebook Comments