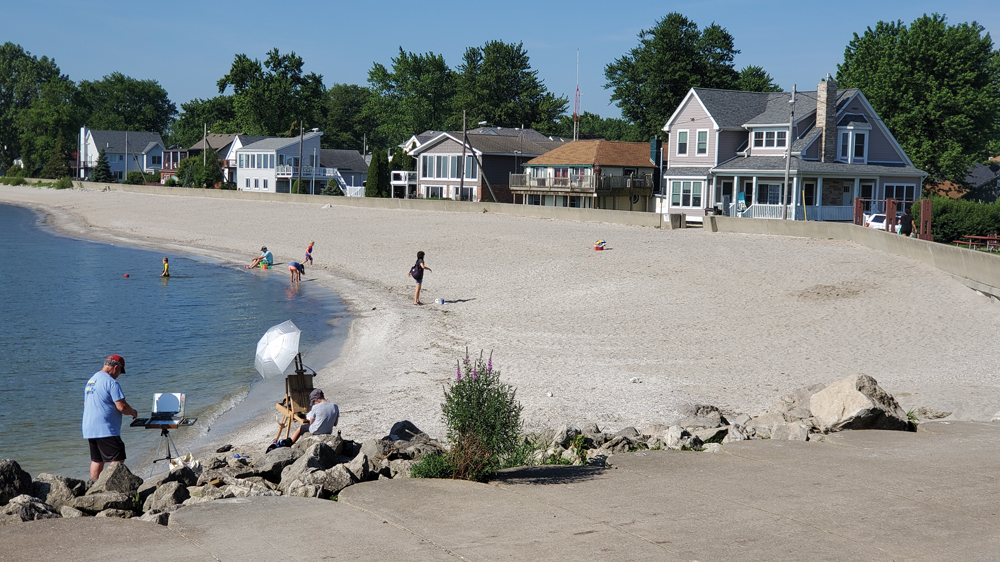 Nobody might ever find you here.
Hiding in plain sight, just a half-mile off I-75 in southeast Michigan, is a beautiful white sand beach on Lake Erie that few travelers have ever seen.
Sure, city officials could put up a billboard at Exit 6 that says, "Beach this way" or "Luna Pier, home of the closest Great Lakes beach to I-75 until you get to the Mackinac Bridge," but they don't plan to do that.
"Looking back on our history, we've been able to keep it a secret," says Luna Pier's mayor, James Gardner. "We don't discourage anyone from coming here, and we enjoy visitors, but we don't have any active advertising campaigns, either. It's all just word of mouth."
Luna Pier is a tiny town six miles north of the Ohio state line, population 1,382. It's one of those Michigan spots you just have to know about. There's not much there — just the beach, a nice walking/fishing pier, and a building that looks vaguely like a lighthouse.
It has one fancy restaurant, Chateau Louise, which has been around since 1934 and is still going strong. It originally was a general store, built in 1896. There's a beef jerky store near the freeway. A Sunoco gas station caters to truckers. The only hotel is the Pier Inn, which overlooks I-75.
The north and south roads in Luna Pier don't go far, as they're all dead ends because of marshes and inlets. That eliminates any casual traffic through town.
Yet, Luna Pier is hardly a desolate spot; it's surrounded by busy freeways and busy places. It's close to the city of Monroe, the popular Safe Harbor Toledo Beach Marina in LaSalle, and the natural wonders of Erie Marsh Preserve wildlife refuge. However, you must return to the freeway to drive to exits for all those places. Luna Pier is a little world of its own.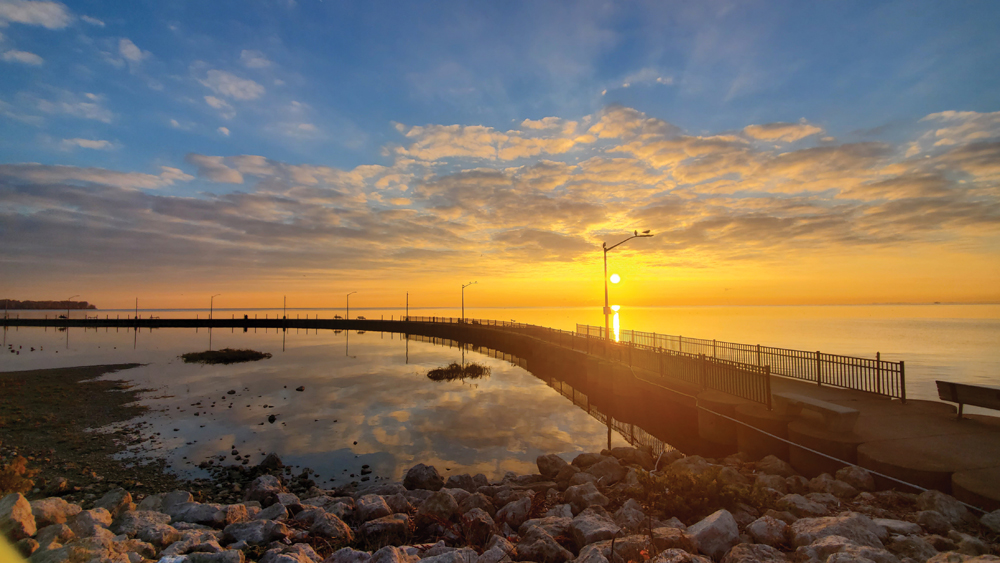 In the 1920s, Luna Pier had a trolley car line that connected it with Toledo Beach. "There was a pier with a big dance hall, and they had big band music," Gardner says. "At one time they would host 4,000 people out there — but it was most successful during Prohibition, maybe because of our proximity to Canada."
Later, Luna Pier would become home to the giant coal-fired J.R. Whiting Consumers Energy power plant, which loomed over the shoreline just south of town and provided 60 percent of the city's tax base. It closed in 2016 and was demolished in 2019. Suddenly, the city's largest employer and biggest taxpayer was gone.
"It paid all of our bills, and we didn't need tourists," Gardner says.
Now, Luna Pier is primarily a residential town for people who love to live quietly next to the lake. No fuss. No flair. Just gorgeous views of Lake Erie sunrises. The town isn't really set up for overnight tourists, but day-trippers on a sunny summer day will find several charms, including a beach café with outdoor tables.
The red lighthouse, built in 2012, makes for sweet photos. It's a re-creation of the original one that once served Lake Erie. There are no events or exhibits inside, but it does have restrooms and an outdoor shower. The Luna Pier Harbor Club Marina provides boat storage, dockage, and a small bait shop, and is open to the public. The big attractions in Luna Pier remain the lake, the beach, and the pier.
"The pier has great Lake Erie fishing, and we get a lot of walleye anglers in spring and fall, so people come and use that. And our local businesses could really use support," Gardner says. On the other hand, "We're limited on space. Any tourism has to be very controlled because we really are a small town."
For now, Luna Pier's beach usually has room for all visitors, even in the height of summer. Some people who visit have never even seen the Great Lakes, and their first glimpse of the expansive Lake Erie stuns them.
Mostly, though, Luna Pier simply is a welcome stop off the freeway for weary Michigan travelers. Stop, look at the lake, put your feet in, have lunch, buy some beef jerky, and away you go.
---
Plan It!
The Luna Pier beach and pier are open year-round. To the south, Erie Marsh Preserve consists of restored wetlands off Lake Erie's Maumee Bay, with 2.2-mile and 5-mile loop hiking trails. To the north, the River Raisin National Battlefield Park features a new visitor center and includes several affiliated sites that focus on events related to the War of 1812, the conflicts of U.S. expansion westward, and Native Americans in defense of their ancestral lands.
cityoflunapier.com
visitmonroemi.us
Facebook Comments