My vacation daydreams often include soft, sandy beaches, outdoor adventures, and plenty of places to shop, eat, and explore. In fact, it's one of my favorite things to do with my husband — research, plan, and enjoy a relaxing beach getaway. Lucky for us, one of those destinations is close to our home in southeast Michigan.
About a 90-minute drive from metro Detroit, nestled along the banks of beautiful Lake Huron in Sanilac County, lies the village of Lexington. With scenic views, small-town charm, and warm hospitality, Lexington offers inviting opportunities for fun and relaxation. Whether you're a foodie, a golfer, or a beach lover, there's a little something for everyone in this historic fishing village.
With proximity to Detroit, Flint, and the Tri-City areas, not to mention plenty of places in between, Lexington is easy to get to for many Michiganders. It's a welcoming spot to visit, take in stunning sunrises, and stay awhile.
My husband, Tommy, introduced me to this charming harbor village on Michigan's Thumb Coast just north of Port Huron. While Michigan getaways for me meant long drives to Petoskey or Traverse City, he's been visiting this picturesque community all his life.
His family owns and operates Lake-view Hills Golf Resort, less than two miles from the lakefront. Their local roots run deep; they've been there since 1976. Many of his relatives live locally and work at the golf resort or around town, so we're lucky to have personal tour guides whenever we visit.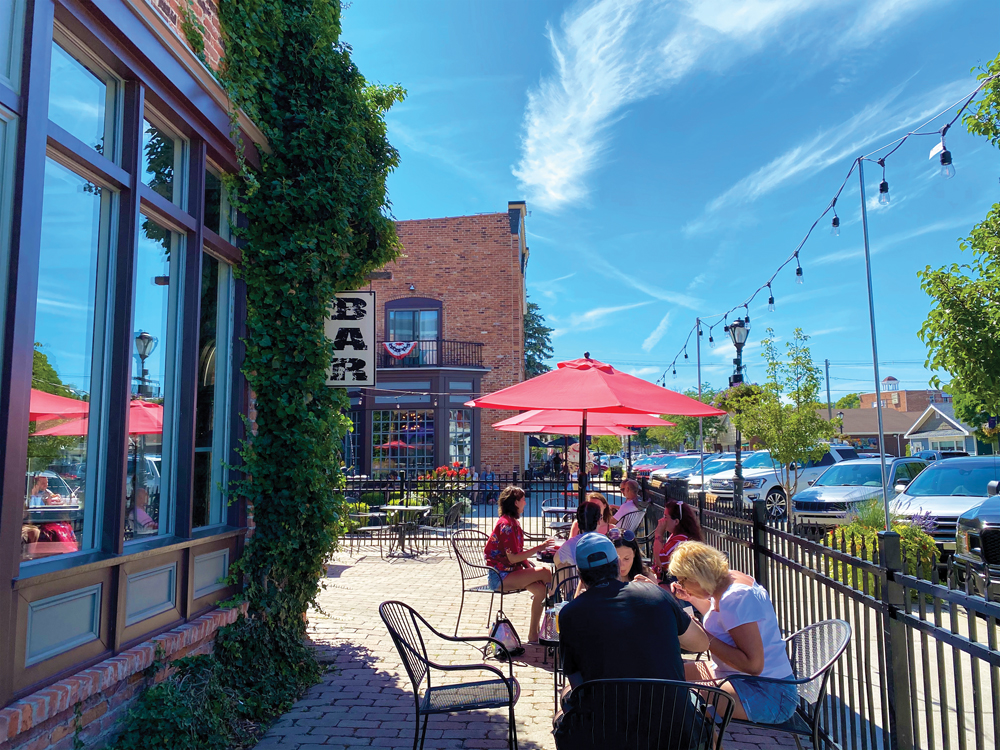 His aunt, Dana Fabbri, a lifelong resident and salon owner, says Lexington is "a beautiful place to call home." She adds that the town is especially bustling in the summertime. "When you go into restaurants or different businesses, it's amazing to think these people know about our small hometown," she says.
My visits often include a stay at Lakeview Hills, which features two golf courses, a 29-room hotel, a health club, and a restaurant. Others might enjoy renting a cottage or staying at one of the town's bed and breakfasts, like Butler B&B, A Night to Remember, or Inn the Garden. Whatever you choose as your home base, the water and other worthwhile sights and activities will be at your fingertips.
What might entail a playful day in small-town Lexington? For me, it's spending as much time as possible at the beach and Lexington State Harbor. I love strolling along the pier and savoring a day of lounging in the sun. There's beach volleyball, boating, and a fun playscape for kids — I can't wait to introduce my 2-year-old daughter to it this summer.
The harbor serves as a hub for biking, renting a pontoon, or taking a leisurely walk into town to visit the restaurants, gift shops, antiques stores, or ice cream parlors. For lunch or dinner, I recommend Steis's for pizza or Wimpy's Place for a burger. A stop at the Lexington General Store, Lighthouse Creamery, or Oh! Fudge Shoppe rounds out my favorites list.
On Friday nights during the summer, Music in the Park attracts locals and visitors who come armed with their lawn chairs and blankets to enjoy an outdoor concert series in Patrick Tierney Park, located at the harbor. With the free entertainment, food trucks, and splendid beach views, it's a delightful way to unwind. Music in the Park was canceled in 2020 due to COVID-19, so it's highly anticipated for this summer.
Other upcoming events include the Lakeside Craft Show (June 19-20), Independence Day Parade and Fireworks (July 2-3), and the Lexington Fine Arts Street Fair (Aug. 7-8).
Lisa Detkowski, who moved to Lexington from metro Detroit in 2016, says she feels "like I wake up at my vacation home every day." Between morning walks along the water, afternoon stops at the local stores, regular visits to her best-loved sweet shop (Bunny's Frozen Custard), and all the fun community activities, it's clear why she considers Lexington "an awesome little vacation town."
---
Plan It!
The Blue Water Area Convention & Visitors Bureau, bluewater.org
Facebook Comments