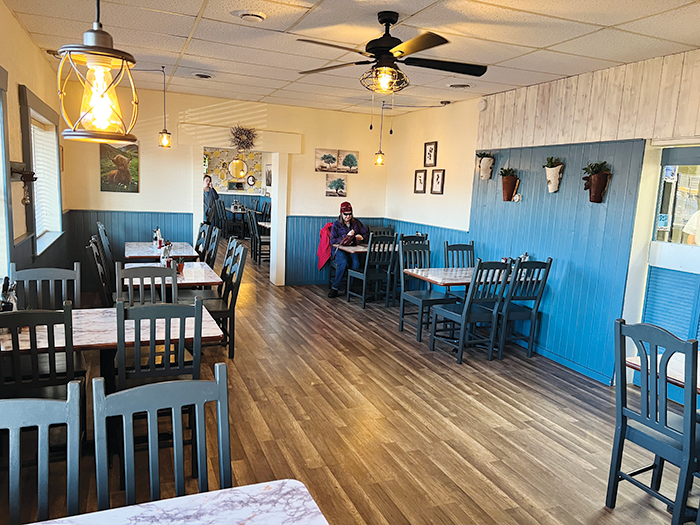 ---
Why would two chefs who have worked for some of the country's best restaurants open an eatery in a northern Michigan village with a population of just over 1,000 on a good day? The husband-and-wife duo, chefs Matt Cassell and Lisa Ballard, owners of Roscommon's Beechwood Café, say it all boils down to serendipity.
And area residents, who've been enjoying this small restaurant in this small community near Higgins Lake since 2021, are all the better for it.
You may not find a more inventive place to head for breakfast, lunch, Sunday brunch, and specialty dinners than this spot in northern Michigan just four miles east of I-75. Is that an exaggeration? Nope. I've got to be kidding, right? Nope.
Here's why: Since opening, the restaurant has completely changed the face of dining in the region, where traditional eggs over easy, hash browns, and toast had been the rule. The Beechwood Café is far from that.
Cassell has worked in the kitchens of Gordon Ramsay and Mario Batali, and at other notable spots across the country such as NYC's Spice Market Restaurant. Ballard, who contributes the Beechwood's sweet side as pastry chef, trained at New York's French Culinary Institute, and created sweet things and worked as assistant executive pastry chef at San Diego's Omni La Costa Resort & Spa.
---
---
What caused them to land in Roscommon? Following stints in San Diego and Las Vegas, Ballard says, they needed to come to Michigan. "My parents retired here 22 years ago," she recounts. "I'd visited most recently during the start of Covid. We were both laid off, and I realized my parents shouldn't be living alone anymore. We decided we'd eventually try to open our own restaurant; we knew we wouldn't be able to find employment around here that would fit our experience.
"We started looking for places, and drove through Roscommon. We saw the 'for sale' sign a million times, and didn't realize it had been a restaurant. Then I met someone who said, What about the old Kelly's Place?"
The couple had stumbled upon a spot that had seen several attempts at opening a successful business — and a like number of failures. They called the owner, who wanted to sell, not lease. "We did a walk-through and everything was in there," Ballard says. "All the equipment, everything. We decided to (give it a) go."
They opened last August, in spite of the pandemic. Not a wise move, some might say. But the word was out that something unique was happening. The first day Beechwood Café was open, a line that never disappeared wound out the door of the 62-seat eatery.
"We were pretty overwhelmed; the staff, too. We've been pretty lucky with our staff, right off the bat. They had no experience, and our sous chef also had none," Ballard says. "We had no idea how busy it was going to be. We ran out of food the first couple of days. It was great!" Over time, she says the lines have calmed down to the point they're not swamped — just busy — especially on the weekends.
The café's menu changes seasonally. "Matt is amazing coming up with things, and we bounce ideas off each other. His braising technique is amazing," Ballard says.
---
---
Then there's the buttermilk pancakes with house-made orange-and-honey-infused butter and real maple syrup, with a side of locally made sausage from Ebel's meats of Falmouth. The coffee is Ferris from Grand Rapids. And, yes, Ballard promises, the bananas Foster-style side will reappear, maybe in the fall.
Lunch, anyone? The Beechwood chicken sandwich, or the Beechwood BLT with bacon, lettuce, tomato, and cheese, are among the seven or so choices. Sunday brunch includes breakfast pizza, and chicken and waffles. In season, the pair visits Roscommon's farmers market for fresh fare.
Then there are Ballard's specialties, like the salted chocolate chip cookies, blueberry muffins, scones, and the very popular cinnamon rolls. "I've tweaked the technique, so now I'm really happy with them," she says.
---
---
The couple works some days from 5 a.m. to 5 p.m. (the café is closed Monday and Wednesday), but they're working for themselves. Their son attends the local high school, and they say the community has welcomed them.
"We just love the feel around Higgins Lake and Roscommon. It's a great little town and we've gotten so much support from other business owners," Ballard says. "It's been such a good fit. Both of us are big on serendipity. Things just happen that are meant to happen. That's why we have a Serendipity smoothie on the menu. I don't know how else to describe it."
---
New Offering
The chefs earlier this year introduced monthly specialty dinners by reservation. A recent dinner featured pistachio-seared ahi with crab and potato, honey rosemary tomatoes, avocado, and plantain.
---
PLAN IT!
Beechwood Café
beechwoodcafe.org
---
---
By Bill Semion & Photos courtesy of Bill and Denise Semion
Facebook Comments