The sap from trees that's used to make genuine maple syrup is more finicky than a spoiled cat. And with Michigan's fickle weather, that can be a challenge when it comes to tapping and collecting the precious, clear liquid.
"It totally depends on the weather," says Greg Kowalewski, resident forester at Michigan State University's Kellogg Forest in August, Mich., near Kalamazoo.
The sap won't flow without just the right cycle of freezing and thawing. That means daytime temperatures of about 40 degrees, which also help the carbohydrates in the sap turn to sugar, and nighttime temperatures of about 20 degrees.
"So, if you have a really cold winter and then 60 degrees, you have a bad year," Kowalewski adds.
Art Currey, a fifth-generation syrup maker in Charlevoix and president of the Michigan Maple Syrup Association, agrees, noting, "Even a two-degree difference in temperature can make it or break it."
Even if temperatures are just right, they usually last only four to six weeks, meaning syrup producers have to hustle if they want to get the most from their trees.
With Michigan's mercurial weather, it's a wonder they make any syrup at all. But they do. In fact, the Great Lakes State is the fifth largest producer in the U.S., making an average of 90,000 gallons a year. Since a gallon of syrup takes about 40 gallons of sap from a sugar maple tree, that means about 3.6 million gallons of the sweet liquid flow from Michigan's maple tree taps every year.
---
Maple Barbecued Spareribs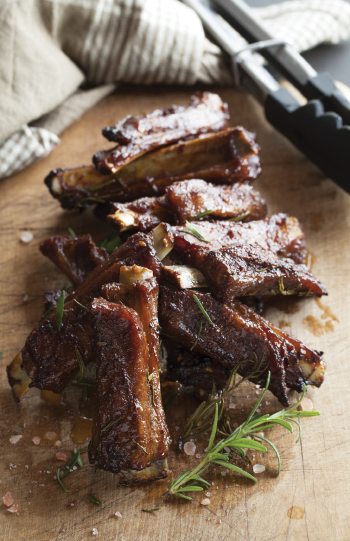 3 pounds spareribs
¾ cup maple syrup
1 tablespoon catsup
1 tablespoon cider vinegar
1 tablespoon finely chopped onion
1 teaspoon Worcestershire sauce
1 teaspoon salt
¼ teaspoon dry mustard
1/8 teaspoon black pepper
Place spareribs in a saucepan and add enough water to cover. Heat until water boils, reduce heat and simmer 30 minutes. Drain. Mix remaining ingredients together in a small bowl. Place spareribs in a shallow baking pan and pour about half the maple sauce over the ribs. Bake in 350-degree oven, 30 minutes or until tender. Turn and baste occasionally with remaining sauce while baking. Broil 5 minutes to finish browning.
---
Maple Cocktail
¾ ounce maple syrup
¾ ounce dry gin
1 ounce lemon juice
1 ounce bourbon
Shake over ice, strain and serve.
---
MAKING THE GRADE
Speaking of sweetness, syrup's not syrup until it's at least 66 percent sugar, and maple sap in Michigan averages just 2.5 percent sugar. So producers increase the sugar content by boiling off much of the water in the sap — a fine tradition that, when done outdoors over a fire, signals to the neighbors that spring really is on its way.
Paul Bloese, tree improvement supervisor for MSU's forestry department, is trying to cut down on all of that boiling — it often can go on day and night for weeks — by studying trees whose sap has sugar content higher than 2.5 percent.
"The basic idea is to get an idea of what genetic control sugar sap is under," says Bloese (pronounced BLAY-zee). "If it's a heritable trait, we could collect seed from those trees and plant more."
Bloese explains that even a small increase, from 2.5 to 3 percent, can reduce the boiling time and energy needed to produce syrup, and increase yield.
But growing trees with sweeter sap isn't all that could change when it comes to tapping sap, turning it into syrup and selling it to pancake lovers around the world.
The maple syrup industry has asked the U.S. Department of Agriculture to change the sweet liquid's topsy-turvy grading system. Under the current system, Grade B syrup is actually more flavorful and darker, and more desirable to some people, than Grade A.
"I think with the changing palate of Americans they like this heavier, dark syrup of Grade B," says Currey. "The powers that be thought Grade B was secondary."
Under the proposed system, all maple syrup would be Grade A, differentiated only by color. A USDA spokesman says no decision has been made on the requested change.
Whichever syrup grade people prefer, Currey's group sponsors three Michigan Maple weekends for the public each spring. Association members south of U.S. 10 participate the third weekend in March; members north of U.S. 10 in the Lower Peninsula participate the fourth weekend in March; and members in the Upper Peninsula participate the first weekend in April.
(Incidentally, while sugar maples are the tree of choice because they have the highest sugar content, it's also possible to boil down the sap of other maple trees — box elders and silver maples — as well as that of birch and walnut trees, to make syrup.)
Find an array of Michigan maple syrup events in this edition's Excursions section. For more information and maple-syrup inspired recipes, visit mi-maplesyrup.com.
---
Maple Rice Pudding
Yields: 6-8 servings
2½ cups boiled rice
2½ cups milk
3 eggs
1 cup maple syrup
½ teaspoon salt
½ teaspoon nutmeg
1 cup raisins
Cinnamon (optional)
Combine the rice and milk. Beat the eggs and maple syrup together; add them to the rice and milk. Add all the other ingredients. Pour the mixture into a buttered baking dish set in a pan of hot water, and bake in a 350-degree oven or cook on top of stove in double boiler until set. Serve warm or cold.
---
Freelance writer Ilene Wolff resides in Royal Oak.
Facebook Comments