With a deck and patio overlooking the Saginaw River, diners at Bay City's newest seafood establishment, Real Seafood Co. Bay City, are treated to a delightful alfresco experience during the warmer months of the year. Its airy, contemporary-style dining room also provides a year-round view. But what draws most customers to this well-known name (that opened in Uptown Bay City in 2015) is simply the fish.
"We really do offer the freshest seafood around," Real Seafood Co. chef Aaron Musinski said. "Some of our dishes are more classic (seared scallops, for example) and others might have an Asian flair to them (Miso Glazed Chilean Sea Bass). Or sometimes, we'll create more of a trendy dish (Citrus Chipotle BBQ Shrimp). It just depends on what we want to do."
One look at the extensive menu confirms the upscale restaurant is a seafood lover's haven, whether starting with crab-stuffed avocado appetizers or tuna, shrimp and oysters from the Raw Bar to the house specialties or the fresh catch of the day, which can be prepared seven different ways from Shanghai style or blackened to broiled.
"(After we receive it), we keep our fish for a maximum of three days," General Manager Ryan McHenry said. "Honestly, it's the freshest you're going to get without being on the East Coast."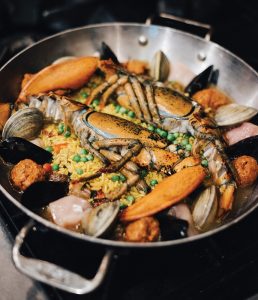 Real Seafood Co. serves seafood from the Atlantic, Pacific and the Gulf of Mexico, along with fresh Great Lakes fish like whitefish, walleye and perch. Seafood sourced from around the globe is overnight shipped as soon as it's caught and prepared.
The ambiance of Real Seafood Co. is as fresh as the food.
"If the patio is open, it's almost always full," McHenry said. The large deck overlooking the river is a great spot to sit outside with a meal or a glass of wine and enjoy the view and the ships passing by. The restaurant's patio has an outdoor bar, heaters and umbrellas to shade their guests. It also is next to the restaurant's dock, where boaters can tie up their vessels for easy, waterfront access. "Our capacity literally doubles when the patio is open," McHenry said. The indoor capacity is about 180.
Real Seafood Co. Bay City is one of four Real Seafood Co. locations owned by Mainstreet Ventures, an upscale restaurant group with headquarters in Ann Arbor and more than 22 restaurants across the Midwest. Its Real Seafood Co. restaurants are found in Ann Arbor, Toledo, Ohio, and Naples, Florida. While they share a name and branding, not all are cookie-cutter copies.
"Some staples appear on all location's menus, but each chef has their own menu," Musinski said. "What we all have in common, however, is fresh, quality seafood.
"We don't really have a set concept with our dishes — fresh fish is our focus; from there, we play with that."  The hottest sellers, he adds, are the scallops and paella.
"The paella is big enough for two people, so many people get that to share," Musinski said.  "When people come in and they aren't sure what to get, they order paella because it has everything in it — rice, veggies, scallops, shrimp, chicken, fish, mussels, you name it. Paella has it all."
---
Megan Westers is a writer in Rives Junction who enjoys writing about politics, lifestyle and travel.
Facebook Comments