THE DETROIT YACHT CLUB on Belle Isle has been a going concern since 1868. In all those years, very little has changed — and yet, very much has changed. Tradition thrives in the DYC, but the club has put a modern twist on what it offers.
"We love our traditions. We wouldn't change them," Commodore Patricia Thull O'Brien said. But DYC is actually several dozen clubs within the club, O'Brien said. It offers something for just about any interest.
The annual Officer's Ball, held in January, is the No. 1 tradition. It's a black-tie affair complete with trumpeters announcing guests, a receiving line and a several-course meal, followed by dancing to a live band.
One of the members' favorite parts of the ball is the Grand March, where diners follow club officers into the ballroom and "march" around to music. The march was first used in the Waldorf Astoria in 1808, and it's possible DYC is the only place still holding it year after year.
Other DYC traditions include the annual blessing of the fleet. Venetian Night usually is held in August, when boaters decorate their docks to a theme. There's an annual fleet review, where boats parade past club officers for a salute. A Commodore's Coffee is held after new officer elections. There's a classic boat and car review each Father's Day, too.
"Not only do we have traditions, we have a fabulous architectural history," O'Brien said.
DYC began with a small clubhouse and boatshed in Detroit. Three buildings followed before the current 93,000-square-foot building was completed in 1923 at a cost of more than $1 million. Noted Detroit architect George Mason designed it in the Mediterranean Revival style, and it is the largest yacht club building in the U.S. Its upkeep is supported by a 501c3 foundation.
The 3,000-square-foot ballroom, one of the largest in Detroit, is more than three stories high. Its ceiling is crossed with painted beams, a typical Arts and Crafts movement detail. The Scarab Club in Detroit, a gathering spot for artists since 1907, has a similar feature. The yacht club's solarium, called Peacock Alley, has a Pewabic tile floor and was designed after the lady's lounge in Waldorf Astoria. The chandeliers are from the Dodge mansion, Rose Terrace.
"In the past, there were gentlemen's areas that obviously now are coed. Women were an afterthought at the clubhouse," O'Brien said. A women's locker room was added later, and O'Brien is the second woman commodore.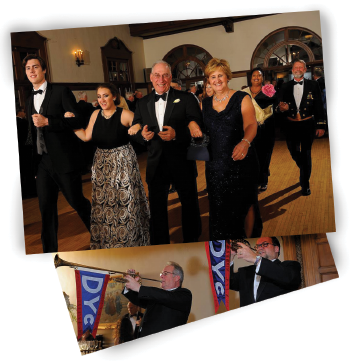 Another commodore, Gar Wood, is renowned for the mahogany runabouts he built and for setting world speed records on water with his speedboats and early hydroplanes. He was commodore when the current clubhouse was built. The harbor now has 384 berths.
But tradition and a historic building aren't enough to maintain membership in modern times. So, close attention is given to its member's changing tastes. Today, live bands play in the Starlight Circle band shell on summer weekends. There are clubs for members who enjoy kayaking or golf. A rod and gun club caters to those who enjoy fishing and shooting. A libations society puts on dinners and tastings. There are clubs for those interested in bicycling, books, fine arts and gardening, among other things.
DYC's summer camps for kids include sailing and swimming. And when it's DYC's turn to host the weekly swim meet, the ladies' locker room is full of giggles, as team members get ready for the dinner dance that follows.
The DYC's membership increased by about 20 percent in the past couple of years, to more than 700 families. The 149-year-old club continues to thrive in modern times.
---
Peggy Walsh-Sarnecki is a sailing enthusiast and retired Detroit Free Press reporter.
Facebook Comments