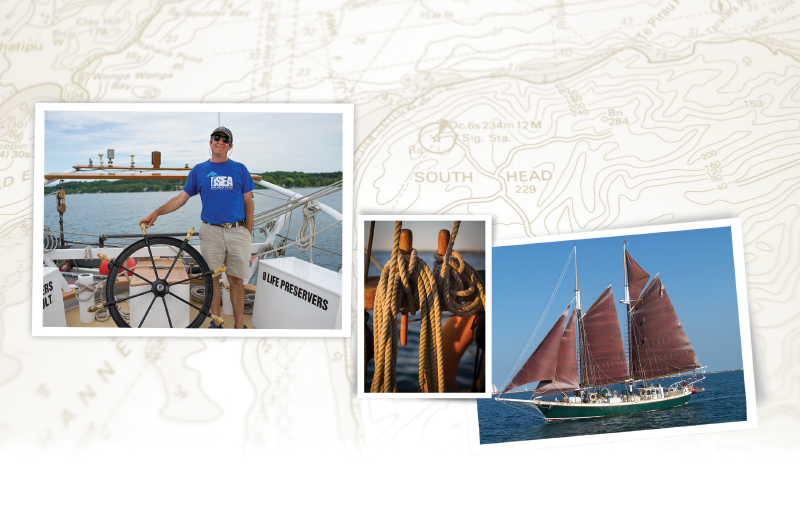 AS A WEST WIND PUSHES rain clouds across the sky, filling the iconic red sails of the 19th-century schooner Inland Seas, the 20 passengers gathered on her deck — already prepped by volunteer instructor Thom Yocum on sail commands and what to expect during the educational, three-hour tour ahead — pull their jackets a little tighter.
The tall ship, captained for two years now by Ben Hale, is a regular sight on Grand Traverse Bay in northern Lake Michigan from spring through late fall. The veteran sailor, 41, takes position behind the wheel as his crew teaches passengers how to haul up sails, trawl with nets and drop anchor.
"I'd also like them to have a very positive experience on the water, to experience the beauty of the lakes. And the boat is part of that."
— Ben Hale
Experiencing the science and spirit of the Great Lakes through hands-on, experiential learning activities is the goal of this voyage, and as small groups rotate through various stations, one of their stops is with Captain Hale.
"Who wants to be my helmsman?" he asks his group and hands shoot into the air. He picks a pig-tailed girl and a little boy with blond hair who eagerly head for the wooden wheel.
"First thing to remember is that when I give a command, you repeat back what I say," he tells them. "You two and you two alone are steering this boat that weighs 45 tons."
When Hale isn't out to freshwater sea, he's enjoying life at home in the tiny village of Northport on the tip of the Leelanau Peninsula with his wife and young son. "It's the best of both worlds," he says.
Moving from port to port for most of his career, Hale jumped at the opportunity to captain the grand schooner, which entails teaching seamanship and Great Lakes ecology to a students as a staffer with Inland Seas Education Association (ISEA), based in Suttons Bay, as well as spending days on water.
"Obviously I like being outside and I like the sailing part of it," he shares, "but what I like most is that the boat serves a purpose."
Hale relates that sailing got under his skin when he was a boy; his own first time sailing was on a Hobie Cat while vacationing with family in Leelanau County. Motivated by his dad, a machine repairman for General Motors, Hale gravitated toward anything mechanical and started checking out books on old clipper ships from the library, paired with an array of other sailing tales including Joseph Conrad's nautical novels and (of course) Herman Melville's "Moby Dick."
Hale went on to earn a zoology degree from Michigan State University in 1997 and returned to Leelanau County that summer to intern at ISEA. He received his license in 2000, became a captain on other vessels in 2007 and in 2010, upgraded to an ocean license recognized internationally.
With past titles like chief mate, quartermaster and deckhand, Hale's time aboard boats — sailing the world's oceans, crewing on tall ships Europa and the clipper Stad Amsterdam — reads something like a classic novel of the high seas itself.
But since 2012, he's been savoring this present chapter on ISEA's school ship, helping wave after wave of eager kids connect first-hand to a different place in time, where cell phones are replaced by wind in the sails. It's his hope these young students walk away with a new appreciation for and awareness of the water.
"I want them to see that their actions do have an impact somewhere, some way," Hale says. "I'd also like them to have a very positive experience on the water, to experience the beauty of the lakes. And the boat is part of that."
---
Public Programs
From Family Science Day and Wetland Walks to Whaleboat Cruises and customized sails, The Inland Seas Education Association offers a variety of opportunities for the public to learn and experience the science and spirit of the Great Lakes and better understand the importance of protecting and preserving Michigan's freshwater resources. June 19, the 77-foot schooner Inland Seas voyages under the stars for an Astronomy Sail led by Dick Cookman, 9-11 p.m. To learn more about this and other upcoming excursions, visit schoolship.org/all-programs.
---
Freelance writer Cymbre Foster lives in Traverse City.
Facebook Comments