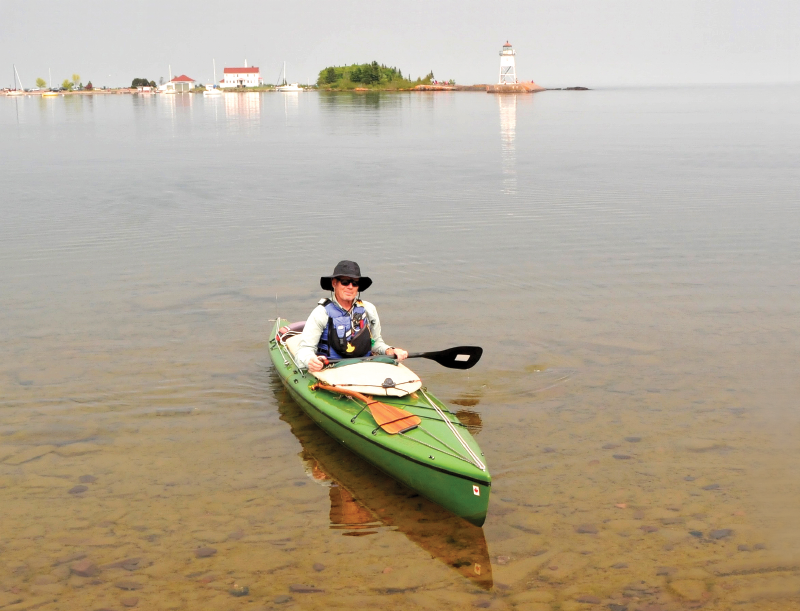 Why spend six summers paddling around the shorelines of all five Great Lakes? For years I dreamed of taking a long walkabout along the path less paved.
I also wanted to reclaim my body. I'd spent countless hours behind the wheel or in front of a computer, and I desperately needed a stretch. One day it occurred to me: I have a canoe and I live in Petoskey where the Great Lakes are out our front door.
I was 58 — up the hill, but not over it — when I quit my full-time job and took the leap. There were advantages in waiting until I had gray hair. I had saved some money and had acquired a skill set that prepared me for a variety of odd jobs during my "off season." I had a closet full of camping gear, collected from years of backpacking and river trips.
My late start also coincided with the advent of the smartphone, which meant I had at my fingers a phone, nautical map, satellite imagery, weather report, encyclopedia, newspaper, word processor and camera.
Michigan paddler and canoe designer/builder Verlen Kruger built my canoe. I bought it used on Craigslist from a retired lineman in California. We sealed the deal at Dead Man's State Park in Utah, overlooking the Green River.
Kruger, who died in 2004, holds the Guinness World Record for the most miles paddled — more than 100,000 miles. A newspaper article quoted him late in his life saying he would have liked to have paddled around all the Great Lakes.
In 2009, I pushed off from Mackinaw City, thinking I'd at least take a shot at getting around Lake Huron. Three months later, I was paddling from the Upper Peninsula across the Straits, under the Mighty Mac, to friends and family waiting on the south side to welcome me home.
"It's better to be on shore wishing you were at sea, than on the sea wishing you were on shore."
— Stephen Brede
With the exception of 2011, I spent the next few summers paddling around Huron's sisters: Michigan in 2010, Erie in 2012 and Ontario in 2013. I paddled the south shore of Lake Superior in 2014 and the north shore in 2015.
I paddled about 3,900 miles. The Great Lakes comprise 10,900 miles of coastline, but, in addition to the mainland, that figure includes the shoreline of connecting rivers and some 35,000 islands. I did a lot of island hopping and point-to-point paddling and cut across some large bays.
I spent most nights camping on the beach or in the woods, with occasional stays in parks, marinas and motels. I also stayed in the boats and cottages of wonderful people I met along the way. I carried two to four weeks of food, depending upon how remote the coast was. I had no itinerary. Time and distance advanced one paddle stroke at a time.
My wife, Ruth, a nurse, met me whenever she could get a few days away from work. She resupplied me with food, gear and spirit. It's impossible to say whether she or my canoe was more important to my success.
I usually paddled six to eight hours a day, averaging about 15 miles. On calm days, it wasn't unusual to be miles from shore. On foggy or windy days, I stayed close to or on shore. As the saying goes, "It's better to be on shore wishing you were at sea, than on the sea wishing you were on shore."
Another piece of caution I abided was: "This isn't Disneyland." Nature wasn't concerned about my safety, although at times she cut me slack. I wore leather gloves when using my camp stove, goggles and sandals when swimming, covered up against the sun, and tread carefully in the bush and on the cobbles. I drank lots and lots of water. I never left shore without zipping on my life vest.
The lakes roughed me up a bit. I had sciatica for a couple of weeks on Lake Huron and screwed up my shoulder on Lake Michigan. I developed respiratory problems on Erie. A mosquito injected me with Lyme disease on Ontario. I had a bout of loneliness on Superior. But I also melted off 10 pounds of beer and ice cream, cleared cobwebs from my mind, and felt a freedom and lightness of being unlike anything I have ever experienced.
Just before Labor Day last year, I crossed the mouth of the St. Mary's River back into the United States, completing my circuit of Lake Superior. It was one of those crystal blue days when the water is so still and smooth, you think you can walk on it.
---
Stephen Brede moved to Petoskey in the late 1980s to work as a reporter at the Petoskey News-Review. He went on to spend 10 years as a writer and photographer at Harbor House Publishers in Boyne City. In 2009, he quit his job and embarked on a series of summer paddles of the Great Lakes, beginning with Lake Huron.
Facebook Comments