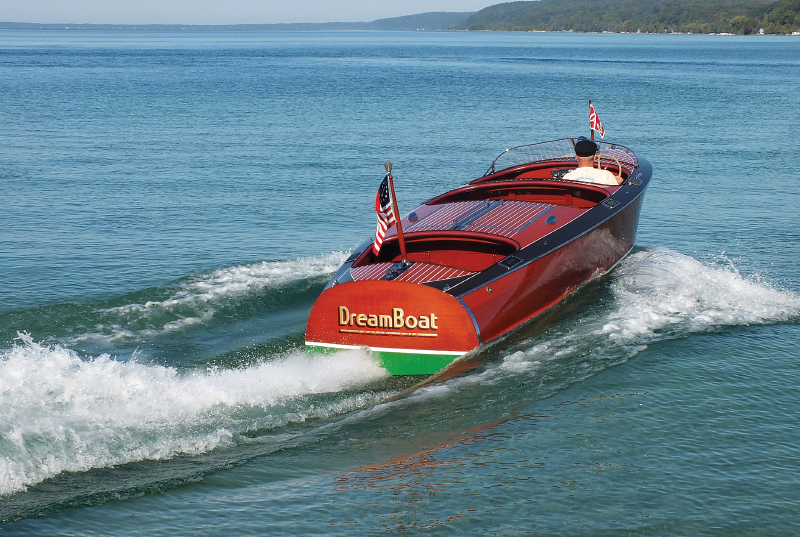 The timeless beauty of restored antique wood boats turns the heads of even the most modern boaters. Their varnish finishes sparkle as they float at summer docks, reflecting care and masterful craftsmanship, each a portal to the past and Michigan's boat building history.
Wood runabouts, cabin cruisers, utilities and others built by iconic Michigan companies like Chris-Craft, Gar Wood, Hacker and Century will line the docks at marinas around the state this summer when more than a dozen antique and classic boat shows are scheduled.
"You can go to an antique boat show just about every weekend," notes Mike Green, owner of Maritime Classics, a Traverse City wood boat restoration shop. Green is president of the Water Wonderland chapter of the Antique and Classic Boat Society, a national nonprofit dedicated to the restoration and preservation of wooden boats.
"Mostly, we get older folks, but we are seeing a lot more 30- and 40-year-olds attending the shows," Green said.
The younger audience stems, in part, from the growing number of classic fiberglass boats on display. ACBS changed its rules in 2015 to allow early fiberglass boats built through 1974, according to Green.
Approximately 45 boats will be on display at Boats on the Boardwalk Aug. 29 in Traverse City. Organized by the Water Wonderland chapter, it's a popular summer attraction where visitors enjoy a nostalgic afternoon viewing boats and talking with restorers or owners while strolling down the tree-lined, downtown boardwalk along the Boardman River.
"They come from all walks of life," Green explains about the boat's universal appeal. "People will see early boats from the 1920s and '30s, all the way up to classics."
Green's great-great-grandfather, Christopher Columbus Smith, founded Chris Smith & Sons Boat Co. in 1922, which later changed its name to Chris-Craft. The manufacturing plant was established in Algonac on the St. Clair River, also home to speedboat racer Garfield Wood, who set multiple world speed records. Wood founded Gar Wood Industries in Algonac after Smith stopped building his wooden race boats. The company eventually relocated to Marysville.
Algonac is the site of the 31st Where It All Began ACBS Michigan Chapter Spring Boat Show. The show runs June 24-26 at the Algonac Harbor Club. In 2015, more than 100 wooden boats were displayed.
Green will display a fully restored 1936 Chris-Craft standard Utility at this year's Boats on the Boardwalk. The Utility was a stripped-down runabout introduced in 1932 during the Great Depression.
"It was the pick-up truck of boats," said Green, a boat used for harbor work, carrying cargo or fishing. "It was a work vehicle that sold for $997. They are rare."
The Utility is just one of the rare boats that will be on display this summer. Century Boat enthusiasts will gather in Manistee Sep. 16-18 for the 5th annual Hops & Props on the River, a festival of craft beers and classic boats, including 20 owned by members of the Century Boat Club. The Century Boat Co. moved from Milwaukee to Manistee in 1928 and built boats there for 60 years before moving to Panama City in the 1980s.
---
2016 Antique And Classic Boat Show Calendar
June 4: Spring Lake Boat Show, Mill Point Park. springlakevillage.org
June 17-18: Presque Isle Harbor Wooden Boat Show, Presque Isle. presqueisleharborwoodenboatshow.com
June 18: Classic Boat Show & Small Craft Festival, Michigan Maritime Museum, South Haven. michiganmaritimemuseum.org
June 23-25: Bay Harbor Vintage Car and Boat Show, Bay Harbor, Petoskey. bayharborfoundation.org
June 24-26: Antique & Classic Boat Show, "Where it All Began," Algonac Harbor Club. michacbs.com
July 8-9: South Arm Classics Boat & Car Show, East Jordan. ejchamber.org
July 9: Celebrate White Lake Day and Wooden Boat Show, Whitehall Municipal Marina and Goodrich Park. whitelake.org
Aug. 6: Boats on the Boardwalk, Traverse City. wwcacbs.com
Aug. 11-14: Port Sanilac Antique Boat Show & Vintage Festival, Port Sanilac Harbor. portsanilac.net
Aug. 13: Les Cheneaux Antique Wooden Boat Show & Festival of Arts, Hessel. lciboatshow.com
Aug. 27: Pentwater Boat Show, Pentwater Yacht Club. pentwateryachtclub.com
Sept. 9-10: Blue Water Antique & Classic Boat Show, downtown Port Huron. michacbs.com
Sept. 16-18: Hops & Props on the River, downtown Manistee. visitmanistee.com
---
Award-winning writer and BLUE Undercurrents columnist Howard Meyerson lives in Grand Rapids.
Facebook Comments