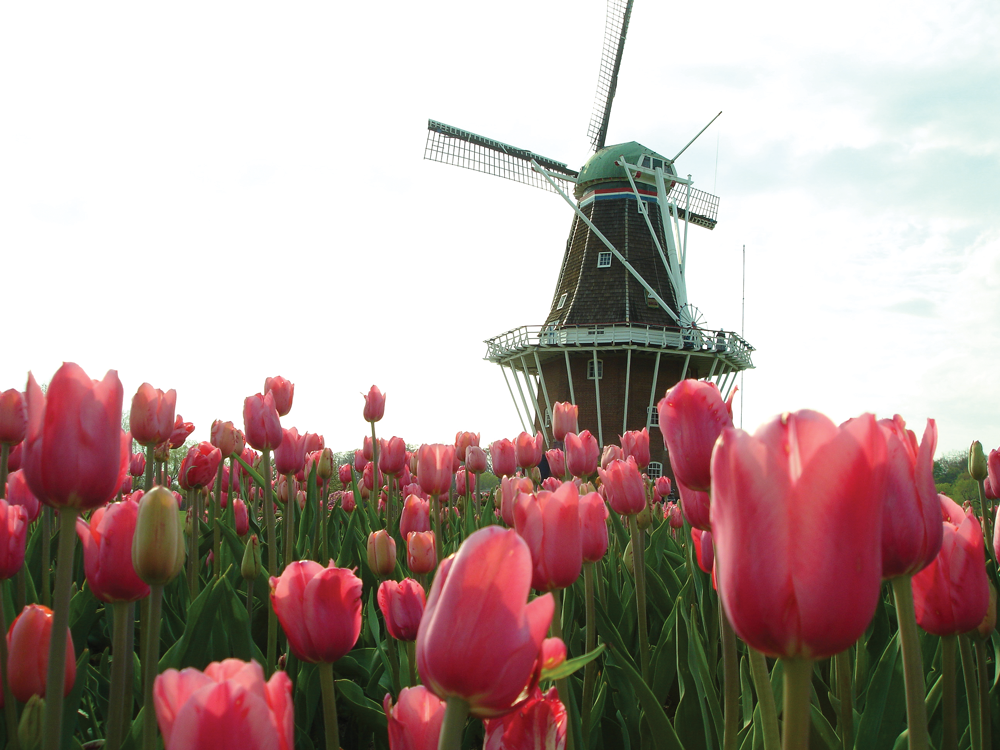 Gelderland Province, Netherlands — 1852. Though some were leaving their homeland to escape rising taxes and falling wages, Hendrik and Esther Vande Bunte set sail for America in search of religious freedom. Hendrik was a dairy farmer by trade and the young couple settled in Holland, Mich., to start their family. Originally established by Dr. Albertus C. VanRaalte in 1847, Holland was a popular rally point for Dutch settlers. It was (and is today) rich in Old World tradition and steeped in Dutch heritage.
Families weren't the only immigrants to weather the arduous journey across the Atlantic Ocean. Originally built in Krommenie, Netherlands in 1761, a 125 foot-tall windmill known as DeZwaan ("The Swan" or "Graceful Bird") came to Michigan via the good ship Prins Willem van Oranje.  But the structure had sustained significant battle scars during World War II and to some, seemed a total loss. Purchased in 1964 for $2,800, DeZwaan arrived at Holland's Windmill Island in pieces. Once renovations began, however, the mill was restored to its former grace in six short months, though close inspection still reveals the ravages of wartime Europe. This landmark fixture remains in operation today, grinding grain for local restaurants.
It's no secret that the key to a Dutchman's heart is through his stomach, and patrons at Dutch Brothers and deBoer Bakkerij in Holland are treated to a selection of homemade hearth breads and authentic Dutch pastries such as kraklingen, jan jagels and pinda kaas. Dutch Brothers also offers tasty entrees such as "Oma's Way" (a deluxe asparagus omelet stuffed with mushrooms, sun-dried tomatoes, and Boursin cheese) as well as "Twee Gezusters" (English muffins topped with eggs, alfalfa sprouts, Roma tomatoes and a basil chiffonade). Customers should arrive early to avoid long lines at this popular eatery. 
Across town at Veldheer Tulip Farms, flowers take the cake. With a passion for tulips, a hobby farmer named Vern Veldheer planted 400 bulbs on a whim in 1950. His efforts eventually blossomed into a lush perennial garden with over 5 million vibrant blooms. Today, visitors to Veldheer's marvel at the seemingly endless rows of signature Dutch flowers.  
Hewn from a rough block of poplar, wooden shoes are the quintessential Dutch footwear, and artisans at the DeKlomp Wooden Shoe Factory specialize in crafting clogs using Old World methods. Customers can even purchase a pair to partake in "Klompen" dancing in the city streets during Tulip Time. Deklomp also offers different types of Delftware, the trademark, hand-painted blue and white Dutch pottery.  
Though Dutch isn't the only cultural influence in town, a shoulder patch worn by the local police officers pretty well sums up the attitude here:
EENDRATGT MAAKTMAGD — GODZY MET ONS.  

"In Unity There is Strength — God Be With Us."
— Jon Osborn, Michigan BLUE Magazine 
Facebook Comments