Detroit-based jewelry company Rebel Nell (rebelnell.com) is giving new life to the city's graffiti, incorporating bits of old paint into new works of art. Azure and olive green, silver-gray and crimson paints adorn its pendants, earrings and cufflinks, each as brilliant as the crumbling graffiti from which it was crafted.
"Each Rebel Nell piece is unique because no two works of graffiti are identical," said co-founder and CEO Amy Peterson of the jewelry's distinctive profiles. A native of western New York, Peterson never considered herself an artist, though she did dabble with jewelry making to pay for books while in law school. When the Detroit Tigers hired the young attorney in 2007, she relocated to the Motor City and found herself living near a women's shelter.
"I would often see and have conversations with the shelter's residents," Peterson said. "We would talk about what would make a difference in their lives, about how to teach a woman to fish. I decided I wanted to create a business that would do that."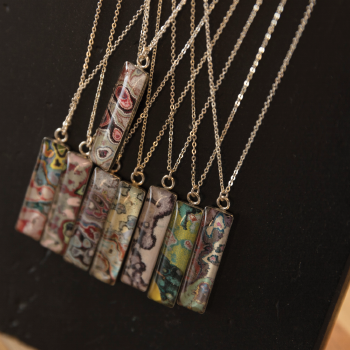 A morning run along the graffiti-covered Dequindre Cut provided the perfect entrepreneurial spark: Peterson spotted a flake of old paint lying on the ground. "I thought, 'I wonder if a person could make jewelry out of that?' And Rebel Nell was born."
Peterson named the company after her role model, Eleanor Roosevelt. "I read that in her time, people called (Roosevelt) Little Nell, which I found demeaning. I thought 'Rebel Nell' was more fitting." Peterson said she thought the name was apropos for her new company, too, especially considering the rebelliousness inherent in graffiti.
Eventually, the women at Rebel Nell learn to breathe again. When they do, they graduate into the world whole.
– Amy Peterson
If Rebel Nell's product is jewelry, its goal is empowering Detroit's disadvantaged women. Since its launch in 2013, the company has employed 22 locals, each with significant employment barriers, such as homelessness and substance abuse. Rebel Nell offers a fresh start, job training and connections to agencies offering counseling services, health care, transportation and housing assistance, among other things. Acquiring self-sufficiency typically takes two years, at which point employees enter the traditional job market. To date, nine women have graduated from the company.
Rebel Nell's first graduate, Karen, who asked that her last name be withheld, quickly took to her newfound responsibility at the company. Not long after employment, Karen earned the moniker of Mother Hen, urging fellow employees to do their best work and care for themselves.
"I believe in helping people, and that's what Rebel Nell is all about," Karen said of her former employer. Today, she is on staff at Central City Integrated Health, an organization that provides Detroit families with health care and housing services, where she offers transitional support to ex-prisoners.
"Eventually, the women at Rebel Nell learn to breathe again," said Peterson, who left the Tigers to work full time for Rebel Nell in mid-2018. "When they do, they graduate into the world whole."
Facebook Comments