The Upper Peninsula's southern Garden Peninsula juts into Lake Michigan, forming the scenic Big and Little Bays de Noc. While off the beaten path, this region offers activities and attractions that are worth a trip, including those below. 
World-Class Fishing. With almost 250 miles of shoreline, the Bays de Noc is a year-round fishery and sponsors a number of renowned walleye tournaments — but you'll find plenty of trophy Smallmouth Bass, Northern Pike, Perch, Salmon and Trout, too (baysdenoc.com/charters-guides.shtml).
Fayette Historic State Park. Beyond the 711-acre park's 1880s' town site, enjoy a mile-long sandy beach, playground, picnic area, five miles of hiking trails and 61 semi-modern campsites. Or, check into the fully-furnished Furnace Hill Lodge, built in the 1970s as a manager's residence in woods near Fayette's historic structures. Open year-round, the state-owned retreat — an ideal home base for many recreational pursuits — sleeps up to 10 and features central air ($100 to $125 per night; 906-644-2603).
Monarchs of the North. The cedar trees and lands surrounding Peninsula Point Lighthouse Park between Little and Big Bay de Noc become the stop-off-point for thousands of Monarchs in August and early fall. The butterflies gather for their flights across the open waters of Lake Michigan and Green Bay (travelbaysdenoc.com; 906-474-6442, ext. 110).
Village of Garden. About eight miles south of U.S. 2 between Escanaba and Manistique, this farming and fishing village is home to The Village Artisans, Inc., whose featured works can be perused in the Garden Gallery (villageartsofgarden.com; 906-644-2025).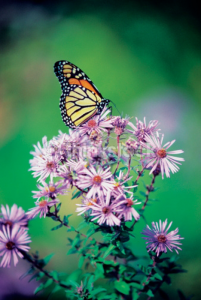 Canoe Trips & Sea Kayaking. Uncle Ducky Paddling Adventures offers guided sea kayaking trips on Lake Superior to Pictured Rocks National Lakeshore, the Hiawatha Water Trail from Big Bay to Munising, the Huron Islands, Isle Royale, Keweenaw Bay, Presque Isle and other Upper Peninsula shorelines. Kayak and canoe trips are also offered on inland lakes and rivers including the Two Hearted, Au Train and Fox, along with half- to multi-day wilderness adventures (paddlingmichigan.com).
Rapid River County Park. Featuring picnic tables, grills and a playground plus four tiers of scenic waterfalls cascading over limestone, this Delta County site 10 miles north of Rapid River off U.S. 41 is a family favorite. 
Threefold Vine Winery. Just south of Garden, tours, wine tasting and wine made from grapes grown in the Upper Peninsula are all part of this working family farm. Email or call ahead for hours (threefoldvine@hotmail.com; 906-644-7089). 
Discover other adventures at baysdenoc.com and travelbaysdenoc.com.
— Compiled by Cymbre Foster and Lisa M. Jensen, Michigan BLUE Magazine.
Facebook Comments