The farm-to-table movement gets real along Lake Michigan, with Hungry Village Tours that show you where the delicious blueberries in your pie are grown, how the tasty goat cheese on your sandwich is produced and the secrets of what's happening behind stores you visit in Saugatuck and Douglas.
"I'm passionate about people knowing where food comes from," says David Geen, owner of the business that offers two tours: One takes tour-goers to farms in the area, and the other is a walking tour through the villages.
"…That's what they get when they take the tour; (they) get to meet the people. You don't just go to the counter and buy cheese. You see the passion (that) people we go to like to share with people."
The Culinary Walk: The Secrets behind the Storefronts of Saugatuck and Douglas includes tastings, demonstrations and a history lessons. It visits American Spoon, Uncommon Coffee Roasters, Spice Crazy Cottage, The Olive Mill, Fenn Valley Winery Tasting Room and Grow restaurant.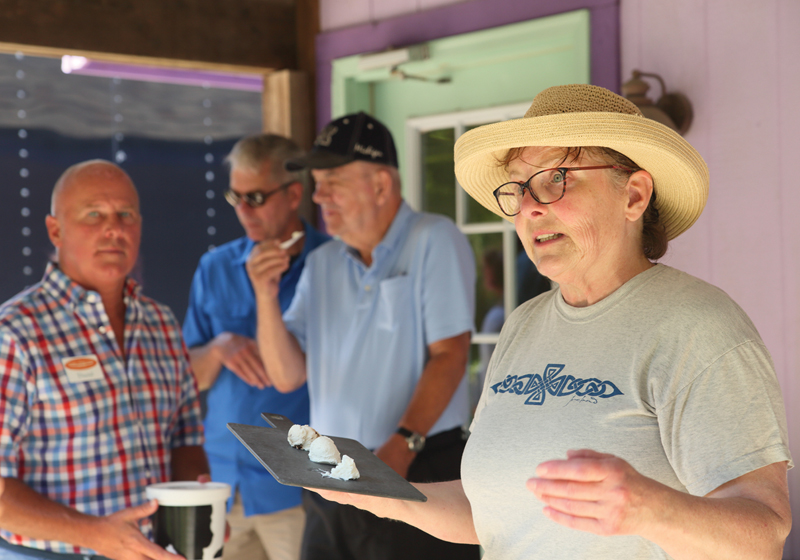 The Delicious Drive goes to area farms and feeds folks a gourmet lunch at Salt of the Earth in Fennville. Its stops are at EverGreen Lane Farm and Creamery, Pleasant Hill Farm,  Fenn Valley Vineyards, Crane's Pie Pantry and Khnemu Studio on Fernwood Farm. Geen, who owns Villas and Vines, a company that offers European culinary tours, started the Hungry Village Tours seven years ago.
It's for "anyone who lives here or vacations here," he says, adding young and old like petting goats and holding chickens. No tour is ever the same, according to Geen, because you never know what a goat might do or how long farmers will talk. "It's unscripted," he says. "They love to show off."
Cathy and Tom Helinski own Evergreen Lane Farm and Creamery, which has been on the tour since it started. At their stop, visitors get to pet LaMancha goats and watch Cathy Helinski create a cheesecake. "They are mostly delighted and surprised we're here," she says of the visitors. "Tourists get to see what's in the countryside, otherwise they might just stay in the city."
The Culinary Walk lasts about three hours and runs 9 a.m. to noon Monday through Friday, Cost is $30 for adults; $15 for children. Delicious tours last about six hours and run 10 a.m. to 4 p.m. Tuesday through Saturday. Cost is $75 for adults; $50 for children. Both start at the Saugatuck Center for the Arts at 400 Culver St. and run from May through December, with private tours available. Reservations are required, and the tours are limited to 14 people.
Facebook Comments